One of my favourite places in Scotland is Edinburgh.
Although I have already been there several times, there are still a thousand spots I have not seen yet.
Edinburgh has been the capital of Scotland since the 15th century and it is the second largest town in Scotland (after Glasgow). It is part of the UNESCO world heritage.
---
Getting there
There are many ways to get to Edinburgh (I am sure you will find yours...).
Should you arrive by plane there are several possibilities to get into the city:
You can take a rental or a taxi/cab, a bus or the tram line that opened in 2014.
If you buy a "Day Ticket" (available to adults, children and families) you can change buses all day long.
Tickets can be purchased from the bus driver.
CAUTION!
You need the correct change - otherwise the bus driver might leave you at the stop... ;-)
Service hours end quite early
(when we wanted to return to our accommodation after the Edinburgh Military Tattoo show in 2011 we had to take a taxi).
Hiring a taxi in Edinburgh is not that expensive, either - especially if you share.
Usually, the cars have 5 seats in the back. If you need more than 5 seats you should order beforehand.
As far as I know, you cannot stop a taxi on the road, but you have to go to a taxi stand.

They are marked with a sign and if you line up there the next vacant car will pick you up.
Driving in Edinburgh is relatively easy as well (please remember to drive left!) and the city is well connected.
---
Things to see in Edinburgh
As mentioned above, I have not seen everything despite having been to Edinburgh several times

- that's why the article is actually called "Edinburgh - Part 1"...!  ;-)
So, I start with only a few recommendations.
---
Edinburgh Castle
Edinburgh Castle is a must for a visit to Edinburgh.
The castle sits on top of an ancient volcano and offers great views over the city.
Its ownership changed several times over the course of the centuries.
Its oldest part is St Margaret's Chapel dating back to approx. 1130.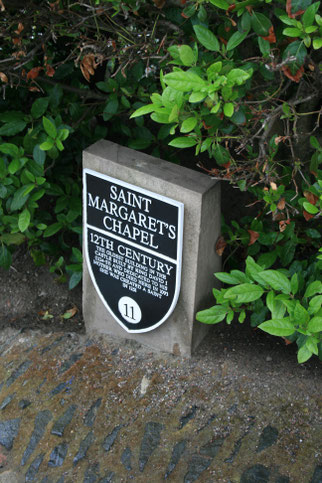 Amongst many other things, Edinburgh Castle houses the Scottish Crown Jewels as well as the "Stone of Destiny" (the coronation stone) and a huge cannon named "Mon's Meg". There is also the so-called "One o'clock Gun"  which - as you can guess - is fired at 1 o'clock every day (except on Sundays and certain holidays). Originally, it was used to facilitate navigation for the ships in the Firth of Forth.
Mind the noise!
I was not aware of the time when we visited Edinburgh Castle and jumped when the cannon went off behind my back... ;-)
Concerts - and the famous Royal Edinburgh Military Tattoo (in August) -
take place regularly on the "Castle Esplanade" during the summer.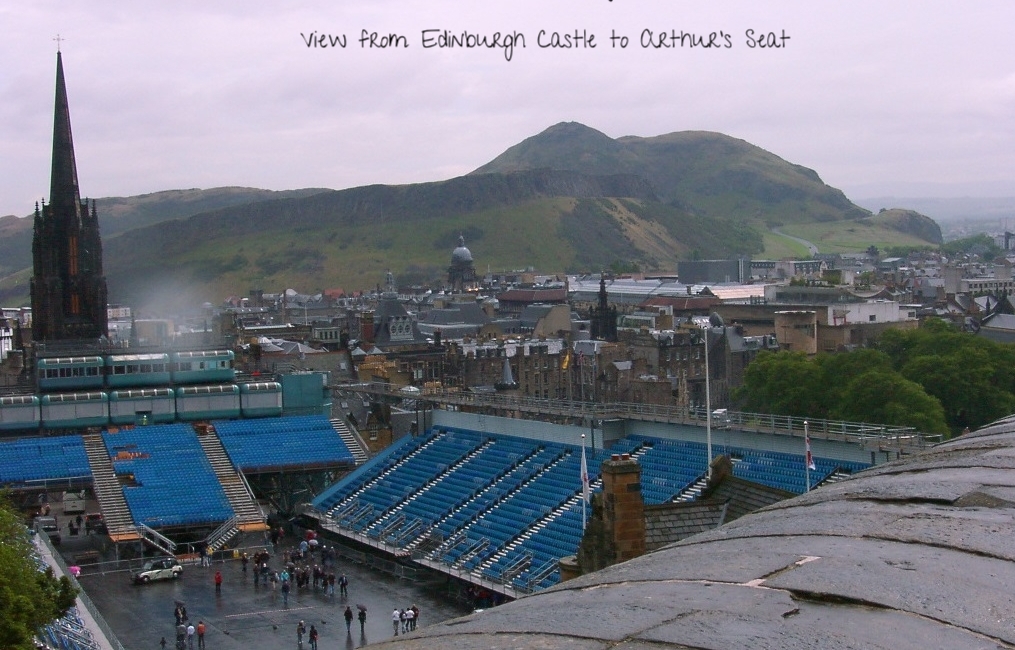 You can take a guided tour through Edinburgh Castle, rent an audio guide (available in several languages) or just wander off on your own. Some areas are not accessible for wheelchairs. Detailed information can be found on the official website of Edinburgh Castle.
---
The Royal Mile
One of the most lively streets in the city is the "Royal Mile", stretching between Edinburgh Castle and the Palace of Holyroodhouse - the home of the Queen in Edinburgh. There are numerous gift shops, restaurants, pubs and other attractions.

Mary King's Close
Edinburgh is built on a spine of rock, with the Royal Mile forming as the backbone of the Old Town. A series of small lanes, so-called "closes" or "wynds" branch out from this backbone on either side of the Royal Mile. The closes were often named for the businesses that took place there, others were named after prominent citizens. They are worth stepping into as they offer some interesting insights like hidden restaurants or holiday accommodation possibilities.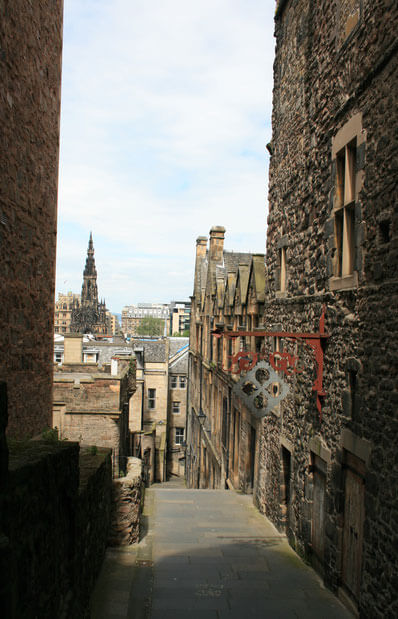 Over the course of time the old closes disappeared under new buildings (although these are now old, too). One such example is Mary King's Close, which was developed in the 1700s and now serves as the foundations for the City Chambers above.
If you are interested in visiting the historic closes of Edinburgh I recommend a guided tour with The Real Mary King's Close. The one hour fully guided tour takes guests through the original 17th century streets which have been uniquely preserved, encompassing not only Mary King's Close but also the remains of neighbouring Stewart's Close and Pearson's Close, and a series of rooms including a 17th century house, a cow shed, a workshop, and one of Edinburgh's first indoor toilets. A character guide will tell you history of these streets and spaces, and the stories of the real people who lived and died on Edinburgh's closes when Mary King's Close was open to the skies.
It's worth noting that there are a lot of steps and steep inclines on the tour route, therefore it is not suitable for wheelchair access. Children must be over the age of 5 to participate. A full accessibility statement is available here.
Thank you so much to Lisa from The Real Mary King's Close for your help :-)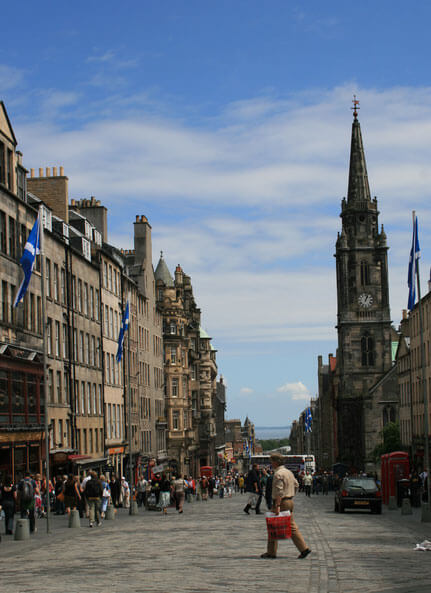 ---
You can find trashy to classy gifts (like whisky or clothing made from tartan fabric or genuine Harris Tweed) on every corner of the Royal Mile.
If you have a special interest in whisky, you should visit "The Scotch Whisky Experience" at the foot of Edinburgh Castle, or go to one of the numerous whisky shops. Please check the prices if you intend to buy (e.g. in Germany a lot of the whiskies are cheaper than in Scotland).
---
Culinary Experiences
Takeaways, pubs and restaurants offer a great variety of tasty things in Edinburgh.
If you dare, try the Scottish national dish: HAGGIS. ;-)
It consists of sheep bowels (heart, lungs, liver) cooked in a sheep's stomach - strongly seasoned and served with "neeps & tatties" (mashed turnip and potatoes).  I have tried it and I have even made Haggis myself at home, replacing the sheep's stomach with an oven bag which worked really well. ;-)
If this is not strange enough for you, you can always order a fried chocolate bar for dessert, e.g. at the "Clamshell" on the Royal Mile.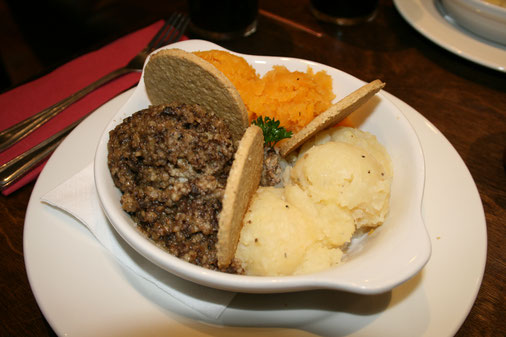 ---
Edinburgh New Town
The buildings of Edinburgh New Town were erected in the 18th and 19th century - so they are already sort of old again, too. ;-)
The three main roads comprise of Princes Street, George Street and Queen Street with several small roads in between.
On Princes Street you can find the tram line connecting the city with the airport. There are lots of gift and clothing stores.
Please do not miss to visit the "Jenners" department store which has great architecture.
(UPDATE 2021: As far as I know, there are plans to convert the store into a hotel)
Lots of restaurants and pubs - as well as the Hard Rock Café - can be found on George Street.
Queen Street is the home of the Scottish National Portrait Gallery.
Rose Street offers many pubs and restaurants and some of the shops/restaurants of Princes or George Street can be accessed via a back door from here.

---
Royal Botanic Garden Edinburgh
If you are up for some peace and quiet after hours of sightseeing you could visit the Royal Edinburgh Botanic Garden. You can reach it comfortably by bus or - if you don't mind a walk - on foot.

Urban retreat: Royal Edinburgh Botanic Garden

---
---
---