Ich liebe den schottischen Westen mit seiner schroffen und wilden Landschaft.

Hierzu zählt auch die Isle of Skye, die größte Insel der Inneren Hebriden.
Genau so habe ich mir die Highlands immer vorgestellt...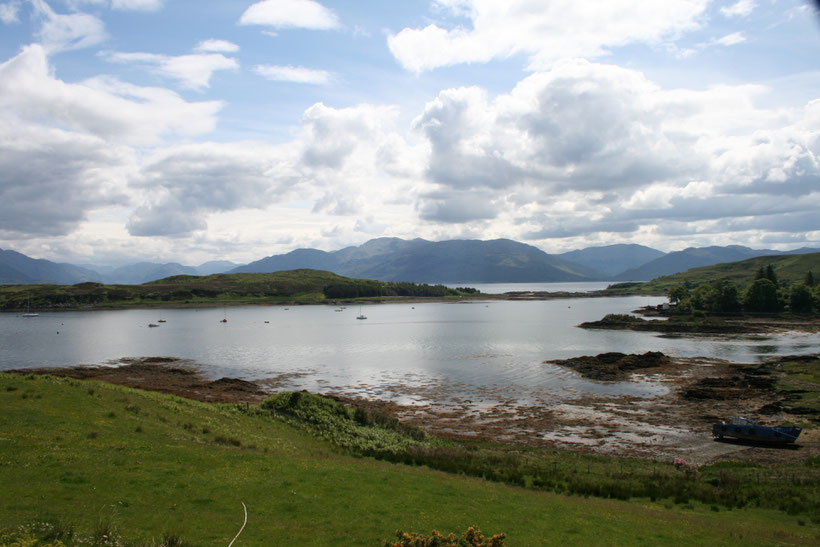 ---
Anreise
Am einfachsten ist die Isle of Skye mit dem Auto über die Brücke der A87 zu erreichen.
Es gibt auch diverse Fährverbindungen (z.B. von Mallaig oder Glenelg aus).
Ich selber habe noch nie eine Fähre genommen, stelle mir die Fahrt aber auch nett vor. ;-)
Einen Flugplatz gibt es auf der Insel Skye nicht.
---
Unterwegs...
Bei der Anreise mit dem Auto kann man unterwegs Eilean Donan Castle besuchen,
das vielen aus dem Film "Highlander" bekannt sein dürfte. Da es direkt an der A87 liegt, kann man es nicht verfehlen.
---
Portree

 Portree (oder gälisch: Port Rìgh - der Hafen des Königs) ist ein ehemaliges Fischerdorf und quasi die "Inselhauptstadt" von Skye.
Es gibt dort viele kleine Läden, Cafés und Restaurants. Ich mag z.B. den Laden von Skye Soap, in dem es handgemachte Seifen gibt. Wer Batik mag, sollte einen Blick in den Shop von Skye Batiks werfen.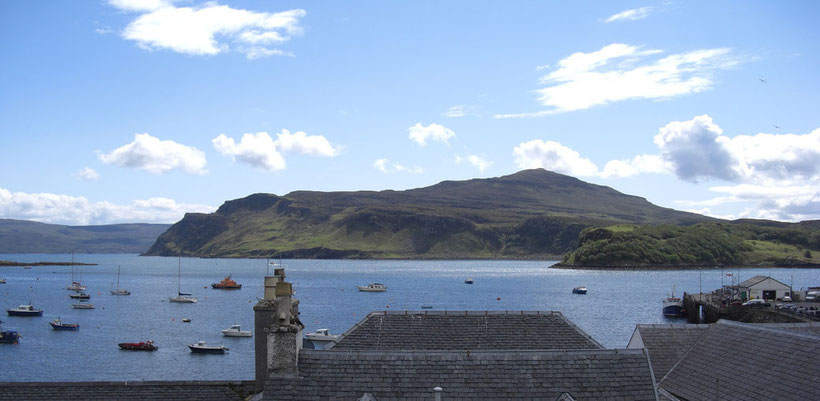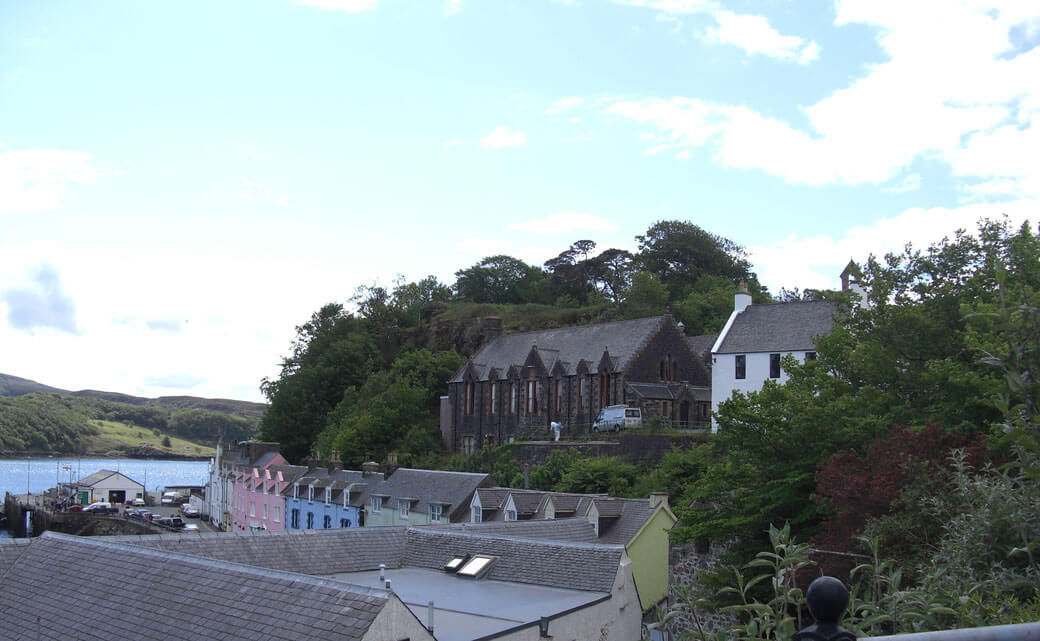 ---
Neist Point
Neist Point befindet sich an der westlichen Spitze Skyes. Sein Leuchtturm ist ein beliebtes Fotomotiv.
Der Parkplatz ist über eine Single Track Road erreichbar. Es gibt einen betonierten Weg, der zum Teil aus Treppen besteht und stellenweise recht steil wird, weshalb der Spaziergang zum Leuchtturm für gehbehinderte Personen nicht oder nur bedingt geeignet ist.
Da mein Partner eine Gehbehinderung hat, hat er es sich einfach auf einem Felsen in der Nähe des Parkplatzes gemütlich gemacht, während ich mit Freunden weiter zum Leuchtturm gegangen bin. Da man auch von dort eine grandiose Aussicht hatte, war das nicht so schlimm. ;-)

Wenn man zur richtigen Jahreszeit dort ist und Glück hat, sieht man dort neben Schiffen/Booten auch Delfine oder Wale. Wir haben zwei Delfine gesehen, die leider zu weit weg waren, um sie mit der Kamera einzufangen.
---
Talisker Bay
Talisker Bay liegt in der Nähe des Ortes Carbost und ist definitiv einen Besuch wert.
Es gibt einen kleinen Parkplatz, auf dem bei unserem Besuch Pfauen herumliefen.
Der Weg zur Bucht führt über ein Privatgrundstück, was in Schottland keine Seltenheit ist.
Solange man alle Tore hinter sich wieder schließt, damit die dort weidenden Tiere - meist Schafe - nicht weglaufen, ist das kein Problem.
Wir waren bei Ebbe dort und konnten auf den Felsen am Strand herumklettern
(festes Schuhwerk ist ratsam).
Wenn man genau hinsieht, stellt man fest, dass es in vielen der Steine hübsche Einschlüsse gibt.
---
Talisker Distillery
Die Talisker Distillery liegt in Carbost am Ufer des Loch Harport.
Sie verfügt über ein Besucherzentrum mit Shop und es werden geführte Touren angeboten.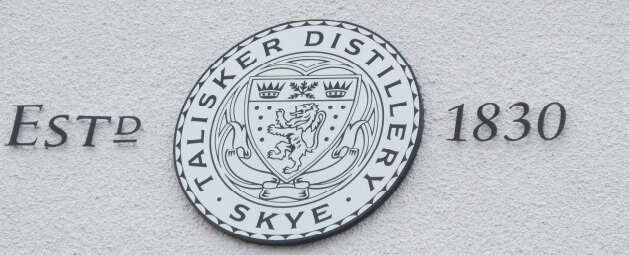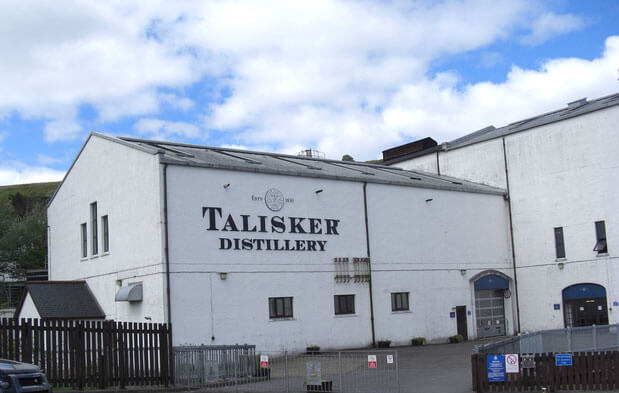 Update September 2019:
Auf unserem Rückweg von der Insel Harris machten wir einen kurzen Zwischenstopp bei Talisker. Das Besucherzentrum und der Shop wurden inzwischen in einen anderen Gebäudeteil verlegt. Wie man mir sagte, wird sich das in absehbarer Zeit noch einmal ändern. An der Destillerie war eine große Baustelle.
Ich wusste zwar, dass Skye inzwischen eines der beliebtesten Ziele in Schottland ist, hätte aber nicht gedacht, dass es an der Destillerie SO voll ist. Die kleine Zufahrtsstraße ist für so viele Fahrzeuge eigentlich nicht ausgelegt. Wir waren nur kurz im Shop und haben uns dann schnell wieder auf den Weg gemacht. Wer schlechtes Wetter nicht scheut, sollte sich überlegen, seinen Besuch in die kältere Jahreszeit zu legen. Mir persönlich war es jedenfalls viel zu überlaufen...! :-(
---
Old Man of Storr und Kilt Rock
Der Old Man of Storr und Kilt Rock befinden sich im Nordosten der Insel. Da es sich um ein beliebtes Ausflugsziel handelt, gibt es im Sommer wohl auch einen Busservice dorthin.
Bei Kilt Rock handelt es sich um eine Klippe aus Basaltsäulen, die an die Falten eines Kilt erinnern.
Es gibt dort auch einen kleinen Wasserfall.
Die Felsnadel des Old Man of Storr ist eines der bekanntesten Wahrzeichen von Skye.
---
Dunvegan Castle
Dunvegan Castle liegt im Westen der Isle of Skye. Es ist das Familienanwesen des Clan MacLeod, welches man besichtigen kann.
Es besteht die Möglichkeit, Schloss und Garten oder nur den Garten zu besuchen (das gibt es in vielen schottischen Schlössern).Außerdem werden Bootstouren angeboten.
Es lohnt sich, der Straße am Parkplatz des Schlosses vorbei weiter zu folgen. So bekommt man Dunvegan Castle von der Rückseite zu sehen. Wir hatten Glück und es befanden sich dort zu dem Zeitpunkt einige Seehunde.
---
Dinosauriern auf der Spur
Am An Corran-Strand bei Staffin kann man nach Dinosaurierspuren suchen.
Auch, wenn wir keine gefunden haben (sie sind nicht markiert), hat es uns viel Spaß gemacht.
Im Jahr 2015 hat man auch bei Duntulm Dinosaurierspuren entdeckt.
---
Bildergalerie
Da es auf Skye so tolle Landschaft gibt, haben wir zu Viert über 2300 Fotos gemacht! ;-)
Hier noch einige weitere Impressionen...
---
Reisezeit
Wir sind Anfang Juni nach Skye gereist und - wie man auf den Fotos sehen kann - hatten wunderbares Wetter. :-)

---
---