I love the rough and wild landscape of the Scottish west.

That also applies to the Isle of Skye - the largest island of the Inner Hebrides.
That's exactly how I always imagined the highlands to be...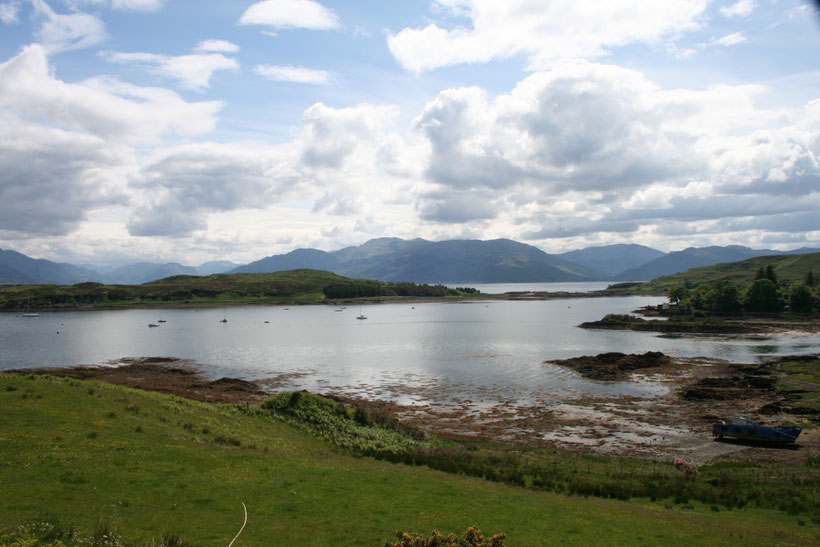 ---
Getting there
The easiest way to get to the Isle of Skye by car is by using the bridge on the A87.
There are a few ferry connections as well (i.e. from Mallaig or Glenelg).
I have never used one of those ferries, but I think this way of travelling could be nice, too. ;-)
There is no airport on the Isle of Skye.
---
On the way...
When driving to Skye you can visit Eilean Donan Castle - which many of you might remember from the movie "Highlander". As it is right beside the A87 there is no way you can miss it.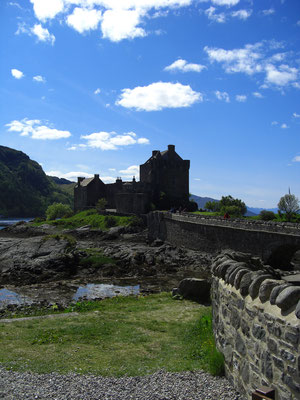 ---
Portree
 Portree (or Gaelic: Port Rìgh - King's Harbour) is a former fishing village and the "capital" of Skye.
You will find lots of shops, cafés and restaurants there. I like Skye Soap, where you can purchase handmade soaps. If you are into batiks you should visit Skye Batiks.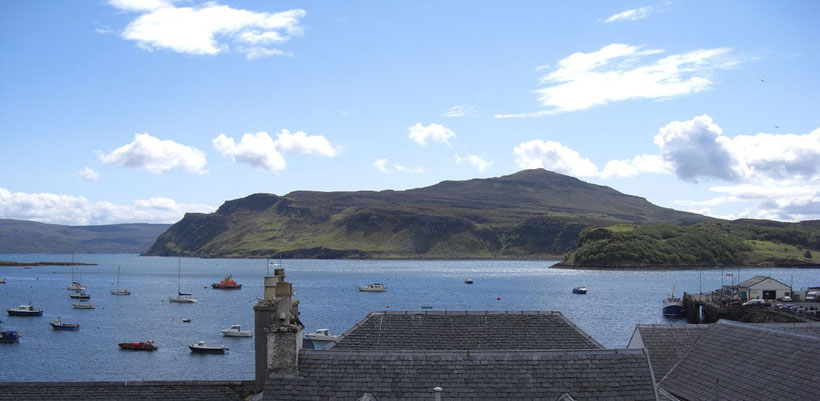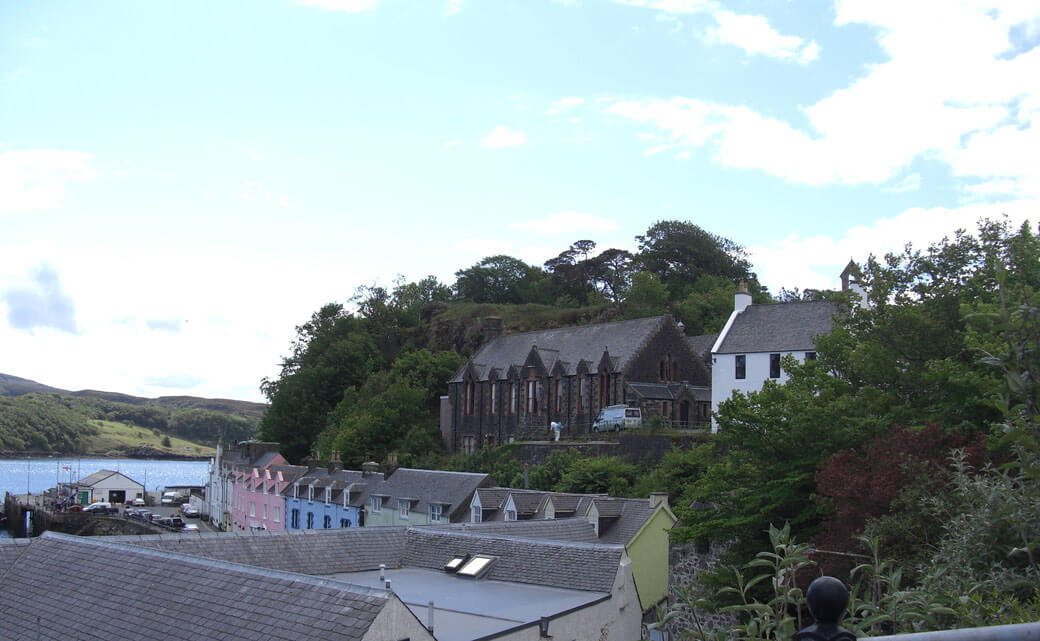 ---
Neist Point
Neist Point is located in the west of the Isle of Skye with its lighthouse being one of the most popular photo spots. You can reach the parking lot via a single track road.
The concrete path to the lighthouse can be steep in parts and there are several steps so there is only limited access for the disabled.
As my partner has a walking disability, he just made himself comfortable on one of the rocks close to the parking lot while I walked to the lighthouse with friends. As he had wonderful views from his spot as well, it was not that bad. ;-)

If you are visiting Neist Point at the right time of year, you might be able to see dolphins/whales.
We saw two dolphins, but they were too far away to be caught on camera.
---
Talisker Bay
Talisker Bay is close to the village of Carbost and is definitely worth a visit.
There is a small parking area where we saw some peacocks.
To get to the beach, you have to walk via a private property which is not unusual in Scotland.
As long as you close all the gates behind you to prevent the animals - mostly sheep - from running away, it is no problem at all.
As we were there during the low tide, we were able to climb on the rocks at the beach
(please wear proper shoes).
You will find that many of the rocks contain nice enclaves (I am not sure whether this is the correct word...?).
---
Talisker Distillery
Talisker Distillery is located at Loch Harport in Carbost.
It has a visitor centre and shop and you can take a guided tour.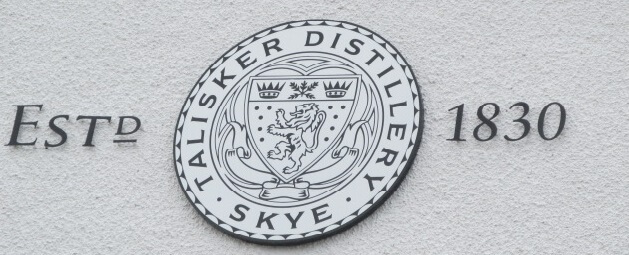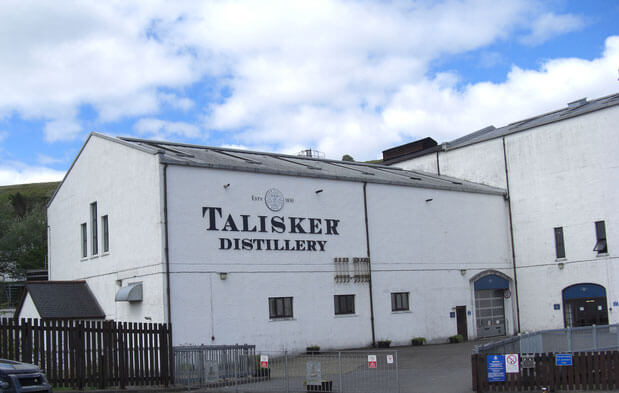 Update September 2019:
On our way back from the Isle of Harris we had a stopover at Talisker. The visitor centre and shop have been moved to another part of the building. They told me there would be further changes in the future. There was a big construction site at the distillery.
Although I knew that Skye has become one of the most popular destinations in Scotland, I had not expected that many people at the distillery. The small road is not suitable for so many cars. We just shopped and left. If you don't mind bad weather you should visit off-season. I personally didn't like the crowds...! :-(
---
Old Man of Storr and Kilt Rock
The Old Man of Storr and Kilt Rock can be found in the northeastern part of the Isle of Skye. As they are both popular attractions there seems to be a bus service during the summer months.
Kilt Rock consists of basalt resembling the folds of a kilt. It has a small waterfall as well.
The Old Man of Storr - a pinnacle of rock - is one of the most famous landmarks on the Isle of Skye.
---
Dunvegan Castle
Dunvegan Castle can be found in the western part of Skye. It is home to the Clan MacLeod.
You can decide between visiting castle and gardens or gardens only (which is common practice for lots of the Scottish castles). They also offer boat trips.
It is well worth driving past the parking lot to get to the back of the castle.
We were lucky to see some seals when we got there.
---
Dinosaur Footprints
Dinosaur footprints can be found at An Corran beach close to the village of Staffin.
Even though we did not find any (they are not marked) we had a lot of fun.
In 2015, more dinosaur footprints were discovered near Duntulm.
---
Picture Gallery

As the landscape on Skye is so beautiful we (4 people) took more than 2300 photos! ;-)
Here are some further impressions...
---
Travel time
We took this trip at the beginning of June and - as you can see in the pictures - we had very fine weather. :-)
---
---