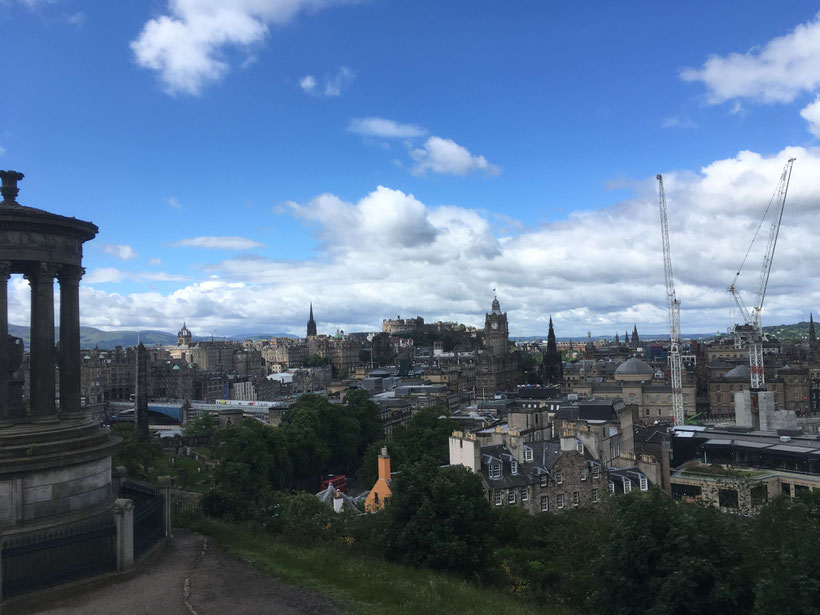 Kennt ihr das auch? Ihr besucht eine Stadt mehrfach und landet irgendwie immer wieder an denselben Plätzen? Nach mehr als zehn Besuchen in Edinburgh habe ich es dieses Mal endlich an einige Stellen geschafft, die ich noch nicht kannte... ;-)
---
Calton Hill
Calton Hill liegt am östlichen Ende der Princes Street und entstand wie Castle Rock (der Hügel, auf dem Edinburgh Castle steht) und Arthur's Seat vor ca. 340 Mio. Jahren durch vulkanische Aktivität. Er bietet einen tollen Panoramablick über die Stadt bis hinüber zum Firth of Forth und die Forth Bridge.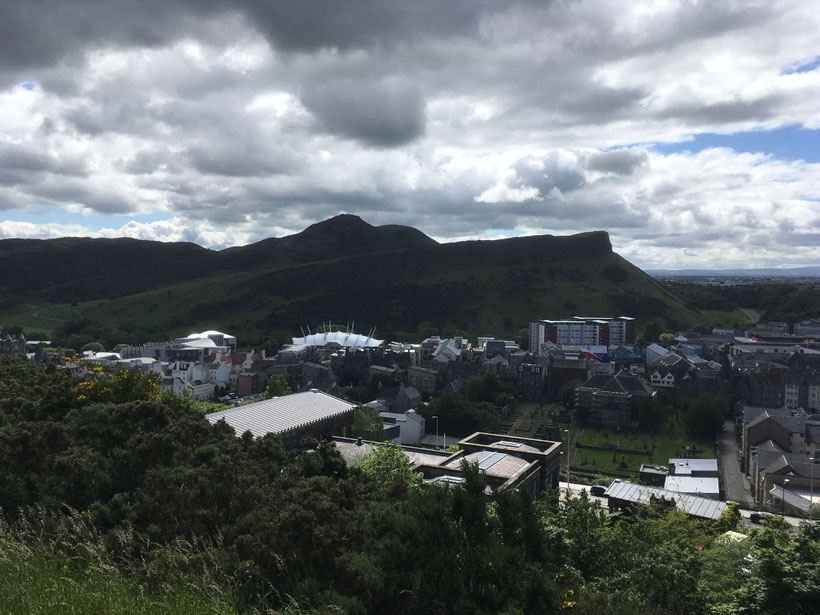 Calton Hill ist der Geburtsort der Astronomie und Zeitmessung in Edinburgh. Zentraler Punkt ist das City Observatory von 1818, das heute unter dem Namen "Collective" zeitgenössische Kunst beherbergt. Der Eintritt ist frei - wer möchte, kann Geld in eine Spendenbox einwerfen bzw. über ein Kartenleseterminal abbuchen lassen.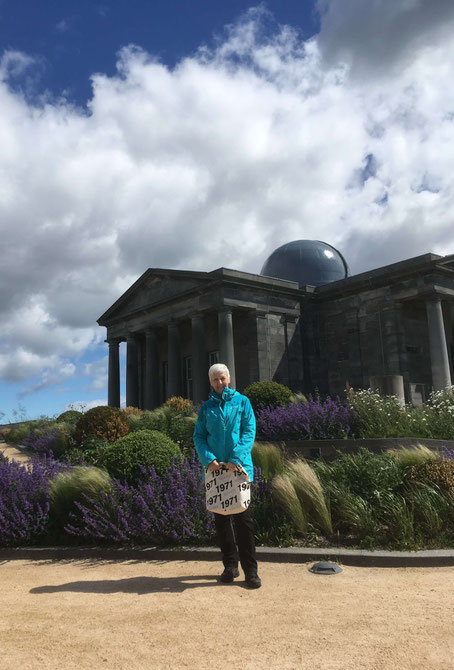 Auf dem Nelson Monument gibt es einen "time ball", der jeden Tag um 13:00 Uhr herabfällt. Dieser diente den Schiffen im Port of Leith zur genauen Zeitbestimmung und wurde später durch die One O'Clock Gun in Edinburgh Castle abgelöst. Ursprünglich setzten die Matrosen ihre Chronometer, indem sie Calton Hill hinaufgingen und auf die Uhr im Fenster des Transit House sahen.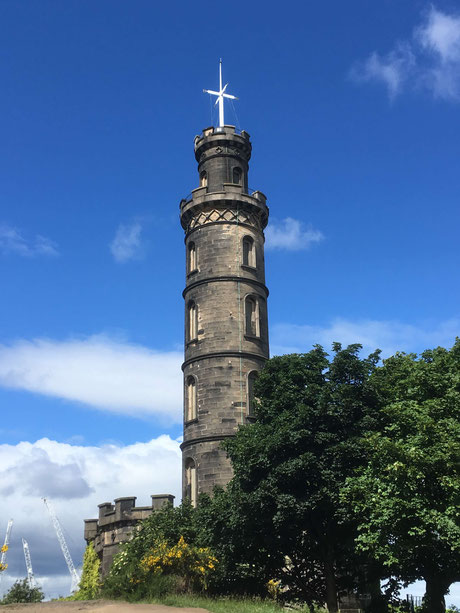 Auf Calton Hill steht eine ganze Reihe imposanter Gebäude und Denkmäler, wie z.B. das Dugald Stewart Monument, das ein beliebtes Fotomotiv ist und an einen schottischen Philosophen erinnert.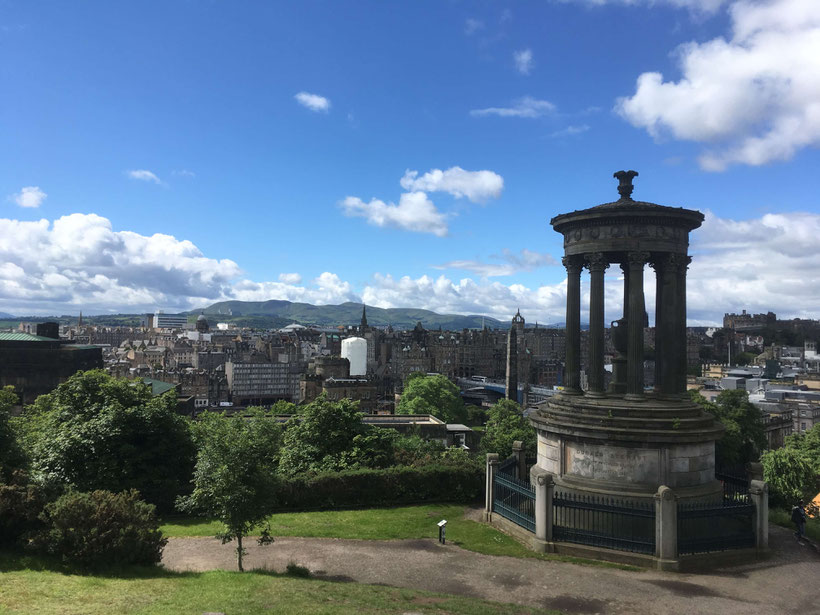 Als wir dort waren, gab es gerade den "Oor Wullie Big Bucket Trail". Oor Wullie ist eine legendäre schottische Comicfigur aus der "Sunday Post", die bei uns in Deutschland nahezu unbekannt ist. Die individuell gestalteten Figuren sitzen jeweils auf einem Eimer und sind noch bis zum 30. August 2019 in vielen schottischen Städten zu sehen. In Edinburgh gab es sie an jeder Ecke, u.a. auch auf Calton Hill... ;-)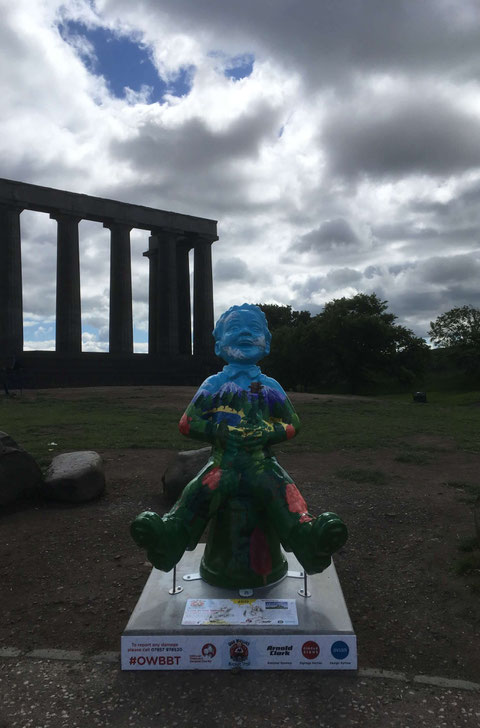 ---
Salisbury Crags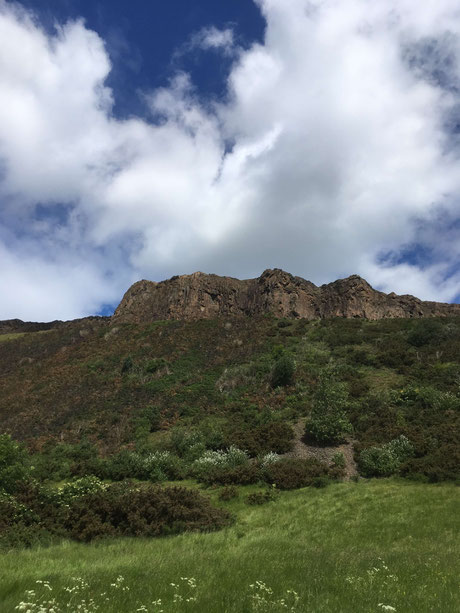 Die Salisbury Crags liegen im westlichen Teil des Holyrood Parks und sind zu Fuß z.B. über die "Radical Road" erreichbar, die nach dem sog. "Radical War" (auch bekannt als schottischer Aufstand von 1820 zur Durchsetzung radikaler Reformforderungen in Großbritannien und Irland) angelegt wurde. Als wir dort waren, war dieser Weg allerdings wegen Steinschlags gesperrt, so dass wir eine Ausweichroute nehmen mussten.
Wichtig! Für die Salisbury Crags wird in jedem Fall festes Schuhwerk benötigt.
Der Weg ist für Menschen mit Gehbehinderung nicht geeignet.
Leider hatten wir keine Zeit, auch noch Arthur's Seat zu besteigen, der direkt nebenan liegt. Hier muss man wirklich gut zu Fuß sein - der Berg ist viel höher und steiler, als er von Weitem erscheint. ;-)
Ich weiß aber, dass ich auf jeden Fall auch nochmal dort hoch möchte.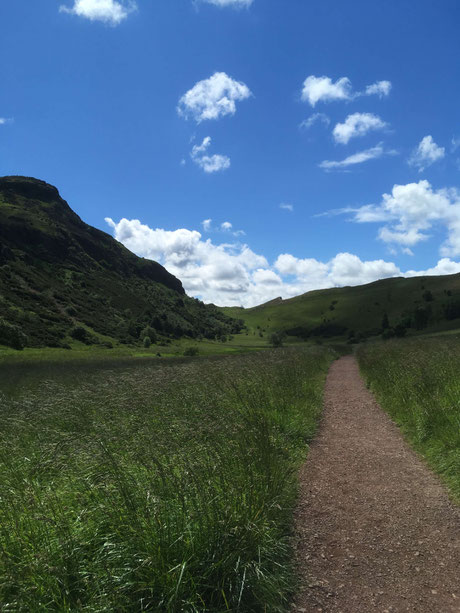 Wie bei Calton Hill hat man auch von hier einen tollen Ausblick über die Stadt.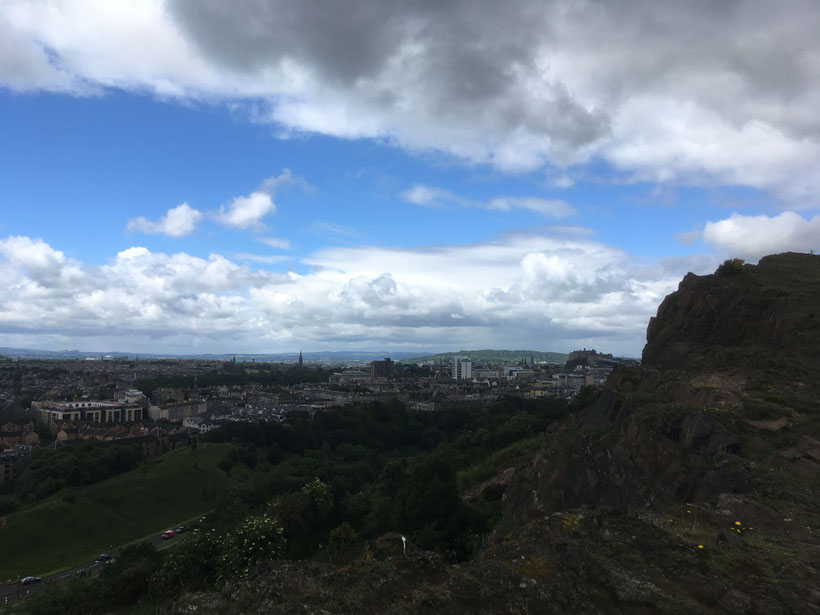 ---
Victoria Street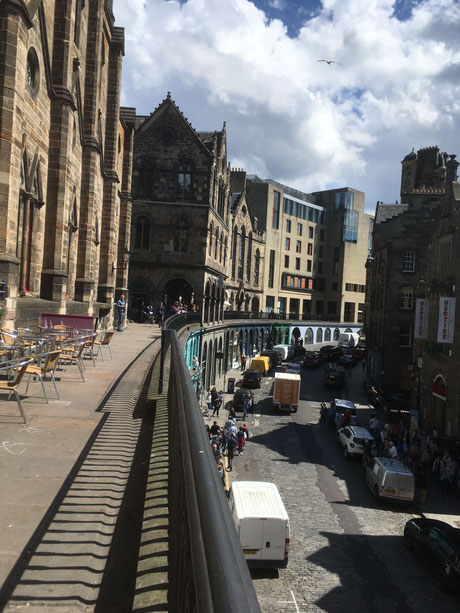 Die Victoria Street dürfte wohl eine der meistfotografierten Straßen in Edinburgh sein. Die Straße verläuft über zwei Etagen und ist von der Royal Mile aus über Treppen erreichbar. Es gibt zahlreiche Geschäfte, Restaurants und Bars mit kunterbunten Ladenfronten. Angeblich diente sie Joanne K. Rowling als Vorlage für die Winkelgasse in Harry Potter.
Für hungrige - allerdings nicht vegetarische - Mäuler gibt es z.B. das "Oink!", dass Pulled Pork im Brötchen anbietet. Die Schlange vor dem Laden zieht sich zur Mittagszeit meterlang die Straße hoch... Da wir eine Tischreservierung in einem anderen Lokal hatten, haben wir selbst nicht probiert. ;-)
Wer Interesse an hochwertiger Kleidung hat, ist bei Walker Slater gut aufgehoben. Das Personal war super hilfsbereit und hat für meine Freundin extra noch einen Rock in passender Größe aus dem Lager angefordert für den nächsten Tag. Leider hatte ich noch keine Gelegenheit, meinen Tweed-Blazer zu tragen, weil es bei uns dafür viel zu warm war... ;-)
Geht man die Straße bergab, kommt man auf den Grassmarket Square, wo es einige Pubs, Restaurants, Läden und die Cold Town House Brauerei gibt, von deren Terrasse man einen tollen Blick auf Edinburgh Castle hat.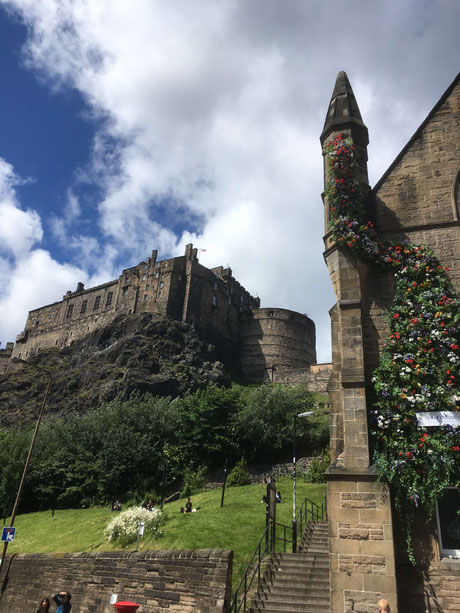 ---
Kulinarisches
Edinburgh hat für jeden Geschmack etwas zu bieten. Dieses Mal haben wir zum Beispiel mehrfach im "Dishoom" gegessen. Dieses bietet indische Küche und ist abends so ausgebucht, dass man nur bis 17:15 h reservieren kann und die Leute danach bereit sind, für einen Tisch stundenlang vor dem Laden Schlange zu stehen.
Wir hatten ein tolles Frühstück mit Omelette, Datteln-/Bananenporridge, Naan, Kokosjoghurt mit Honig und Früchten und Chai Latte bis zum Abwinken.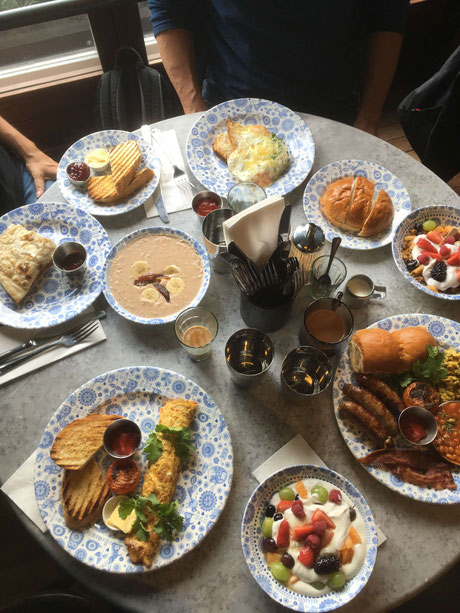 An einem anderen Tag haben wir dort zu Mittag gegessen. Alles superlecker!
Außerdem waren wir auch noch in den Lokalen nebenan, dem "wagamama" und "The Refinery", wo uns das Essen ebenfalls gut geschmeckt hat.
---
Fotogalerie
---
Habt ihr Lieblingsplätze in Edinburgh, die zu besuchen sich lohnt?
Ich freue mich über eure Anregungen und Kommentare.
---
---
---