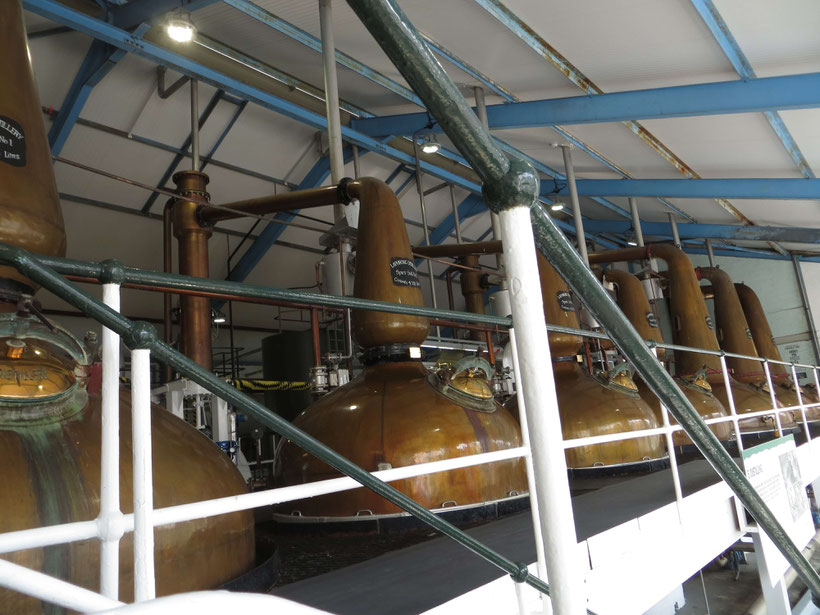 Welcome to Part 2 of our adventure on Islay including visits to
Laphroaig, Bruichladdich, Caol Ila, Lagavulin and Ardbeg as well as a tasting with Iain McArthur.
---
---
Written by Jürgen
- translated by me (the blog owner)... ;-)
---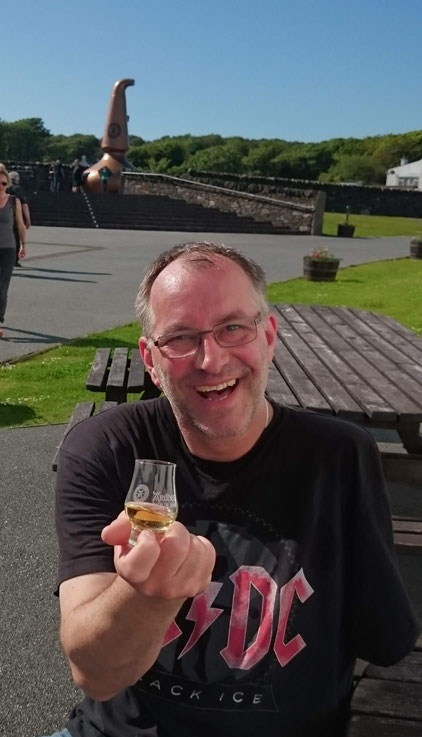 ---
Hello, I would also like to introduce myself:
My name is Jürgen and I am the blog owners partner/boyfriend.
I was born in September 1969 in the northern part of the Ruhr District.
Originally, I was a system mechanic, but I had to change my profession to Business Economist due to a severe motorcycle accident.
It was the movie "Braveheart" that piqued my interest in Scotland.
My/our first vacation in Scotland was in 2002. After that, I was so fascinated by the country and its lovely people that I love to come back to spend my holidays here. Islay was already my 11th vacation in Scotland and I am quite sure it wasn't the last one.
I got interested in whisky when visiting a friend who owned a little selection.
By now, I have my own small collection of this exquisite spirit.
---
Sunday, 27 May 2018, first day on

Islay
---
Laphroaig Distillery
Today's agenda started with a visit to Laphroaig.
Laphroaig Distillery was officially founded by brothers Donald & Alex Johnston in 1815. It is located next to the sea in a small bay about 2.5 kilometres from Port Ellen. The tour started at 10 am. Our group included visitors from Chicago/USA and even from Japan.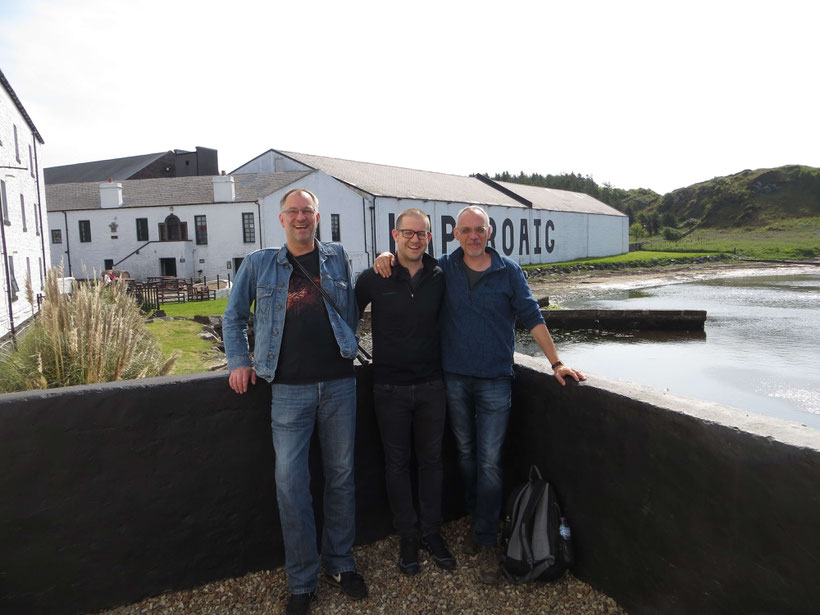 The distillery tour was great, very detailed and informative. We were even led into sections that are usually closed to the public like the kiln and malting floor as well as warehouse no. 1 in which we got to learn the details of whisky storage. The different types of casks and wood, storage time and the storage itself have a large impact on the taste of the whisky.
The best was yet to come:
We were allowed to taste our first sample. They were poured from three different casks as well as from current bottlings and questions were asked concerning the colour, smell and taste of the whisky. 
Trying all the samples took a little while which we used to talk to the other visitors and our guide. As a final highlight of the tour, every visitor was allowed to fill a 0.25 litre bottle from their favourite cask. Every bottle was numbered, noted in a book and packed in a presentation box including a tulip-shaped tumbler.
 After that, we went to the distillery shop where you could buy everything having to do with Laphroaig
- from wooden coasters to t-shirts. We were only interested in the special and limited Fèis Ìle bottlings. In the tasting room, we indulged in a 30 year old Laphroaig. An extraordinary spirit everyone should try. 
---
Bruichladdich Distillery
Next stop: Bruichladdich.
All the Open Days (Open Days take place at a different distillery each day) are really nice - Bruichladdich usually has a big party.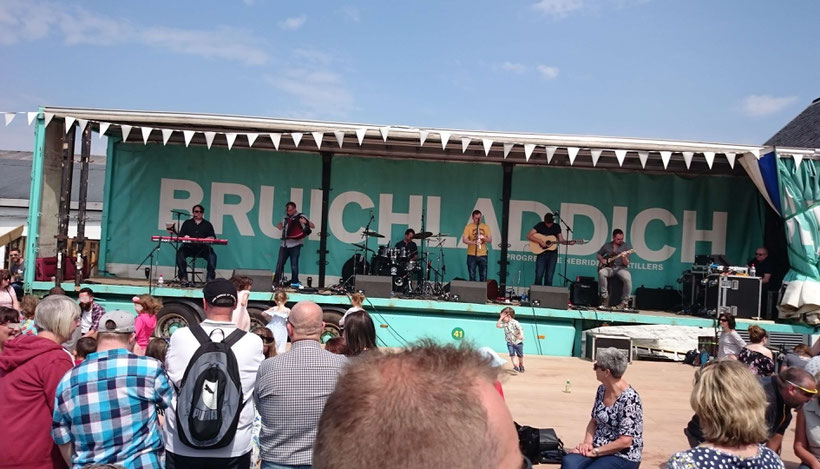 We tried to organise a taxi to get there. After several failed attempts, a friendly Laphroaig employee supported us. We reached our destination after approx. 40 minutes and asked the driver to pick us up later to return to our cottage.
The courtyard contained a music truck, various booths and a dancefloor. After a first overview, we had to stand in line to get into the shop to buy the special bottlings. Access was limited due to high demand.
After that, we had to feast on hamburgers, grilled sausages or fresh oysters and draught beer. Unfortunately, we had told our taxi driver to pick us up early. Around 5.30 pm we were back at our cottage.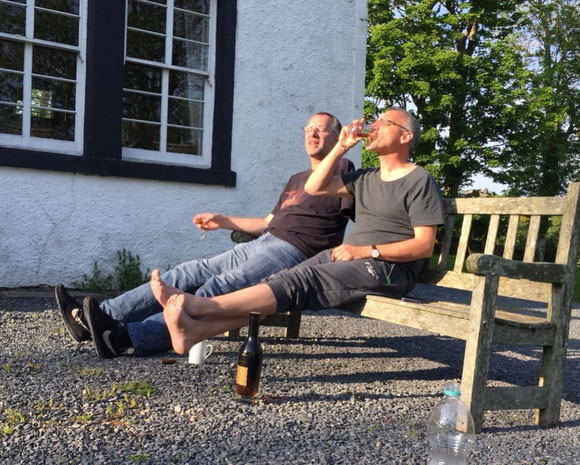 First, we inspected our purchases and took them to our rooms - and documented everything in photos, of course. Despite having eaten at the distillery, we were still hungry so we decided to enjoy the fine weather and went to eat outside.
We put the garden bench and MP3 player into the sun and poured some water and whisky. Sunshine, food and drink as well as good music - what more could one ask for? We stayed outside until the sun set.

---
Monday, 28 May 2018, Day 2 on

Islay
---
Caol Ila Distillery
First, we needed to go shopping in Port Charlotte as our supplies only lasted a day. We decided to get a few cans of Guinness for the evening, but had to find out that the shops sell no alcohol at 9am in the morning - no matter whether it's beer, mixed beer drinks or spirits. So it was back to the cottage. We had ordered our taxi for 9.15 am to get to the Open Day at Caol Ila Distillery.

Caol Ila Distillery was founded by Hector Henderson right beside the Sound of Islay in 1846.
It is located on the east coast close to Port Askaig. When we got there we found out that the Isle of Jura is only 900 metres (approx. 0.6 miles) away. A great panoramic view in the bright sunshine. To get to the distillery we had to walk past a large warehouse. The distillery looks very modern and is quite unspectacular, but still worth visiting.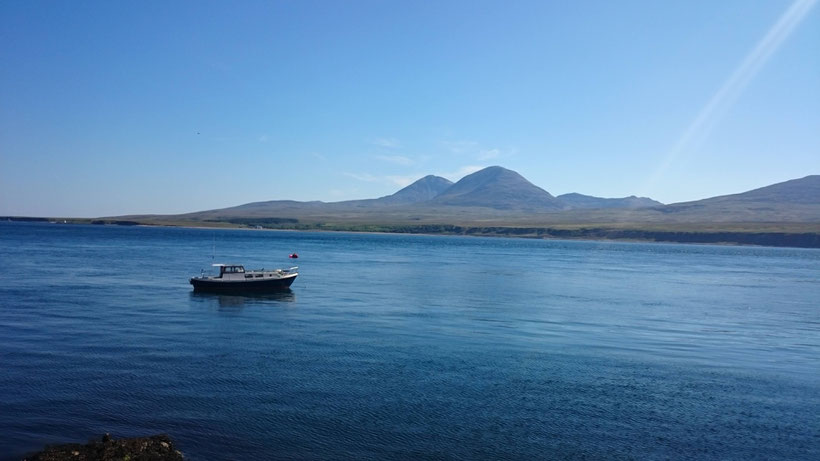 Souvenirs could be found at different booths here, too. Most important thing for us - exactly! - the special bottlings like Fèis Ìle 2018 and Distillers Only. Unfortunately, we weren't the first visitors and had to stand in line to purchase the spirit.
Much to our surprise, a (probably Japanese) customer in front of us bought some REALLY old whisky - 30 years.. If you are familiar with the prices of such old whiskies you will know why this impressed us so much. We remained true to our good intentions and only bought the special bottlings. We did a blind purchase without tasting the whisky beforehand.
After that, we checked out the rest of the distillery as well as the various stalls. Of course, we also had a few drams. As the bar was very popular we had to stand in line here as well which was absolutely worth it. On the jetty across from the distillery compound you could watch the repair process of old whisky casks (in former times, the casks were loaded onto ships here).
Unfortunately, we had a very tight schedule. Thanks a lot to Ingo at this point. He booked all tours and visits on Islay - without him we wouldn't have known when to go where.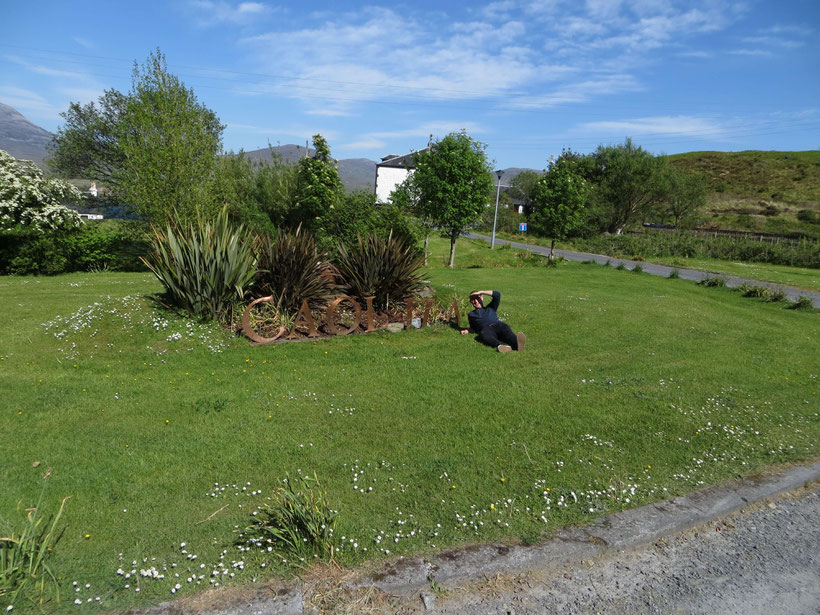 ---
Lagavulin Distillery
Time flew by and our taxi driver was already waiting for us again.

Around 1pm we went back to our cottage via Bowmore as it had the only cash machine. Taxis aren't inexpensive on Islay so we were running out of cash. Ingo had booked a warehouse demonstration at Lagavulin Distillery.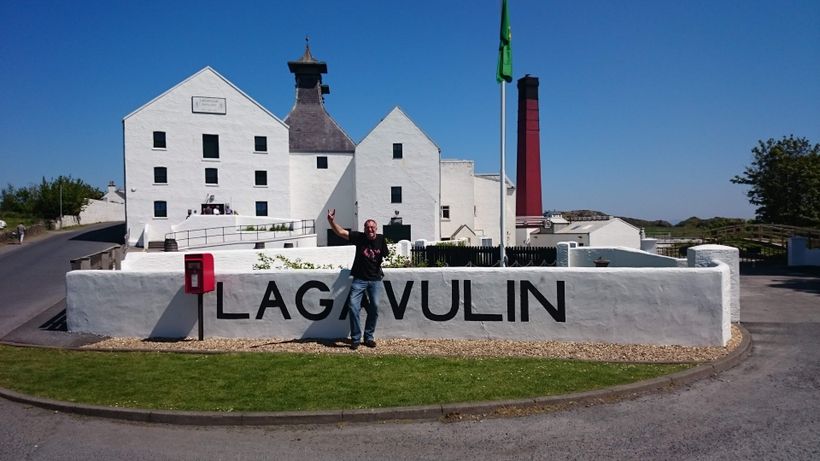 When we got there, we first shot the mandatory photo to prove we had really been there… The participants of the tour gathered at the distillery entrance where master distiller Iain McArthur was already waiting. At 2pm, we were off on a once-in-a-lifetime experience!

Approximately 25 people from all over the world took part in this whisky tasting at the warehouse. The master distiller proudly explained his work. It was an enjoyable and funny presentation. Cask samples were provided here as well.

When collecting and filling the whisky from a valinch into a measuring glass, Iain McArthur spilled a little bit. A German guest saw this waste and immediately sprang into action by kneeling behind him to catch the whisky with his glass....! ;-)))
This warehouse tasting also ended far too soon.

On our way back from the warehouse we passed the lobby and the distillery shop where we bought some more Fèis Ìle bottlings. If you wanted you could have your bottles signed by Iain McArthur.

Unfortunately, we forgot to reserve a taxi from Lagavulin to our cottage. so we were forced to walk which was a little strenuous (especially for me due to my walking disability). We had expected temperatures below 20 degrees celsius and cloudy weather. A rather pleasant error as it was simply excellent for our trip.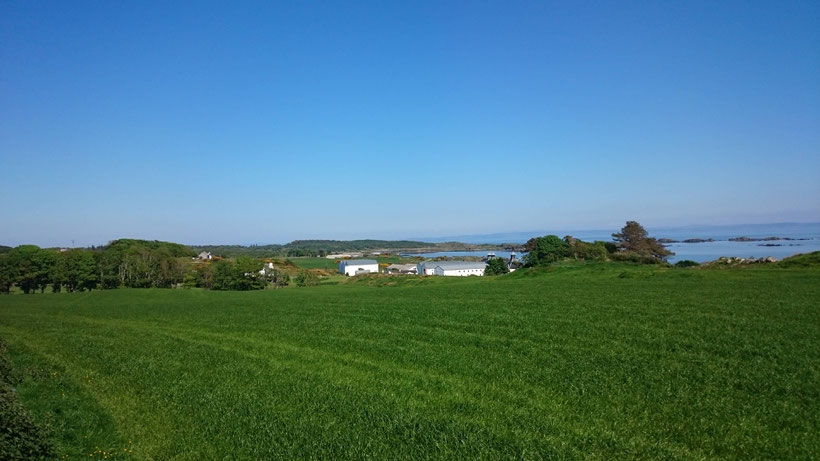 We stopped again after only 500 metres to check out a little shop selling craftwork - made from old casks and staves - which we wouldn't even have noticed if we had taken a car or the taxi. The owners met us halfway and welcomed us cordially. They asked us whether we wanted a drink, where we were from and why we were visiting Islay. We took a look around and found some nice stuff which we did not buy as we would have had to carry it back to the cottage and - Uli and I - did not have the space for it at home. Ingo bought a converted cask lid that he will put up in his hobby room.
---
Ardbeg Distillery
After our short shopping break we went to the Ardbeg distillery. We already had to hurry as they close at 5pm.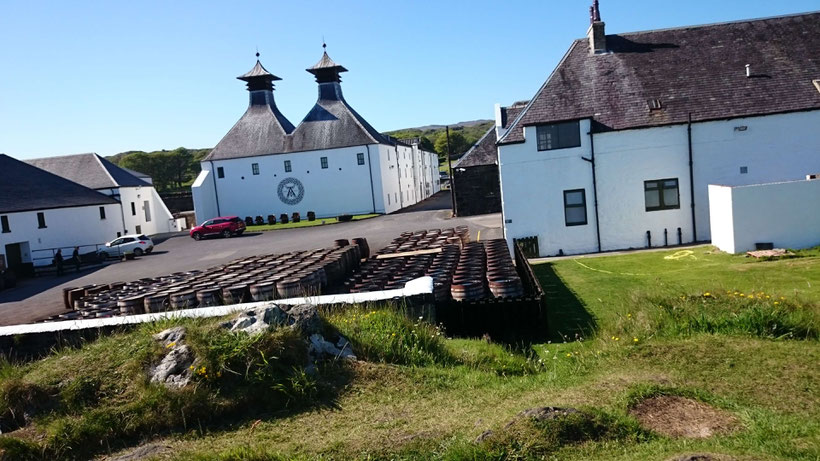 When we arrived, I followed a group of visitors into the building. I went to the tasting room and asked the friendly waitress if I could try a sample of the current bottling. She confirmed and put a brimmed glas in front of me. When I asked for the price she told me it was "for free". After a second dram, I went to the shop to purchase the special bottling. Unfortunately, I was too late as they only sell a small contingency before the Open Days and they recommended I should come back early the next morning.

I went back to the tasting room where I found my friends asking for a "special whisky" which is how we got to taske a 21 year old Ardbeg. At 5pm sharp, we were asked to leave as the distillery was closing. We went outside, sat down at one of the tables and enjoyed our whisky.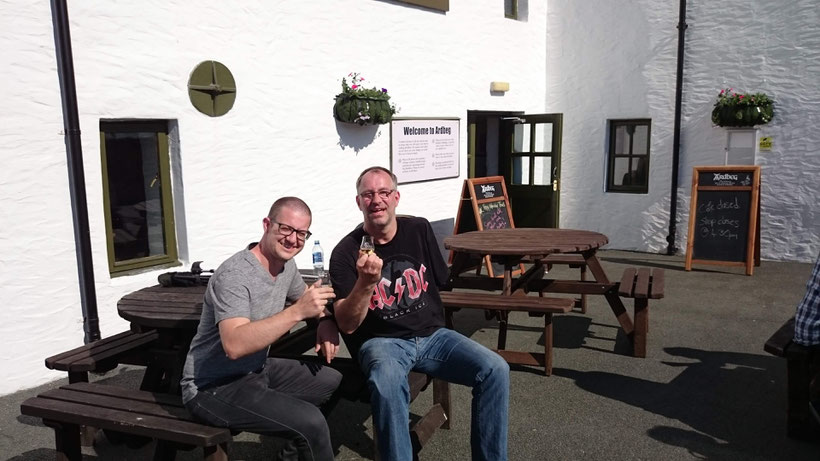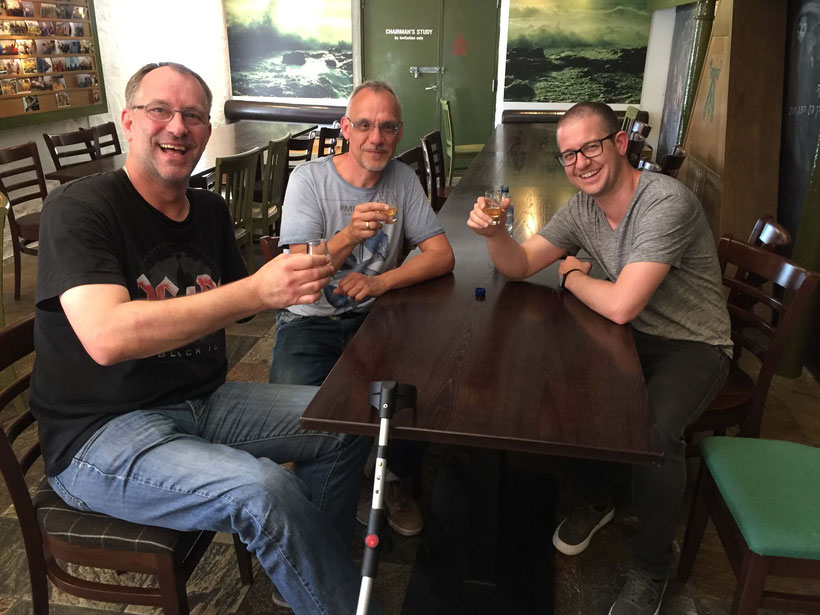 We checked out the area around the distillery afterwards. Behind the visitor centre you could find a large square filled with empty casks and several other distillery buildings which could be entered.
The bay behind the distillery was the place to be:
We all picked a spot of our own and sat down to enjoy the rest of our whisky and the splendid view. The water surface was as smooth as glass, there was a slight wind and you could smell the sea. You were even able to spot the coast of Northern Ireland in the distance - more than 40 kilometres (approx. 25 miles) away. It was a breathtaking view. After a while, we packed our stuff and returned to our cottage.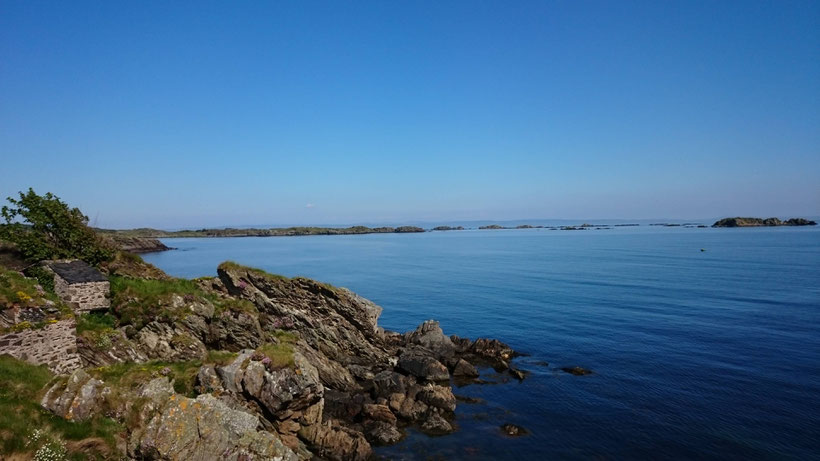 Halfway there, we were addressed by a neighbour interrupting his work on a small boat.  As he did not know us he wanted to find out who we were and where we were headed. We had already learned from our taxi driver that this guy was THE specialist in boat repairs on Islay. We told him we had rented the cottage for the week and were spending our holidays here. After a short chat, we said our goodbyes and invited him for a drink which he declined, because he had to finish his work on the boat.

---
Welcome to Part 3 of our adventure on Islay including visits to
Port Ellen, Laphroaig, Caol Ila, Bowmore and the Ardnahoe Kinship Tasting with Jim McEwan.
---
---
---