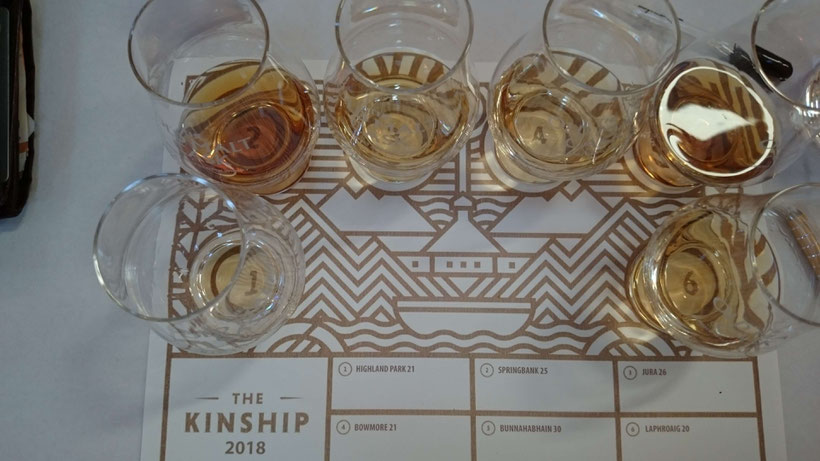 Welcome to Part 3 of our adventure on Islay including visits to Port Ellen, Laphroaig, Caol Ila, Bowmore and the Ardnahoe Kinship Tasting with Jim McEwan.

---
---
Written by Jürgen
- translated by me (the blog owner)... ;-)
---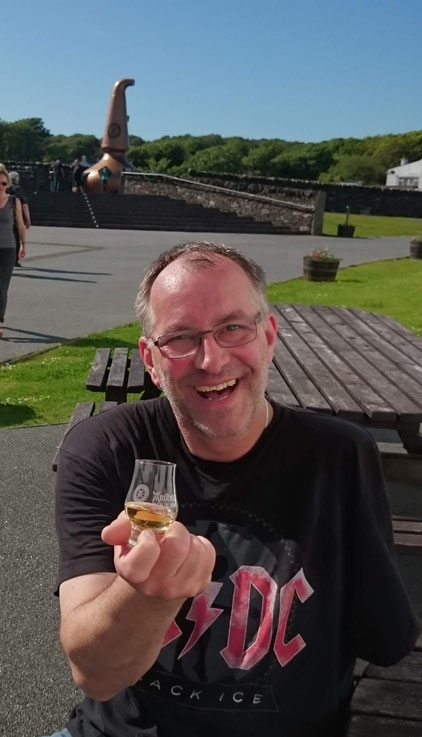 Hello, I would also like to introduce myself:
My name is Jürgen and I am the blog owners partner/boyfriend.
I was born in September 1969 in the northern part of the Ruhr District.
Originally, I was a system mechanic, but I had to change my profession to Business Economist due to a severe motorcycle accident.
It was the movie "Braveheart" that piqued my interest in Scotland.
My/our first vacation in Scotland was in 2002. After that, I was so fascinated by the country and its lovely people that I love to come back to spend my holidays here. Islay was already my 11th vacation in Scotland and I am quite sure it wasn't the last one.
I got interested in whisky when visiting a friend who owned a little selection.
By now, I have my own small collection of this exquisite spirit.
---
Tuesday, 29 May 2018 - last day on
Islay
---
Ingo had set up a rather insane schedule for today:
- Visit the Open Days at Laphroaig
 - 2pm: Caol Ila, Manager's Cask Strength
- 4pm: Bowmore Distillery

- 6.30pm: Shuttle Service to Ballygrant Hall
- 7pm: Ardnahoe Kinship Tasting with Jim McEwan, Ballygrant Hall
After breakfast, we first went to Laphroaig.
Ingo desperately wanted a photo of himself in front of warehouse no. 1 without other people in it.
That worked out really well and in the end, we all had some great pictures.
---
Port Ellen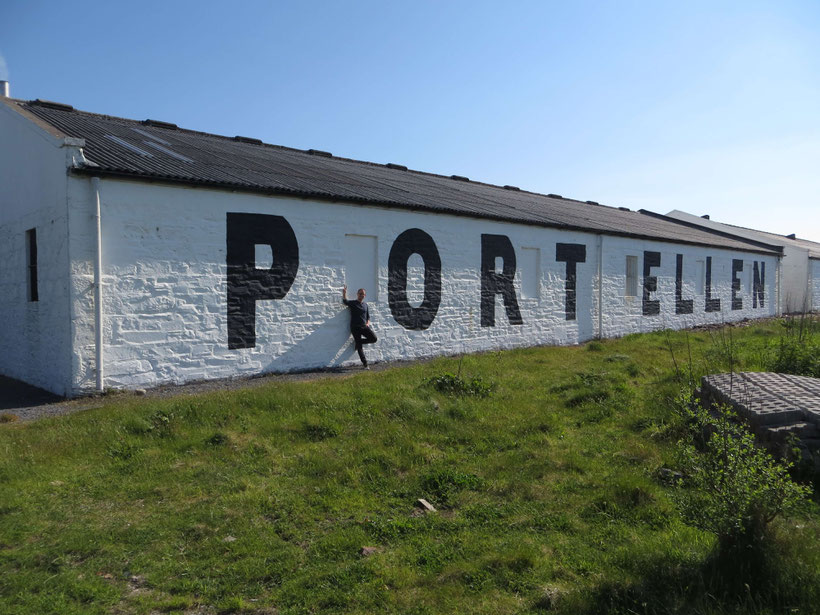 On to Port Ellen for shopping. As we were already there, we went to Port Ellen Distillery - which is sadly inoperative - to shoot some photos. So far, we haven't had the chance to taste some of the whisky as prices are exorbitant. 1300 Euros a bottle is just sick!

Port Ellen's beach is very nice, quite broad and well-kept - even the small band of lawn between the sand and the road had "golf course quality". Much to Uli's and Ingo's surprise, some visitors spent their nights here in campervans or tents. I told them it was okay as long as you left the place clean and tidy (see also: Scottish Outdoor Access Code). In the meantime, it was already almost 10am and we had to hurry to get to the Open Days at Laphroaig.
Before that, we also needed to go back to Ardbeg to buy the special bottlings. The friendly waitress recognised me and redirected me to the shop. As I could not find anything on the shelves I joined the queue and purchased two bottles. When leaving the shop, we decided to share one of the bottles - one third for each of us.
---
Laphroaig Distillery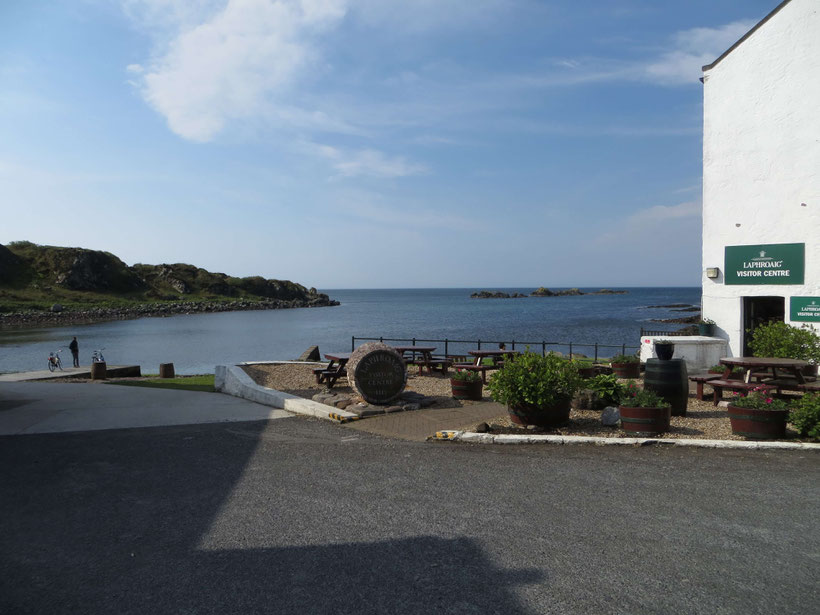 In the lobby of the Laphroaig Distillery, every visitor got a welcome gift consisting of a 0.5 litre vacuum flask for cold or hot drinks, a lanyard - something like a keychain which you can wear around your neck - to hold a glass, a matching Glencairn glass and a small sample of the special bottling. The booths were the same as those that had already been set up at the other Open Days. The only thing that had changed was the number of visitors. While on day one, Sunday, there had only been around 40 to 50 people on the premises the number had easily multiplied by 20 or 30 now.

I found a spot from which I could see the entrance and waited for my friends who had walked to the distillery. I saw them waiting in line one hour later and it took them another few minutes to get their hands on their welcome gifts, too.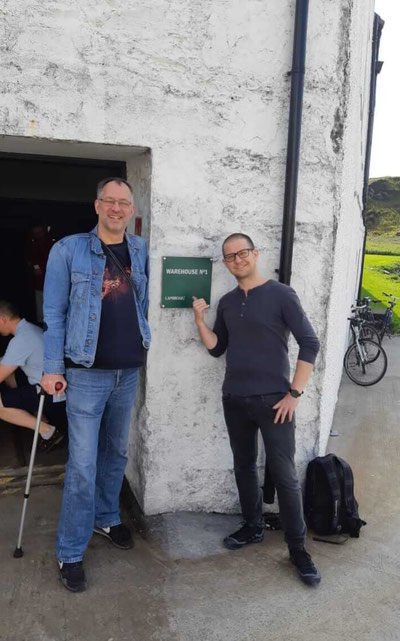 Around lunchtime, we indulged in a BBQ burger. After that, we went to the shop as we had missed visiting it before. A glimpse at the watch told us our taxi driver would be here in a few minutes. From Laphroaig, we went to visit Caol Ila for a second time.
---
Caol Ila
When we got there, we registered at the shop and waited outside for our tour to begin. It started on time and the manager welcomed us, asked a few questions and explained the manufacturing process of the whisky.

The tour at Caol Ila was absolutely brilliant! The air in the boiler house was hot and extremely humid. All the windows were wide open, but that did not help much.

After approx. 30 minutes, we were led onto the upper floor of the warehouse for the so-called "warehouse demonstration". We got to try some cask samples here as well. The manager showed us how to take them. Ingo volunteered, drew a sample from the cask using a valinch and filled it into a bottle. For him, this was the highlight of the tour or maybe even the highlight of the whole journey.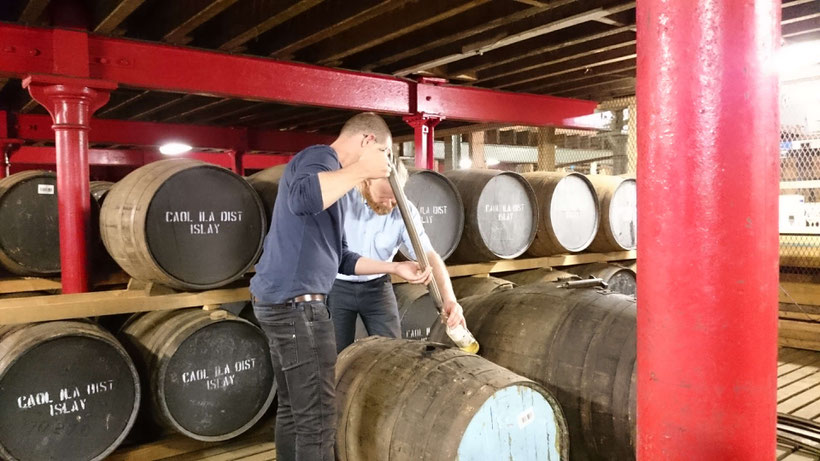 Of course, we also had a whisky tasting here. We got our glasses filled with a variety of cask samples. They covered a wide portfolio from old to young, Bourbon to Sherry cask-matured and were all completely different in taste.

Before the manager could ask what the whisky smelled like I said - louder than I had originally intended - that the whisky smelled of banana. He stayed cool, sniffed and confirmed my olfactory analysis. We had a few more samples including the FèisÌle 2018 and Distillers Only bottlings. After this, the tasting was done and when we left the shop our driver was already waiting to take us to Bowmore.
---
Bowmore Distillery
After another tour across the island we reached the little town of Bowmore.
The distillery is located right between the sea on one side and the city centre on the other side. Before taking the shuttle service to Ballygrant Hall at 6.30pm, we had time to stroll through the shop and have something to eat and drink. Unfortunately, the special bottlings were already sold out, but there were still lots of other interesting options left - including Distillers Only and a few bottlings you can also find in Germany.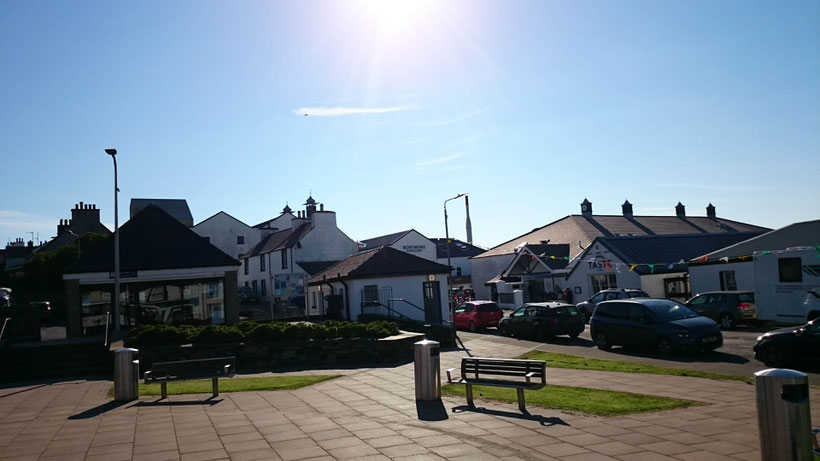 As it was already around 5pm, we were very hungry so we took a seat in the outdoor area of the "Peat Zeria" close to the city centre (peat is a significant component in the whisky making process). It was fantastic! Fresh pizza with a view, right on the waterfront. As we were still hungry after the first course we just went to order another Haggis pizza!
At 6.15pm, everybody gathered at the meeting point to take the shuttle bus to Ballygrant Hall. We met lots of familiar faces from our other distillery visits and found that everybody had mostly visited the same distilleries and had purchased mostly the same whisky. We all agreed that the Fèis Ìle week 2018 was a great event - especially for us as it was our last day on Islay.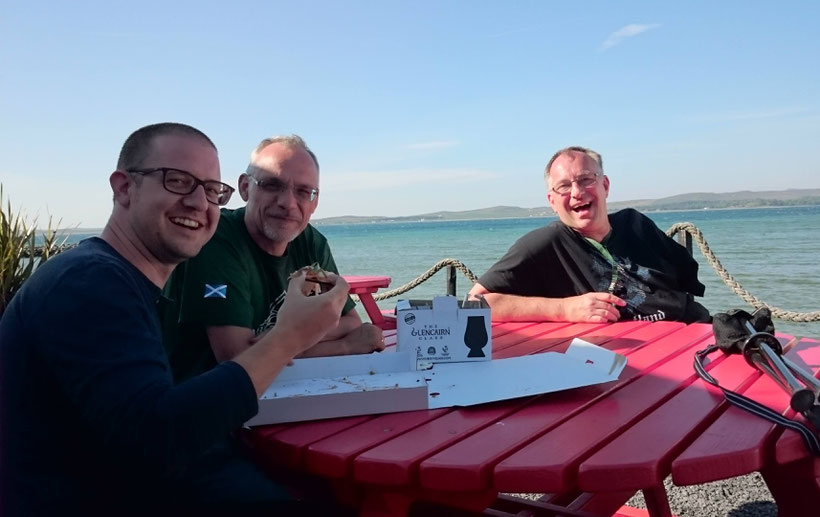 ---
Ardnahoe Kinship Tasting
At Ardnahoe, we had to look for seats that provided enough space to spread out all our purchases from three distilleries. Now, the top act of our vaction began.
Ingo had also booked this event in advance:
Tasting of six different whiskies - none of them younger than 20 years.
Highland Park 21 y.o.

Springbank 25 y.o.

Jura 26 y.o.

Bowmore 21 y.o.

    Bunnahabhain 30 y.o.

    Laphroaig 20 y.o.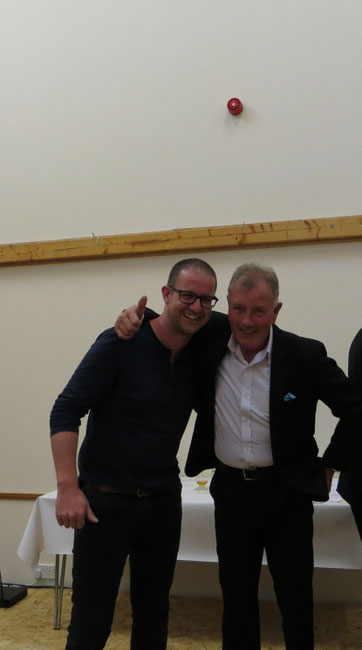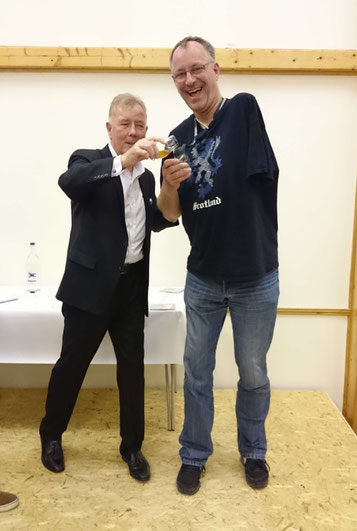 Our host was none other than Jim McEwan. A master of his trade, worshipped in the whisky business like a pop star. McEwan retired in 2015, but could be won over for the new "Ardnahoe" project. The event was attended by people from all over the world and accompanied by local musician Angela Peterson and her husband. 
When the tasting started, Jim explained a few important things like:
Bourbon cask-matured whiskies need water to unfold their flavour and Sherry cask-matured whiskies just need very little water or no water at all. After every sample, there was a musical break.

At the end, Jim auctioned two autographed tasting books of the event. Book #1 sold at 500 pounds and book #2 changed hands at 800 pounds. The money will be donated to buy prosthetic legs for children in Syria.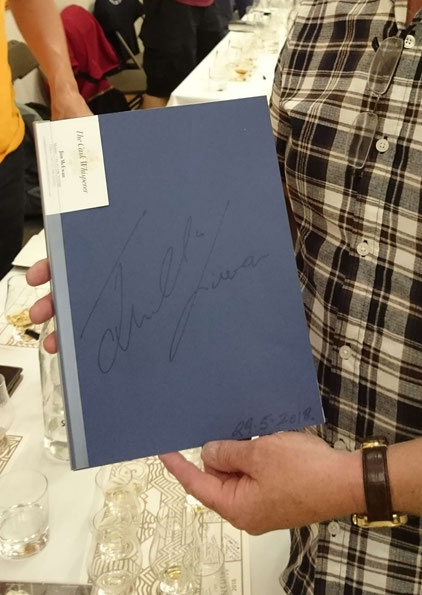 ---
We finished our trip in Edinburgh
and went on to the ferry back home from there...

---
---
---