Achiltibuie, ein kleines Dorf an der Küste nördlich von Ullapool in der Region Wester Ross, ist aufmerksamen Lesern eventuell ein Begriff durch die Kolumne "Mail aus Achiltibuie" in der deutschen Wochenzeitung "Die Zeit". Deren Autor - Reiner Luyken - betreibt dort zusammen mit seiner Frau Sheileagh die "Brochs of Coigach", zwei Luxus-Ferienhäuser, die von Architekt Stuart Bagshaw entworfen wurden.
Bevor wir weiter nach Inverness und Edinburgh reisten, verbrachten wir dort eine sehr erholsame Woche
mit grandiosem Blick auf die Summer Isles.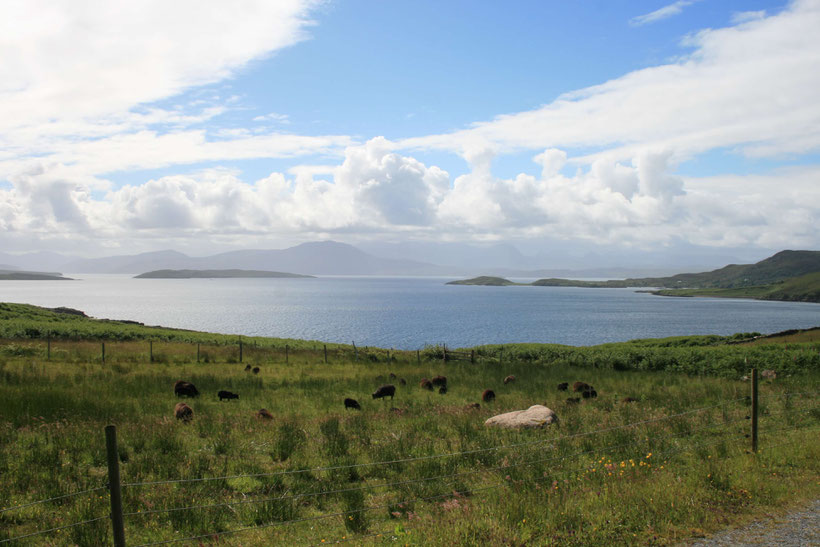 ---
Anreise
Nach Achiltibuie fährt man mit dem Auto über die A385 bis nach Drumrunie, biegt dort ab (besser kann ich es nicht beschreiben) und folgt einfach der Beschilderung, bis man sein Ziel erreicht hat.... ;-)
Auch unser Navi hatte keine Schwierigkeiten, die richtige Adresse zu finden.

---
Was ist ein Broch?

Als "Brochs" bezeichnet man aus der Eisenzeit stammende, fensterlose Rundhäuser aus Stein,
die schätzungsweise bis zu 15 m hoch gebaut waren. In Schottland findet man noch viele Ruinen solcher Brochs.
Die "Brochs of Coigach" sind solch eisenzeitlichen Brochs nachempfunden, bieten aber jeglichen modernen Komfort.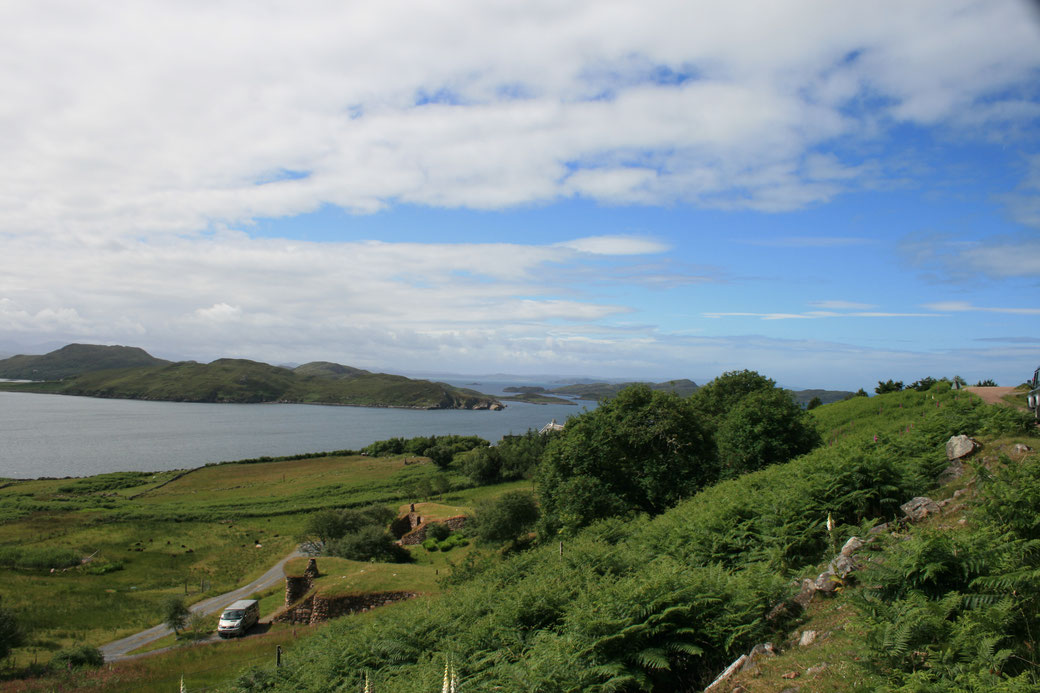 Der tolle Ausblick aus unserem Fenster änderte sich ständig - je nach Wetterlage und den entsprechenden Lichtverhältnissen.
---
Aktivitäten
Wie bereits erwähnt, haben wir uns in der Woche in Gille Buidhe's Broch hauptsächlich erholt.
Wir haben allerdings auch ein wenig die umliegende Gegend erkundet und waren zwischendurch in Ullapool.
Für einen Trip nach Stornoway hat es leider nicht gereicht, da man dort hätte übernachten müssen - und das hatte ich vorab nicht eingeplant :-( . Andererseits habe ich so auch wieder ein neues Ziel, auf das ich mich freuen kann... ;-))
 Hier einige Bilder unserer Spaziergänge (zum Vergrößern bitte anklicken):
---
Inverewe Garden
Nach der Abreise aus Achiltibuie fuhren wir durch eine spektakuläre Panoramalandschaft nach Inverewe Garden.
Der 20 Hektar große Garten wurde in den 1860ern von Osgood Mackenzie angelegt und zeigt Pflanzen aus der ganzen Welt.
---
---