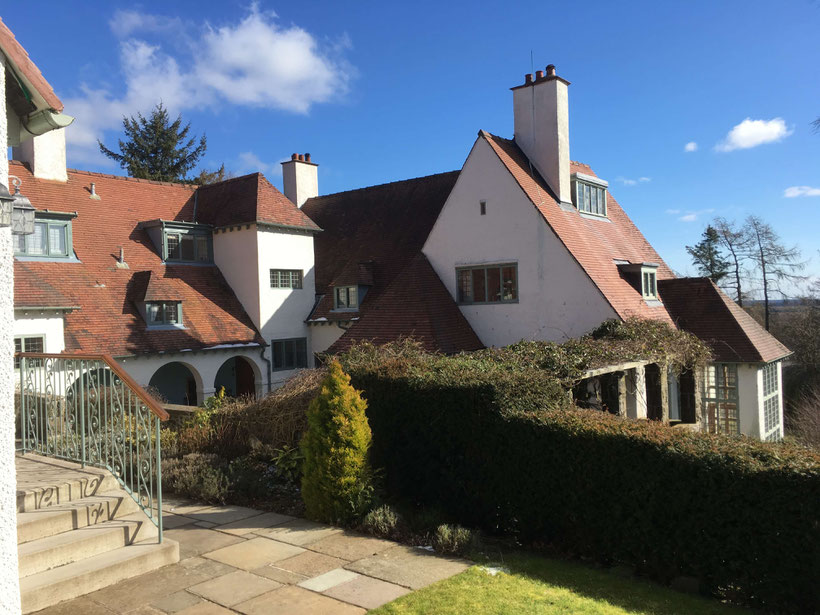 ---
We enjoyed our week in Fife in October 2017 so much that we decided to come back.
So, in March 2018, here we are...
 Fife is located in the south-easterly part of Scotland on the North Sea coast between
Edinburgh/the Firth of Forth and Dundee/the Firth of Tay.
As it is an ideal starting point for discovering Scotland's east coast or a nice stopover on the way to the highlands and islands, I decided to note down a little itinerary of what we saw and did within a week's time - hoping to give you a little inspiration.

I divided the itinerary into two halves - part two can be found here.
---
UPDATE January 2020
The comment from Ken in part 2 of this itinerary made me aware that it isn't entirely clear that not all of the places mentioned are actually in Fife.
Edinburgh, Dundee, Falkirk or Pitlochry do not belong to Fife, but are easily accessible from there - e.g. Dundee was only about 5 miles from our cottage in Fife - so we went to visit them during our stay.
---
Getting there
Coming from Germany, we took the DFDS ferry from Amsterdam-Ijmuiden to Newcastle-upon-Tyne again and got to Fife in our own car. The sea was a little rough, but not as bad as it was back in February 2017 when I had to throw up all night on our way home. ;-)
This time, it was so windy in Newcastle that our ship had to be towed into the harbour by two tugboats (one in front of the ferry and one at the back).
There are several roads into Fife, but you can also get there by train, bus or plane (via Dundee or Edinburgh).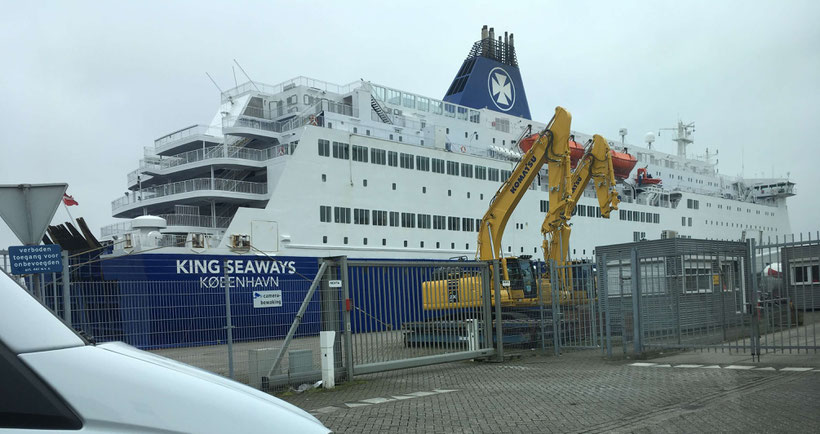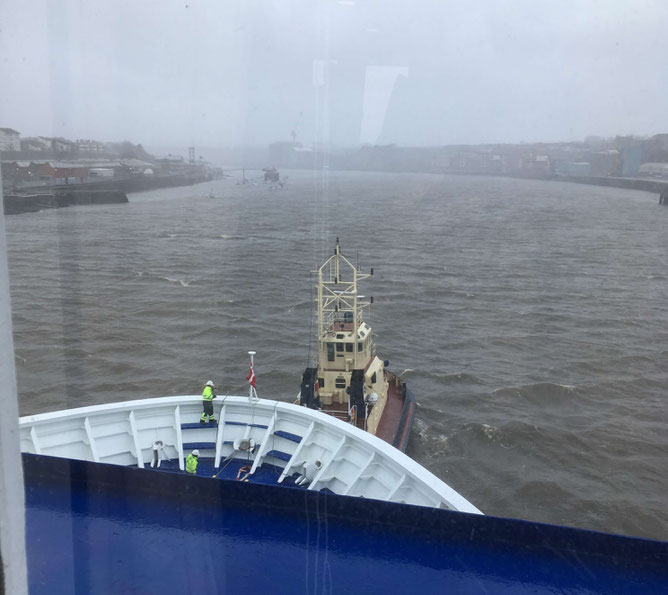 We decided to try a Commodore Deluxe cabin which is more expensive, but also more comfortable than a standard cabin. It offers access to the Commodore Deluxe lounge which has a view out the front window so we were able to witness the tugboat procedure first-hand.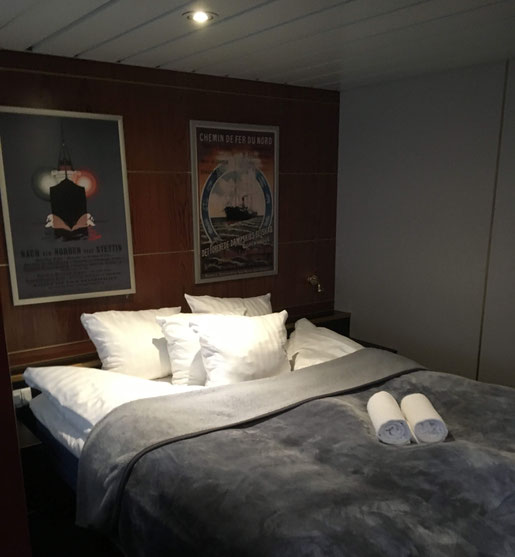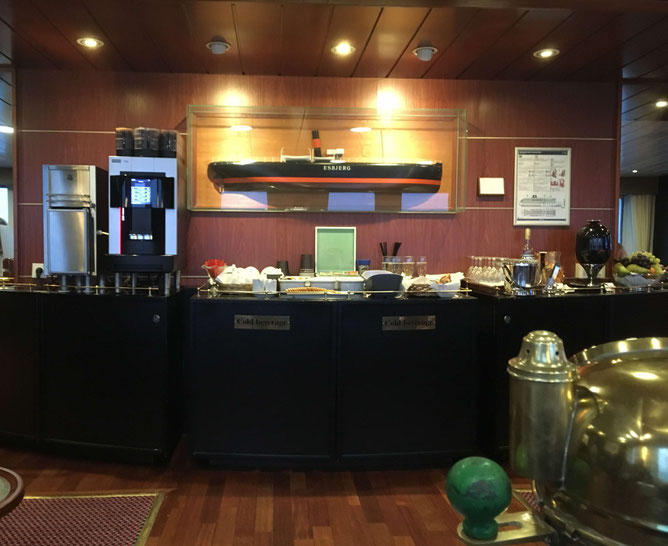 ---
Arrival
We got off the ferry in Newcastle at approx. 11:00 hrs and arrived at Baillie Scott Cottage around 15:00 hrs.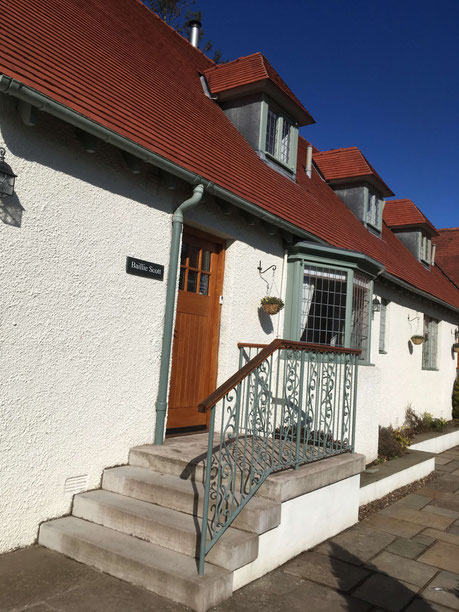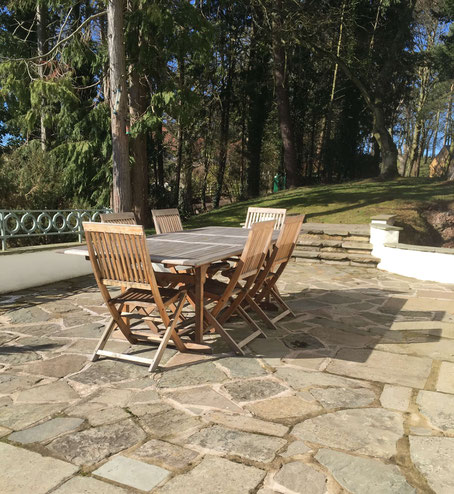 When I went upstairs, I discovered a lovely welcome gift in our kitchen...
Thank you so much, Evelyn and Ralph, for this kind gesture. :-)
We also got a guided tour through Sandford House and got to see how much love - and work! - Evelyn and Ralph put into restoring it (our friends could hardly believe it when they saw the restoration on DVD).
Great job!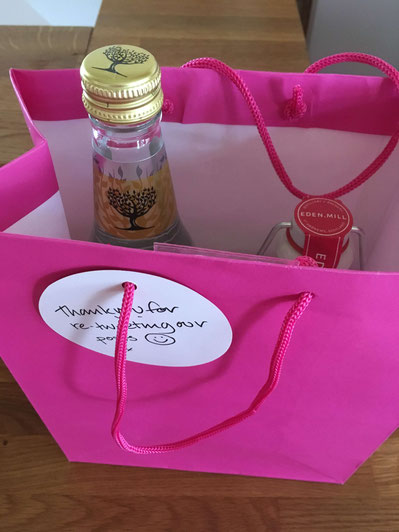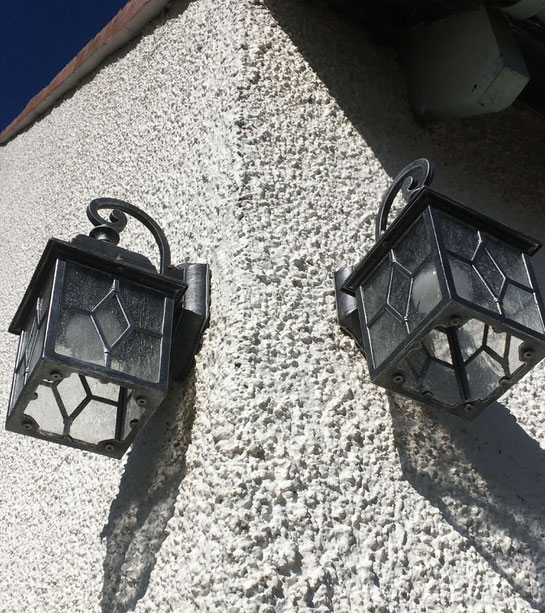 The rest of the day was spent shopping (for food) and relaxing in the house.
---
Three Bridges, a sculpture and a rotating boat lift
After breakfast, we took a one-hour drive to Edinburgh Airport to pick up some friends who stayed with us at Baillie Scott Cottage for a few days. Instead of heading into Edinburgh - which we saved for another day - we took them to North Queensferry to take a look at the Forth Bridges.
The wind was so strong it almost blew us off our feet! ;-)

It gave me a slight idea of how designers and constructors of such structures need to struggle with (or against?) the forces of nature...
The Forth Bridge is UNESCO world heritage and shall get a visitor platform in the future.
I am really looking forward to checking it out.
After our visit, we desperately needed to warm up so we had some hot beverages and scones at Rankin's Café and Deli which was very nice.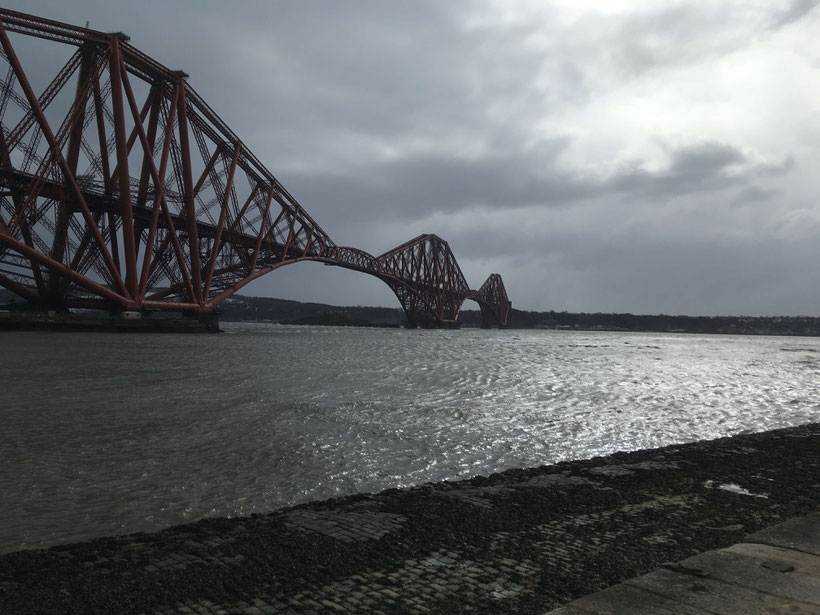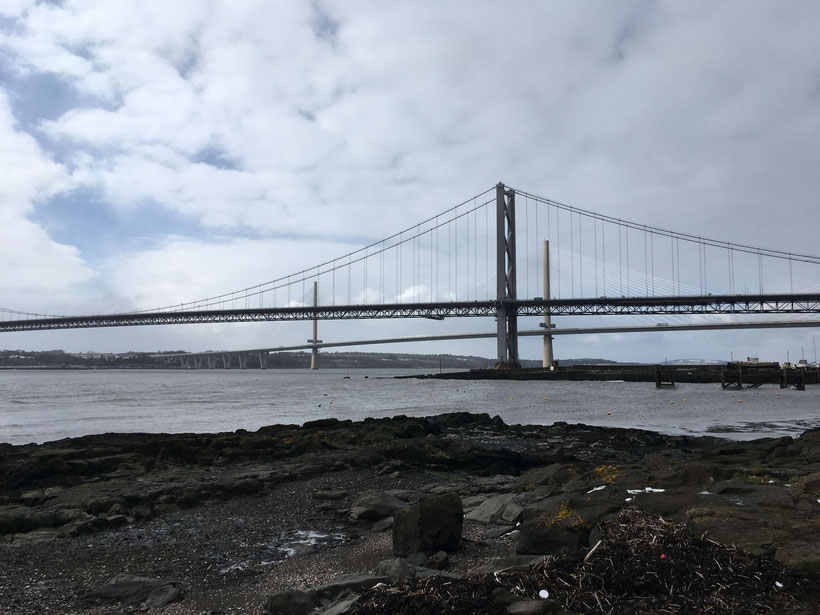 The Kelpies
From North Queensferry we went on to visit the Kelpies and the Falkirk Wheel. 
The Kelpies are two 30-metre-high equine sculptures made of steel next to the Forth and Clyde Canal.
They were completed in only 90 days and opened to the public in October 2013.
The horse-heads were designed by Sculptor Andy Scott as part of a parkland project called "The Helix".
The name reflects the mythological transforming beasts possessing the strength and endurance of a 100 horses.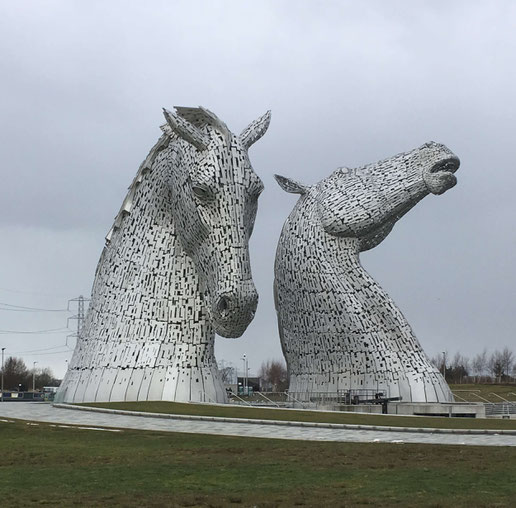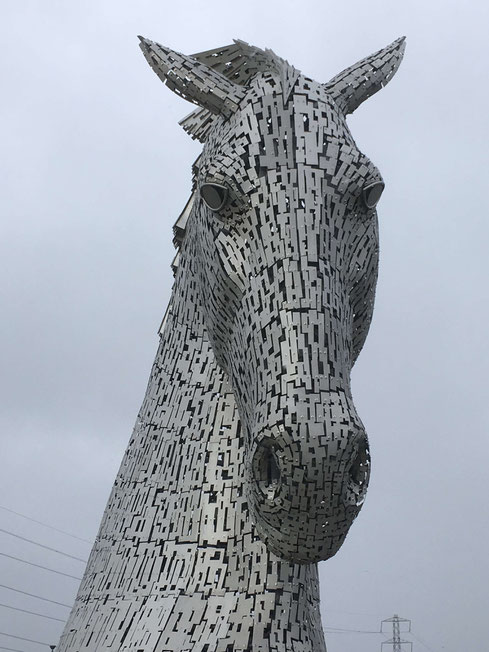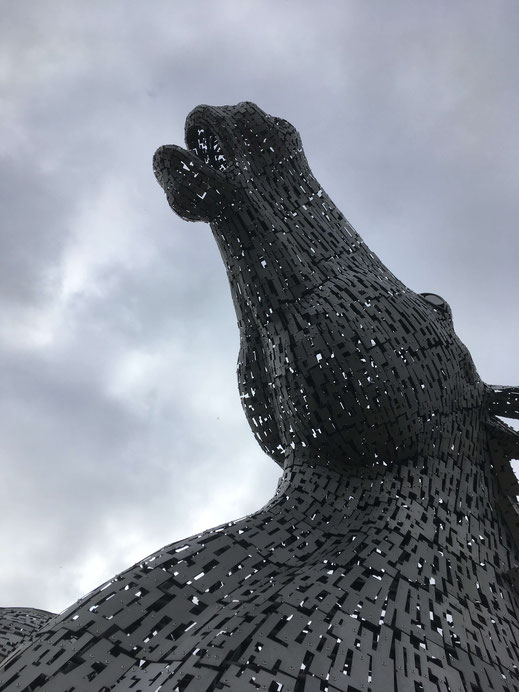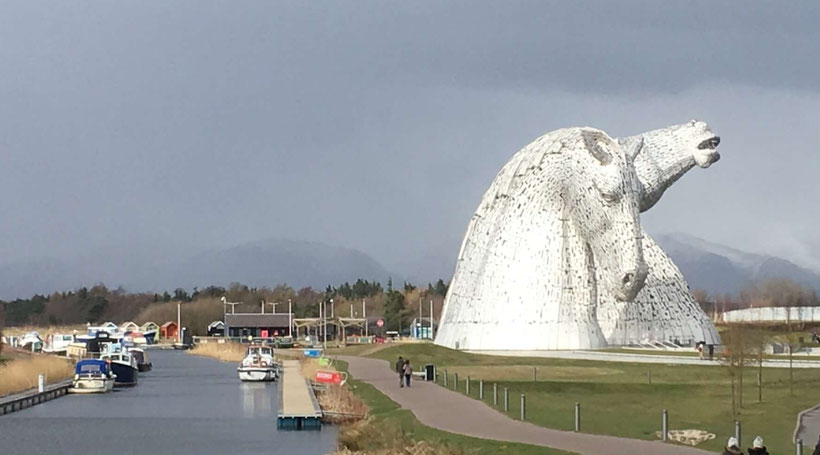 Falkirk Wheel
The Falkirk Wheel is the only rotating boat lift in the world.
It consists of 1200 tonnes of steel and more than 15000 hand-tightened bolts.
It was opened by Her Majesty, The Queen, in 2002.
If you want, you can have yourself swirled around on a ride
(although "swirling" might be the wrong expression as the wheel moves rather slowly)... ;-)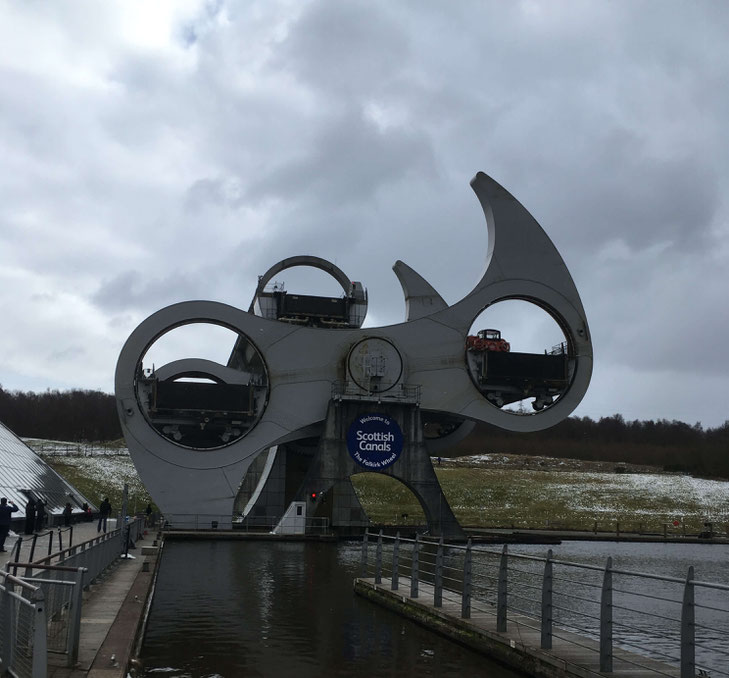 ---
St. Andrews and Anstruther
Day 3 was - for the most part - spent in the lovely St. Andrews which we liked very much when we came here for the first time in October 2017. Our friends had never been there so we thought it would be a nice excursion. We walked along the streets past St. Andrews Castle to St. Andrews Cathedral - a must-see for every visitor and really beautiful in the sunshine. ;-)
You can find a little more information on St. Andrews in my blog post from October 2017.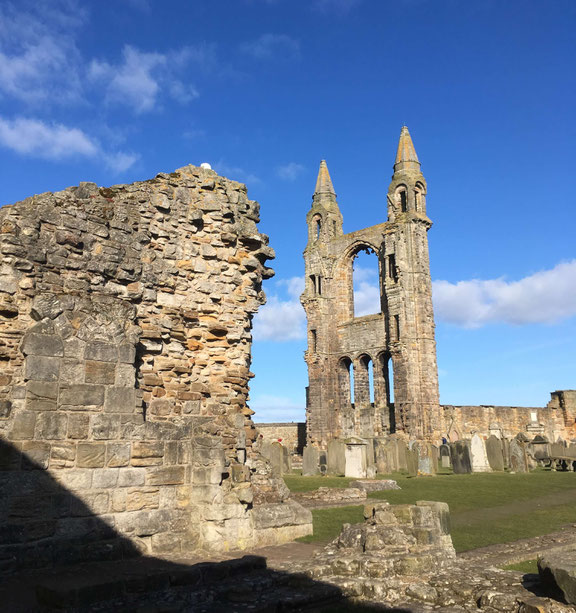 When we were driving through St. Andrews in October, we noticed a long queue in front of a shop and were wondering what that was....
After returning back home, I googled and found out that people were queuing for ice cream at Jannettas Gelateria so when we got there this time, we gave it a try. Yummy! :-)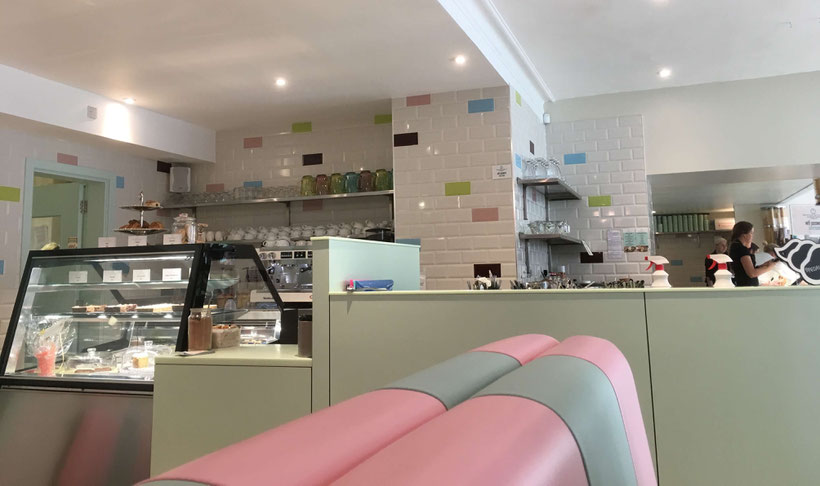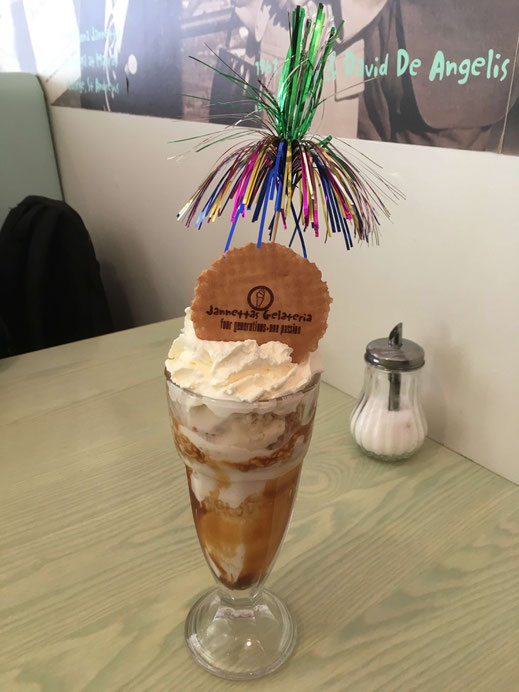 On the way back to our cottage, we stopped in Anstruther which is one of many beautiful small towns along the Fife coastline.
Anstruther is a former fishing village and home to the Scottish Fisheries Museum. Anstruther-Easter and Anstruther-Wester are divided by the "Dreel Burn". Anstruther is part of the Fife Coastal Path and I took the opportunity to walk here from Crail in October 2017.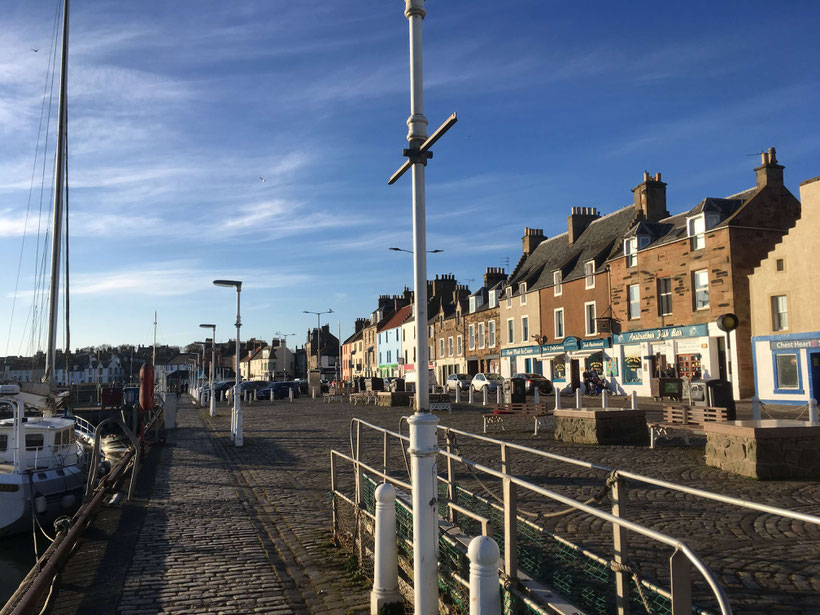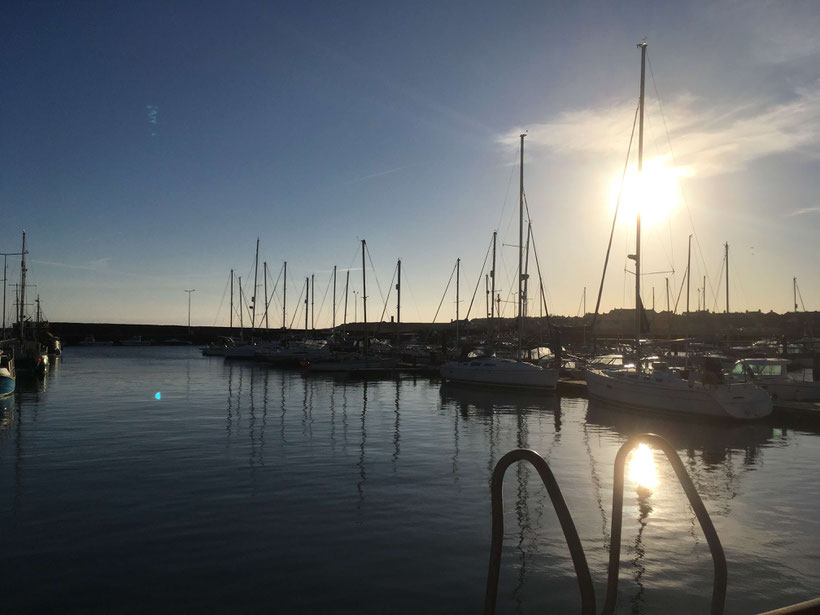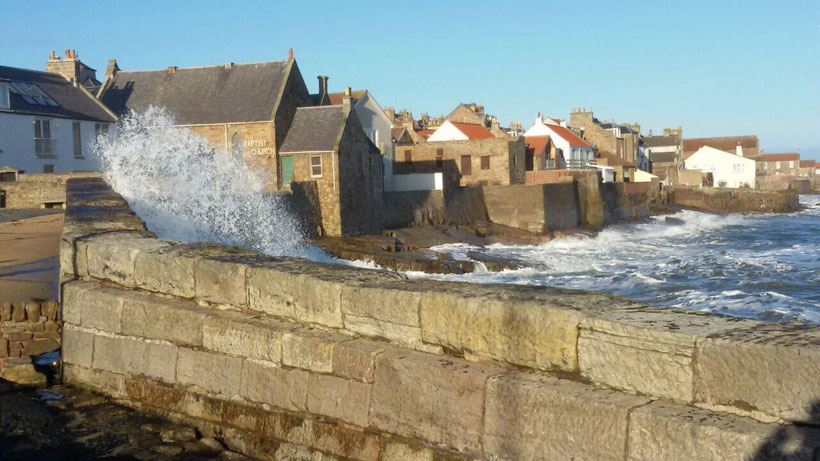 ---
Pitlochry and Edradour Distillery
On Day 4, we went to Pitlochry in Highland Perthshire.
Edradour Distillery
First, we visited the Edradour Distillery - a place that looks a little different every time we go there.
I am not sure how many guided tours we already took at Edradour (maybe 5 or 6?).
I still enjoy them as there is always something new to discover. Among the things I learned this time, is the correct pronounciation of the word "uisge" (water) - the Gaelic origin of the word "whisky".
The distillery was founded in 1825 as a cooperative of local farmers following the Excise Act of 1823 encouraging licencing and reducing duty paid on spirit (before that, there were many illegal stills across the country).
For a long time, it was the smallest distillery in Scotland and I still have some old photos saying so on their entrance sign. They now call it "Scotland's little gem" which I believe it is as it is still housed in the original farm buildings which look rather picturesque.
Fortunately, the construction of the new Ballechin plant (producing peaty whisky) did not destroy the looks of the place.
While my partner is a big fan I am not a whisky drinker myself, but that doesn't stop me from tasting...
(the tour is 10 pounds/adult and you get to taste Edradour and Ballechin whisky and you can keep the official tour glass afterwards). ;-)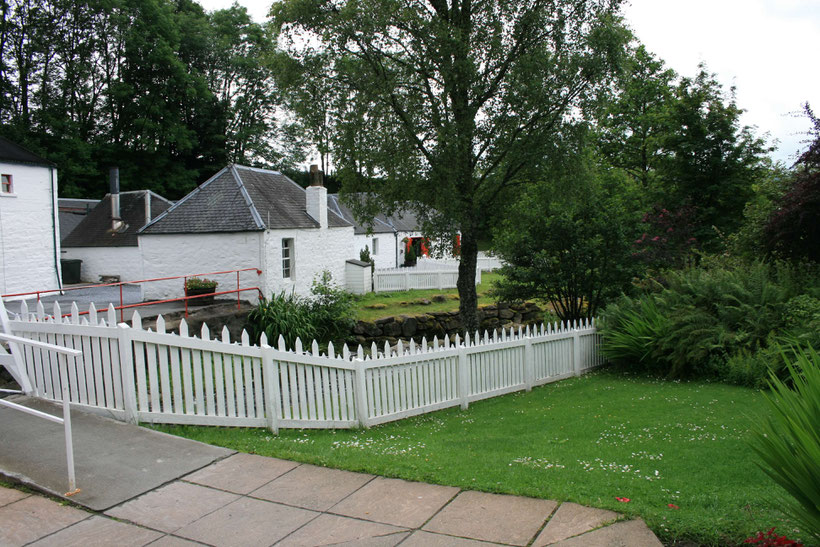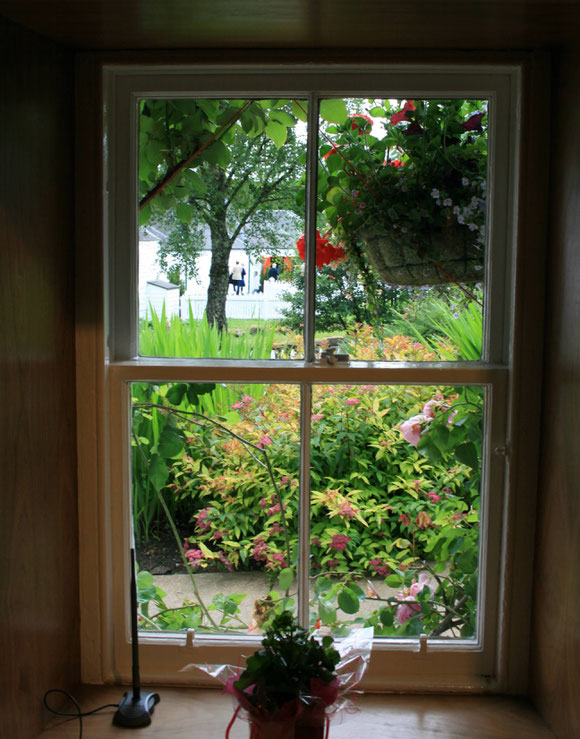 Pitlochry
As stated above, Pitlochry is located in Highland Perthshire. It can easily be reached by car via the A9,
by bus from Edinburgh, Glasgow or Inverness or by train (including a direct link to London).
The closest airports are Edinburgh, Glasgow and Inverness.
After visiting the distillery, we went into town and took a very nice walk down to River Tummel, crossing the Suspension Bridge which was opened in 1913 to replace the Port na Craig ferry that had been operating since the 12th century.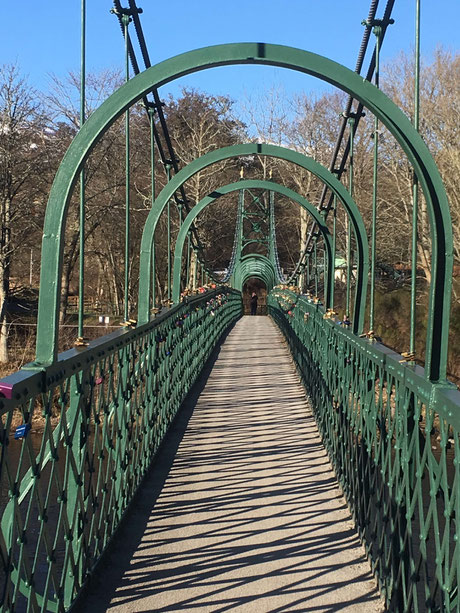 We then went on to the Fish Ladder and across the dam, on to Pitlochry railway station and back into town, enjoying a cup of coffee and a piece of cake as a reward for our walk. :-)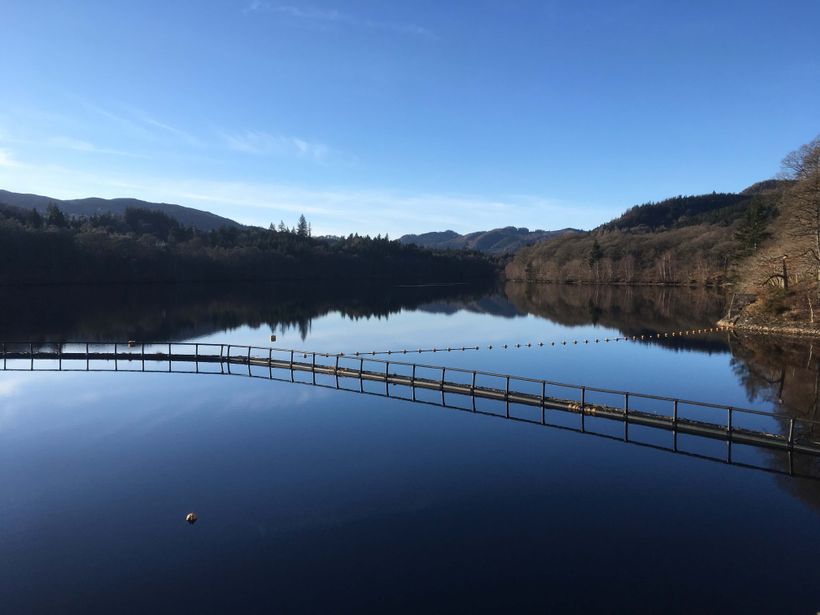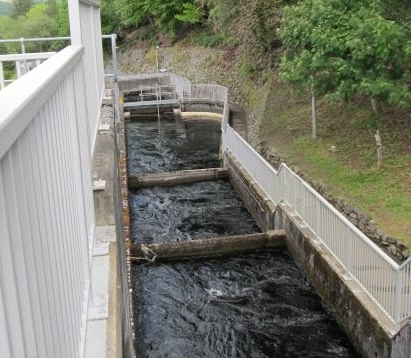 While we were too early in the year for salmon to pass through the fish ladder, we were too late to check out the Pitlochry Dam Visitor Centre as it had already closed for the day.
Photo in lower right corner: Jens R.
Pitlochry Railway Station
---
If you don't like the weather - wait a minute...
People seem to think you are nuts when you tell them you are going to Scotland in March... ;-)
Except for the extremely chilly winds we had excellent weather and the few clouds didn't bother us at all.
The only drops of rain we had fell while we were driving in our car so we never got wet. :-)
---
Part two to follow shortly
(Update: Link to part 2)
I am still figuring out how to structure my blog posts properly.
When looking at the ones already online, I get the impression that they are too long and have too many photos in them. That's why I decided to divide this post into "part one" and "part two".
Good? Bad? Please let me know your thoughts. :-)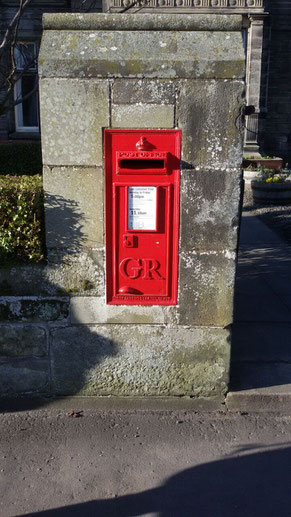 ---
Thank you to my fellow travellers for allowing me to use some of your photos. :-)
---
---
---