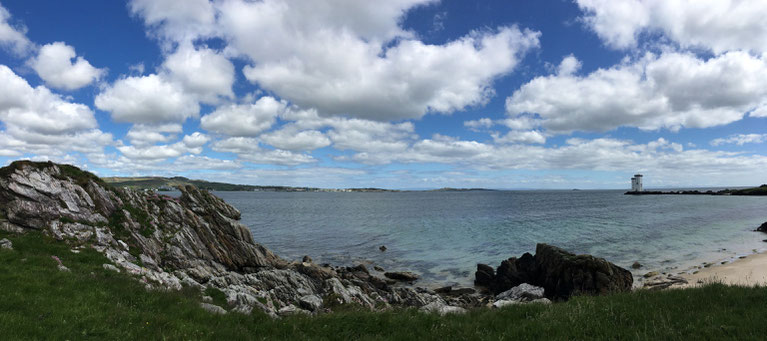 After almost 2.5 years we finally went back to Scotland - to the Fèis Ìle, the Islay Festival of Music and Malt, beautiful beaches and culinary delights including the occasional whisky.
---
Before the week on Islay, we spent a night in Inveraray and a night in Stirling after leaving the island.
Our activities are listed in chronological order and since there were quite a lot, I decided to split the article. ;-)
Please enjoy part 1, which takes us to our accommodation, to several distilleries such as Annandale (on the way to Islay), Bunnahabhain, Ardbeg, Lagavulin, Laphroaig and Bruichladdich and to the beautiful Singing Sands Beach which you can also see in the photo above.
---
---
Getting there
We arrived by car on the DFDS ferry from Amsterdam to Newcastle. As we did not want to drive all the way from Newcastle to Kennacraig - to catch the ferry to Islay -in one go, we added an overnight stay in Inveraray.
Many visitors underestimate how long it takes to drive relatively short distances in Scotland, because roads are often small - sometimes single track - or you have to circle around a loch to get to your destination.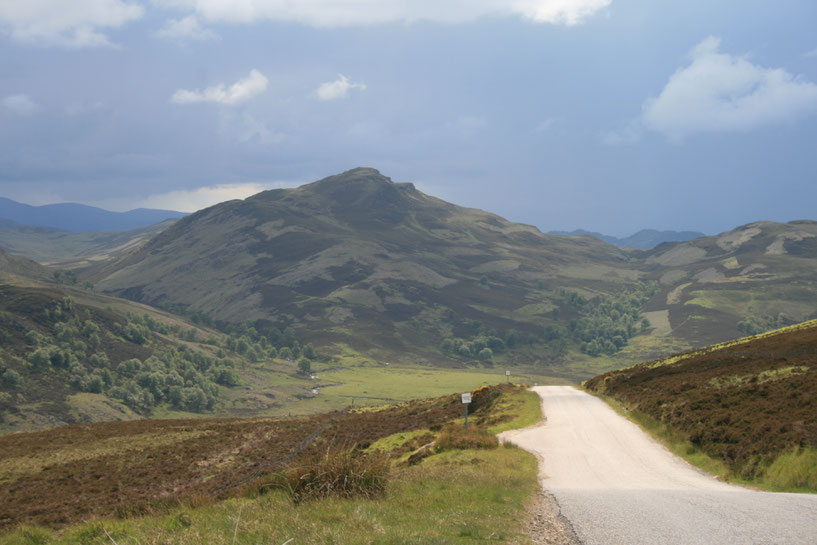 ---
Annandale Distillery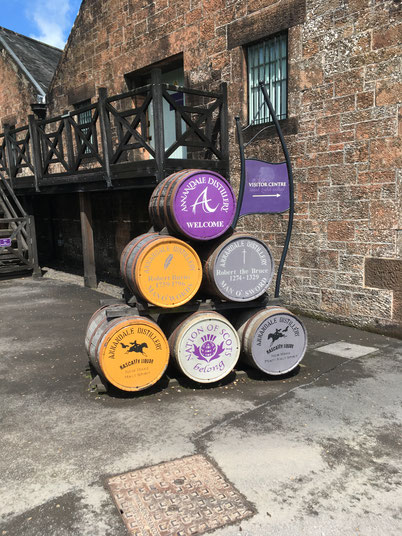 As a small "warm-up" for the Islay Festival, we stopped at Annandale Distillery. The distillery was awakened from its slumber in 2007 after being closed for almost 90 years. It produces peated (Man O' Swords) and unpeated (Man O' Words) cask strength whisky. We had a break at the café and took a tasting package of whisky to try later on.

Recommendation: The scones served in the café were delicious!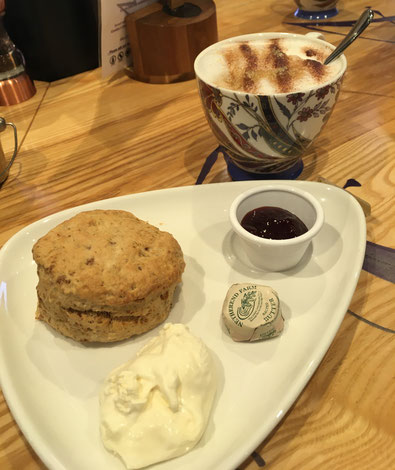 ---
Inveraray
Not only is it important to know that it takes a while to get anywhere by car in Scotland, but also that small shops or visitor attractions often close at 5pm.
Our overnight stay at the Inveraray Inn was born out of necessity, because one day before departure I got a call from our actual B&B that there was an emergency in the family and unfortunately we could not stay overnight. By chance, I have discovered the house on an internet platform as a sales object in the meantime. :-(
When we arrived in Inveraray, most places were already closed (Inveraray Castle also closes at 5 pm) and the restaurant at which we would have loved to order a seafood platter was unfortunately fully booked, so we just reserved a table at the hotel restaurant and had dinner there after a little walk, which was perfectly fine.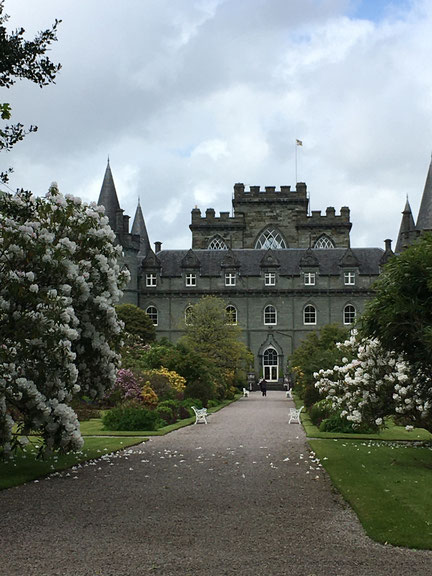 The hotel itself is already over 250 years old and a listed building, which is why no elevator or stair lift could be installed. The stairs are crooked and worn accordingly. ;-) The floors in the corridors and rooms are not always completely even either, but of course this also has its very own charm. The rooms are hotel standard and have a private bathroom. Our room had nice views over Loch Fyne.
Dinner and breakfast were fine and we ordered "full Scottish"
(haggis, sausages, beans, fried mushrooms and tomatoes, scrambled eggs, black pudding etc.). :-)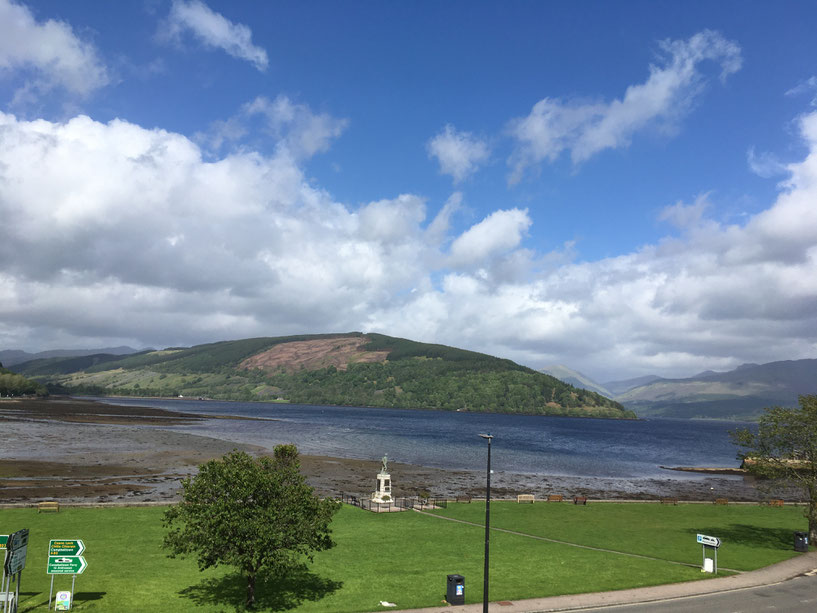 ---
The crossing to Islay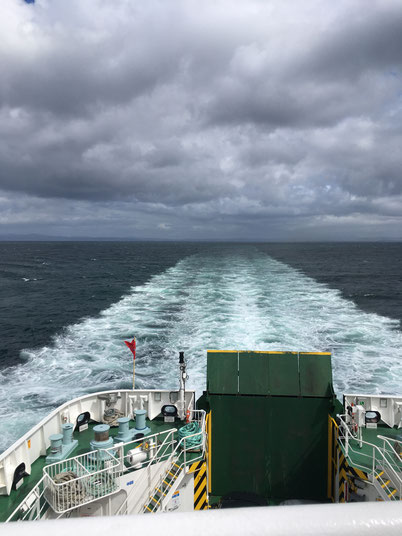 The Isle of Islay can be reached by ferry from Caledonian MacBrayne.
Islay also has a small airport, served by flights from other Scottish islands or Glasgow.
Depending on what time you take the ferry, you will arrive in either Port Askaig or Port Ellen. We arrived in Port Askaig and departed from port Ellen.
---
Bunnahabhain Distillery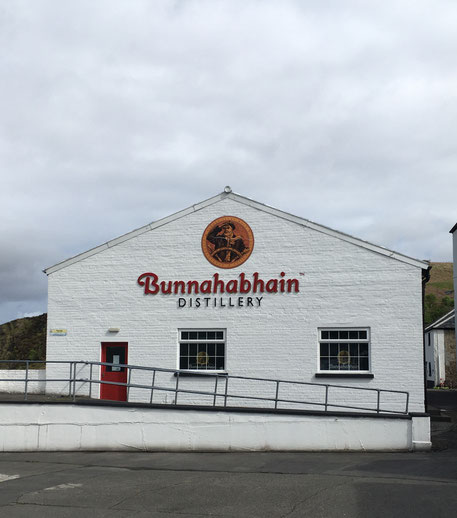 We only had a short stop at Bunnahabhain on the way to our holiday home and took a look around the shop.
The distillery was founded in 1881 and uses the water of the Margadale River for whisky production. Bunnahabhain whisky lacks the more or less peaty content of other Islay whiskies.
---
An Linnean Cottage
An Linnean Cottage is close to Port Charlotte and was our cosy home for a week. The house has 4 bedrooms and 3 bathrooms plus a guest toilet, a whirlpool as well as barbecue and outdoor seating. There is also Wi-Fi and various streaming channels.
Red deer quite often browsed in front of our window.
The view from the terrace was really nice.
Since we had great weather, we were really able to enjoy it.
Sitting in the pool at 39 degrees water temperature looking over the landscape definitely has something to it! :-)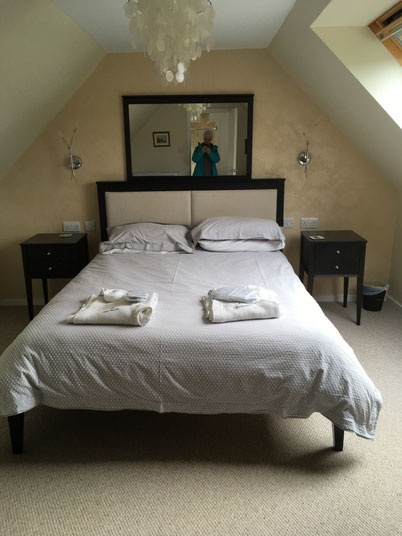 ---
Ardbeg Distillery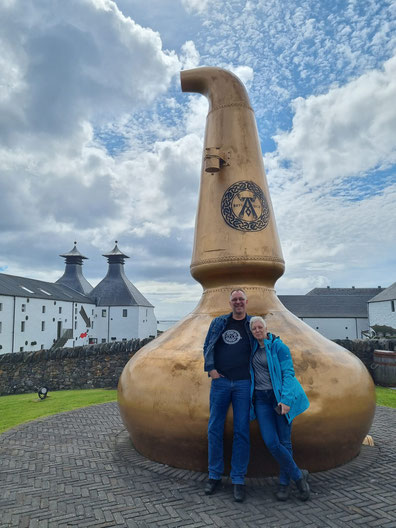 Ardbeg was officially registered as a distillery in 1815 (many distilleries already existed in illegal form) and was taken over by the two daughters of the original owner in 1853 as the first female executives. The distillery has already been closed and reopened twice. In 2005, LVMH took over. In 2012, the whisky even flew into space and returned in 2014. In 2015, Ardbeg celebrated its 200th anniversary.
I really liked Ardbeg. The staff was super nice and you were able to try many types of whisky before buying anything. In the yard, there was a food truck offering various dishes. The seafood platter looked great, but we already had other plans for dinner that day.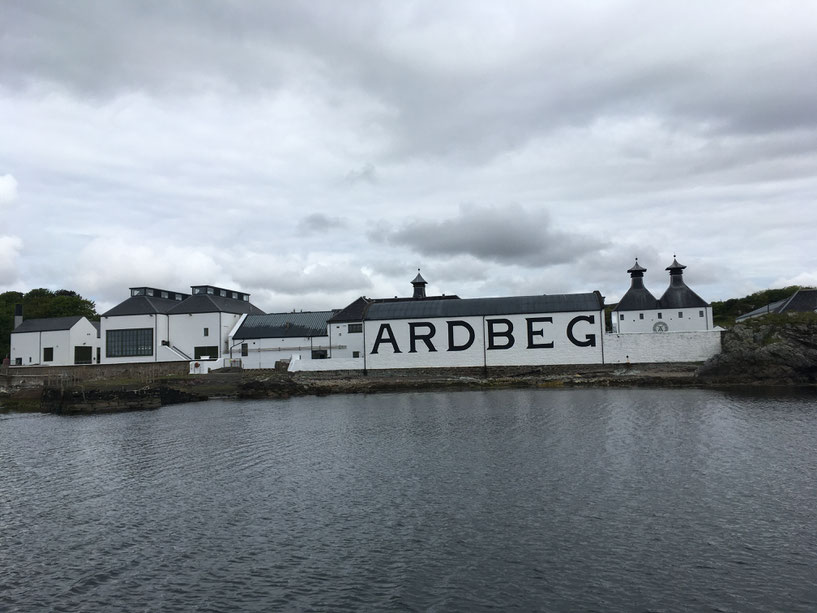 ---
Lagavulin Distillery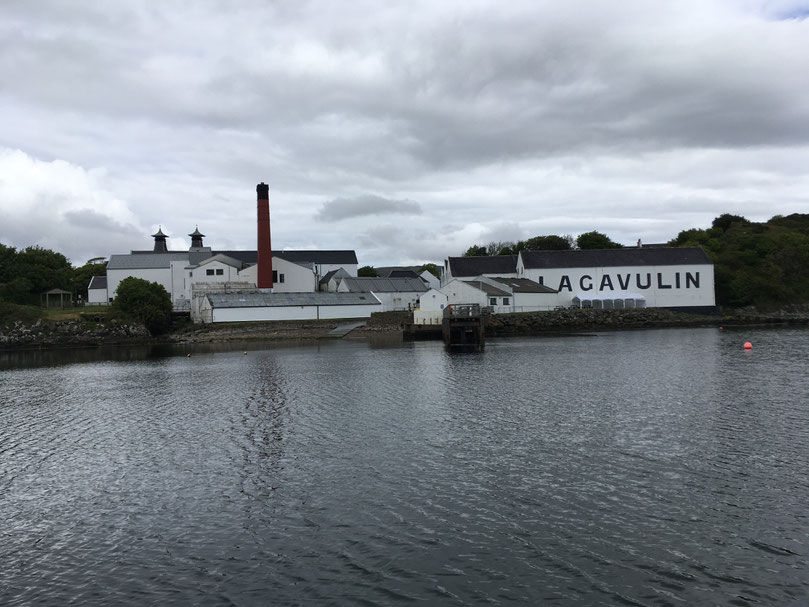 In 1816, farmer John Johnston founded the first legal distillery at the present site, which was merged with Archibald Campbell's distillery founded on the same site just a year later. Lagavulin is part of the Diageo Group based in London.
It was Lagavulin's "open day" on that day, so the area was very well attended. The queue at the shop reached all the way outside. There were various food stalls, souvenirs and live music.
The distillery has pretty views.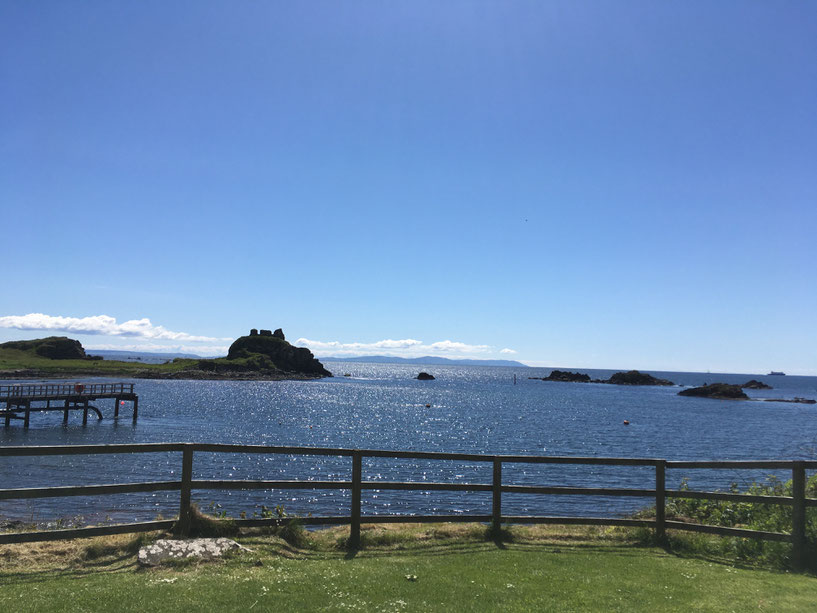 ---
Carraig Fhada Lighthouse and Singing Sands Beach

At Ardbeg, we got the recommendation to visit Singing Sands Beach. We were not disappointed!
To get to the beach you have to walk a little, because the Single Track Road is not traversable until the end. There is a small parking lot where you can leave your vehicle.
Carraig Fhada Lighthouse was commissioned by Walter Frederick Campbell in 1832 and built by David Hamilton & Son. Singing Sands Beach is signposted. Since the terrain is hilly, you need to be a reasonably good walker. 
The beach is really gorgeous! Fine sand, turquoise water and no-one else around at the time of our visit... what more could you ask for? :-)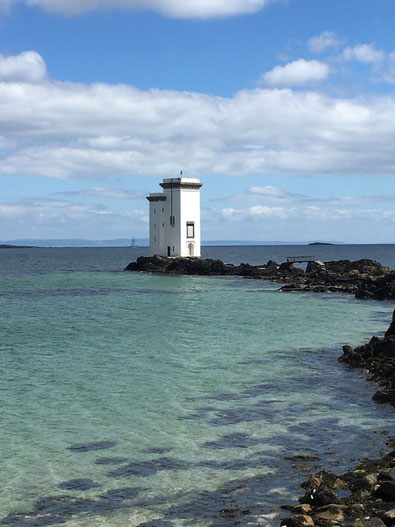 ---
Laphroaig Distillery

Laphroaig distillery was founded in 1815 by Donald and Alexander Johnston and was run by their family for 139 years. Today, it belongs to the Beam Suntory Group. In 1994, Prince Charles awarded the distillery the Royal Warrant. The royal coat of arms has adorned the distillery and the Laphroaig bottles ever since.
The Friends of Laphroaig Club was also founded in 1994. Members receive a lifetime lease of a square foot piece of land on Islay and can claim a dram (one serving) of whisky as annual rent. Many of the mini-plots are decorated with small flags from their tenants' home countries.
While our partners had booked the Warehouse No. 1 tasting, my friend and I made ourselves comfortable at the picnic tables close to the beach of the distillery. Complimentary coffee or tea was available in the shop and so we sat in bright sunshine sipping away happily on our drinks.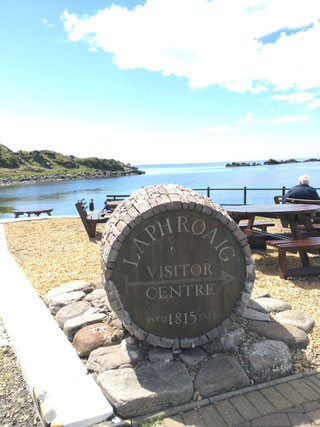 ---
Bruichladdich Distillery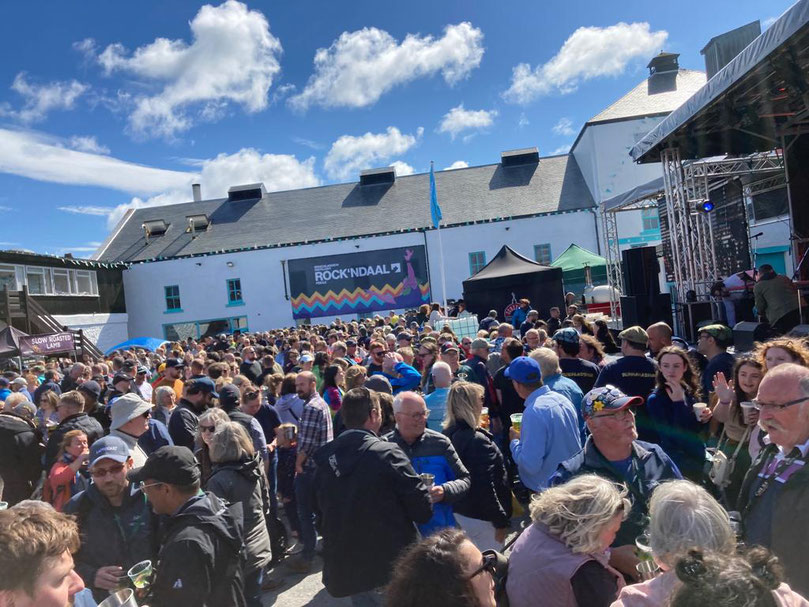 Bruichladdich was founded in 1881 by brothers William, John and Robert Harvey, who previously owned distilleries in Glasgow. It was closed in 1994 due to low demand. It was bought by a group of private investors in December 2000 and completely rebuilt in January 2001. Jim McEwan, who had worked at Bowmore distillery for more than 35 years took over and supported Bruichladdich's revival. He retired in 2015, but was "reactivated" in 2017 to help establish Ardnahoe distillery.
Bruichladdich's open day was crowded and loud - very unusual after a two-year Covid break. 
 In addition to the opportunity to try some whisky, there was also live music and stalls offering food, crafts, chocolate or wine (yes, there is also wine - and rum - on Islay!).
We came back another day when it was much calmer so we could browse the shop in peace and quiet.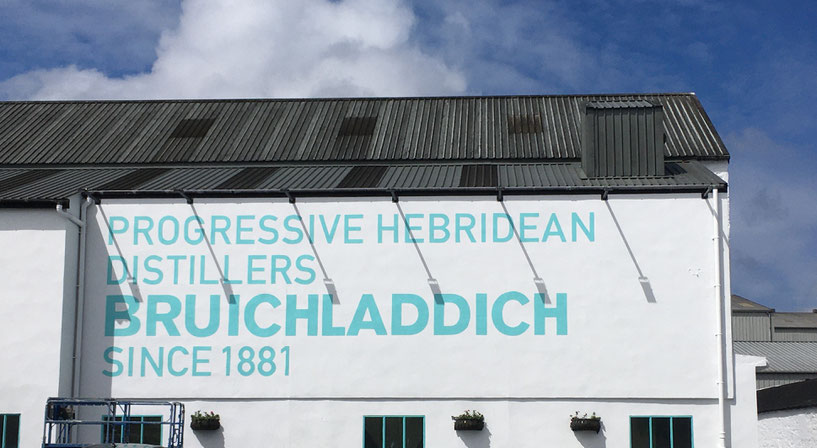 ---
I hope you enjoyed the journey so far. Writing things down and picking matching photos always helps me remember them a lot better. Typing this blog post just felt like being back on this beautiful island! :-)
---
Part 2 leads us onto the sea, to a terrific tasting at Ardnahoe Distillery as well as to Machir Bay, Rhinns Hall and a concert at Bruichladdich Hall.
---
Have you ever been to Islay and did you like it?
Feel free to leave a comment.
---
More articles about the Islay Festival can be found here.
---
---