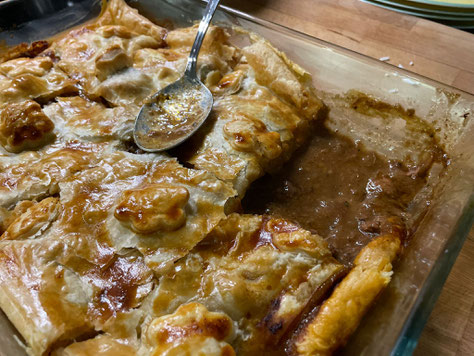 ---
What does it take to have a great evening?
Not much - dear friends, good food and - alcoholic or virgin - drinks... ;-)
Okay, you could still add some music to it...
After we had great meals at our friends' places, it was our turn and the desire for a Scottish dinner was expressed. So we got to work.
I don't know about you, but although I have umpteen Scottish recipes in paper, I tend to look on the internet when cooking. It's handy if you can just put the tablet next to you... You can also play music right away which makes the work even easier.
All recipes are from the Scottish Scran website by Sonja and Phil, who are actually from New Zealand and England, but live in Scotland with their two children.
---
Starter: Cock-a-Leekie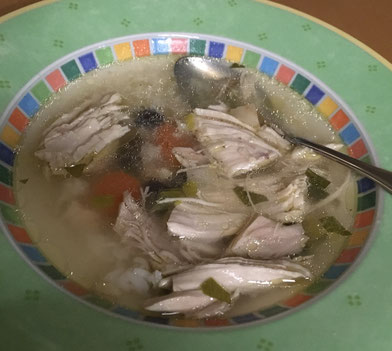 In the case of Cock-a-Leekie, the name already tells you what it consists of - at least roughly:
"Cock" and "leek". So it is a chicken soup with leeks. It's actually not that different from the chicken soup I usually cook - the Scottish thing about it is that you serve it with dried plums!
Plums in a chicken soup?! Try it - it tastes awesome!
I took dried soft plums from the supermarket, they were really good in it.
Since I cooked a huge pot, there was something left for freezing, which we can now gradually thaw and eat.
You can find the Cock-a-Leekie recipe here.
---
Main course: Scottish Steak Pie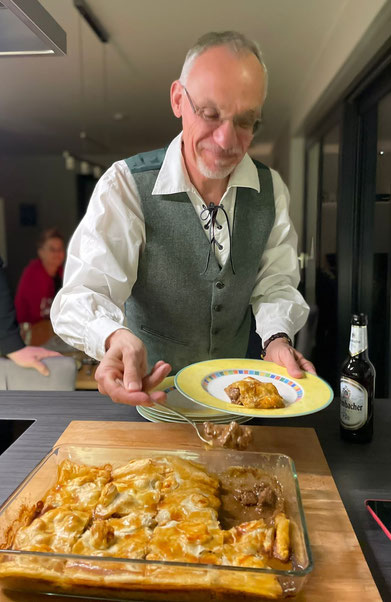 Actually, Scottish Steak Pie is a classic New Year's dish, but I think it tastes good all year round and especially in winter when it's cold and uncomfortable outside. 
As sides we had potato and turnip puree as well as whisky sauce. Both purees are quite typical of Scotland and you can find them in almost every pub or restaurant (also with haggis - the Scottish national dish). Instead of turnips, green peas - whole or also mashed - are also often used as a side dish. Since I had potatoes and a turnip at home, I opted for this version.
 I don't have a recipe for the puree, I just cook the vegetables, mash them, add some butter, milk, salt, pepper and nutmeg - that's it! The whisky sauce recipe is also from Scottish Scran.
The steak pie recipe can be found here.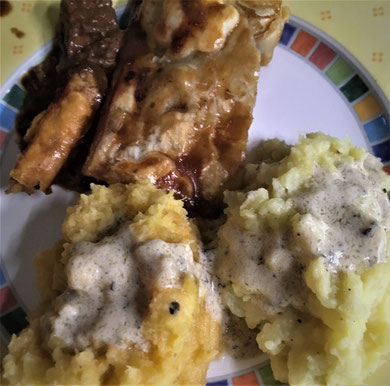 ---
Dessert: Caledonian Cream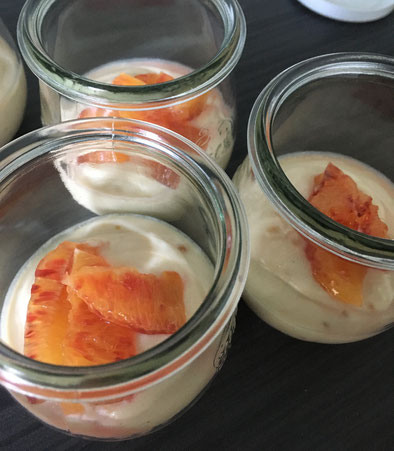 Caledonian Cream usually includes "Double cream", which unfortunately I did not get here. I therefore alternatively mixed mascarpone 1:1 with cream (not rich at all...!).
Instead of whisky liqueur, I used our homemade "honey whisky", which fit perfectly. 
"Honey whisky" means that we soaked the wax lids from our honeycombs (my partner is a hobby beekeeper) in Laphroaig 10 and then left the mixture until the honey had detached from the wax. 
After sifting the liquid, we filled the "honey whisky" into a bottle. Yum!
Since I like blood oranges and had a few at home, I used the juice and also the fillets.
---
Scones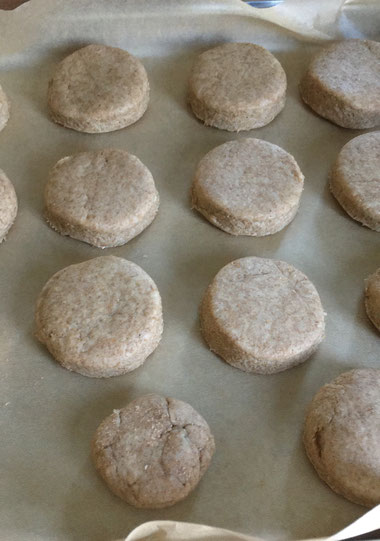 Scones are not only found in Scotland, but throughout the UK. 
They are an integral part of many "afternoon teas".
My scones recipe is from the book "Natural Trust Book of Scones" by Sarah Clelland.
350 g "self-raising flour" (see recipe below)
50 g soft butter
50 g soft lard (I used clarified butter)
100 - 115 ml milk
Preheat oven to 190 degrees Celsius
Put flour in a bowl and mix with butter and lard to get a crumbly mass
Add enough milk to form a bread-like dough
(I use the remaining cream from the Clotted Cream recipe instead of milk; see below)
Roll dough about 2 cm thick and cut into circles (about 6 cm in diameter)
Line a tray with baking paper and bake the circles for approx. 15 - 20 minutes until golden
Best served slightly warm ;-)
Scones are traditionally served with clotted cream and strawberry jam. 
---
Self-raising flour
For the scones, you need so-called "self-raising flour" which is rarely available here in Germany.
It is flour mixed with raising agent and you can easily make it yourself. 
2500 g flour
5 packets of baking soda
2 teaspoons sodium bicarbonate
1 teaspoon salt
As I did not need that much for the scones, I only mixed a third of the quantity.
---
Clotted Cream
You can buy clotted cream or make it yourself.
Attention! If you decide to do the latter, you have to start the day before.
I use this simple recipe for my clotted cream:
Pour a packet of cream that has at least 32% fat (you can get it in the supermarket) about 2 cm high into a casserole dish
Place the dish in the oven and heat to 200 degrees Celsius
Turn off the oven as soon as it reaches this temperature
Leave the casserole in the oven overnight
Skim off the crust the next morning, put it into a bowl, stir and place in the refrigerator until served. This is the so-called clotted cream.
Please do not throw away the remaining liquid cream that is still in the dish - I use it to replace the milk in the scones recipe. 
---
Drinks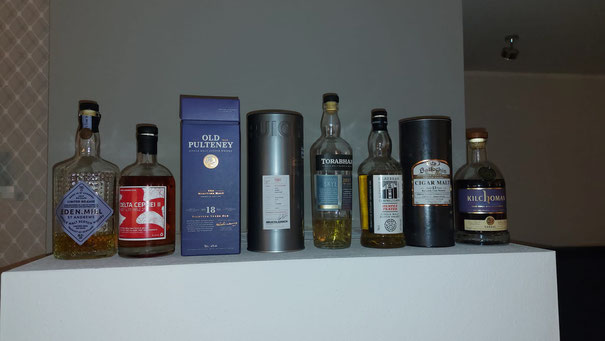 There should never be a Scottish dinner without a good whisky.
This evening, the selection consisted of Eden Mill, Delta Cephei II, Old Pulteney 18 y.o., Bruichladdich 1991, Torabhaig, Kilkerran Heavily Peated, Ballechin Cigar Malt 13 y.o. and Kilchoman Sanaig.
Of course, the gentlemen tried them all (!), usually starting with the mildest and moving on to the smoky and peaty whiskies in the course of the evening.
Of course, there were still some other drinks to choose from.. ;-)
---
Have you ever hosted a country-specific dinner and what are your favorite dishes?
Feel free to leave a comment and/or your favorite recipe.
---
---