As an avid Scotland traveller I do not really care about the season of travel. So I thought: "Why not go to Scotland in winter?"
The crossing alone can be quite an adventure (read more at the bottom of the article...).
Usually, we take our own car to use the DFDS ferry from Amsterdam-Ijmuiden to Newcastle-upon-Tyne and drive to our destination from there. In this case, we spent a week at a cottage in Stronachlachar, Loch Katrine.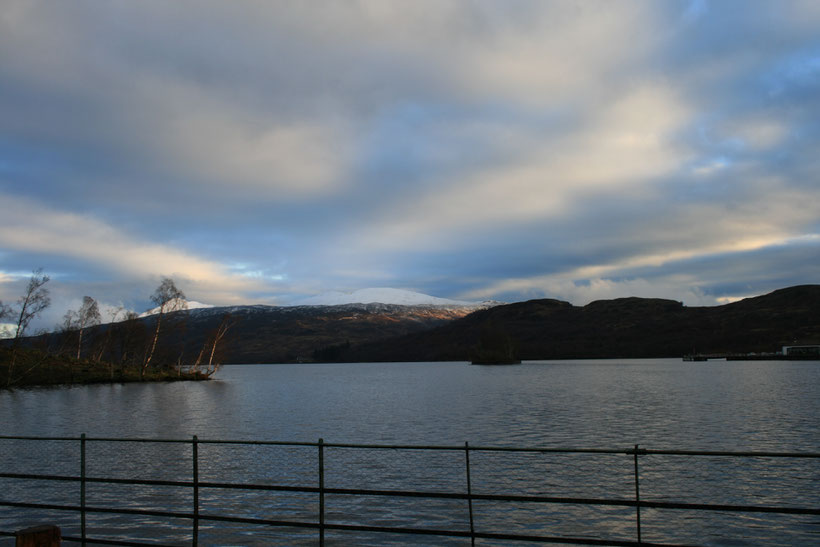 ---
Loch Katrine
is a dammed lake in the Eastern part of the Loch Lomond and the Trossachs National Park which is about 13 kilometres (approx. 9 miles) long and 1 kilometre (approx. 0.6214 miles) wide. It serves as a water reservoir for the city of Glasgow.
Loch Katrine is located in the Loch Lomond and the Trossachs National Park close to the city of Stirling
We booked a self-catering cottage in Stronachlachar which was accessible via a typical Scottish single track road that has only one lane equipped with passing places in case there is opposing traffic coming towards you. This road went up and down, from right to left
- and the other way around - and was icy in a few places. In Germany - where I am based - you would never be allowed the 60 miles an hour (almost 100km/h!) you were allowed to drive there! You could easily tell the tourists apart from the locals as the locals were driving a lot faster ;-). If you feel insecure, just stop at one of the passing places and look forward to the friendly locals waving to say "thank you". :-) 
While Loch Katrine seems to be a tourist magnet in summer it was delightfully peaceful in winter. Unfortunately, we had no possibility to take a trip on the historic "Sir Walter Scott" as it was set on dry land being renovated which we saw when we were taking a walk.
The "Sir Walter Scott" is a steam ship which is more than 100 years old and was originally built on the River Clyde. It is now run on bio-fuel instead of coal to preserve the environment.
We spent our time relaxing, looking out the panoramic window of our cottage, taking walks and making short trips to the surrounding area.
---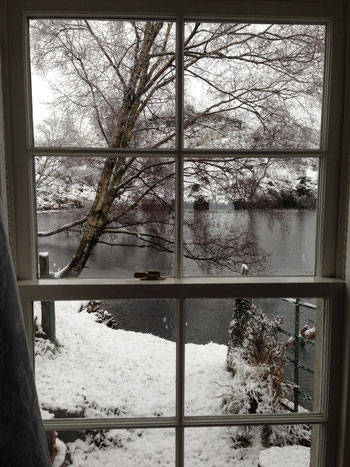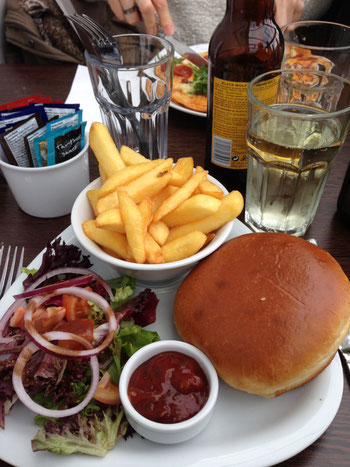 ---
Aberfoyle
The next larger village is Aberfoyle where you can find a supermarket and a subsidiary of the Scottish Wool Centre if you would like to purchase some souvenirs or clothing. It is close to Loch Ard where you can enjoy outdoor activities like a sculpture trail, fishing and walking opportunities as well as a scenic golf course.
---
Stirling
As we only spent a week in Scotland this time - and only one day of it in Stirling - we only visited very few places.
The main attraction for a short visit is - of course -  Stirling Castle which was mentioned for the first time in 1107. The oldest part of it still existing was built in 1381. You can look around on your own, take a guided tour or rent an audio guide. It offers a great view over the city.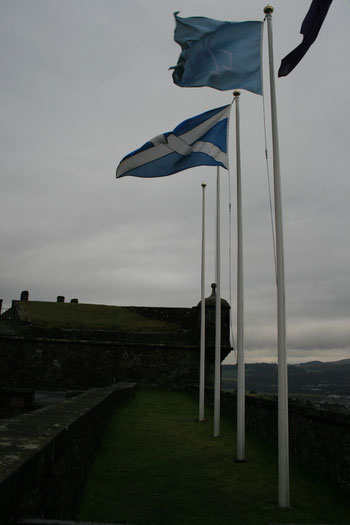 The National Wallace Monument is a popular destination dedicated to the famous Scottish freedom fighter. Its tower can be seen in the landscape even from a distance. The monument was built between 1861 and 1869. The view is worth the way up. There is a free shuttle service between the parking lot and the monument for those who might not be able to walk. The monument itself has 246 steps (and no lift/elevator!) so there is only limited access for disabled people. You are also allowed to use the shuttle service if you do not visit the monument itself.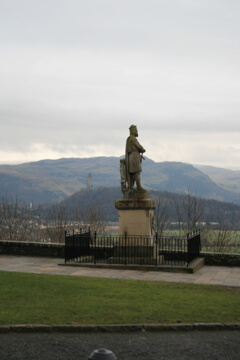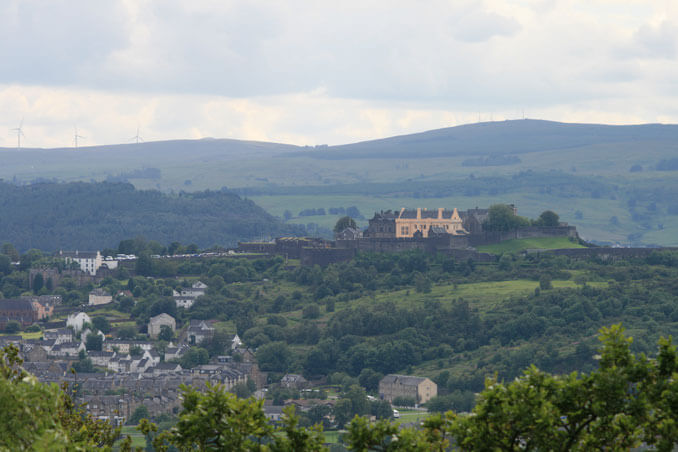 Stirling also has a pedestrian zone with shops and restaurants and I have never seen that many hairdresser/barber shops within a short distance! ;-)
If you are in Stirling during the summer, you can visit the Highland Games - a combination of sportive events, music and festival. We went there in 2011 and had a lot of fun (and a nice view from the venue over to Stirling Castle and the National Wallace Monument).
---
What was the weather like?
"If you don't like the weather - wait a minute" the locals use to say. The weather often really changes within the course of a short time span. While in one moment you are bathed in sunshine, it starts raining three minutes later just to get cloudy or foggy afterwards. When we woke up one morning, everything was covered in a thin layer of white dust as it had snowed overnight which looked great. Apart from that, it was cloudy, but dry.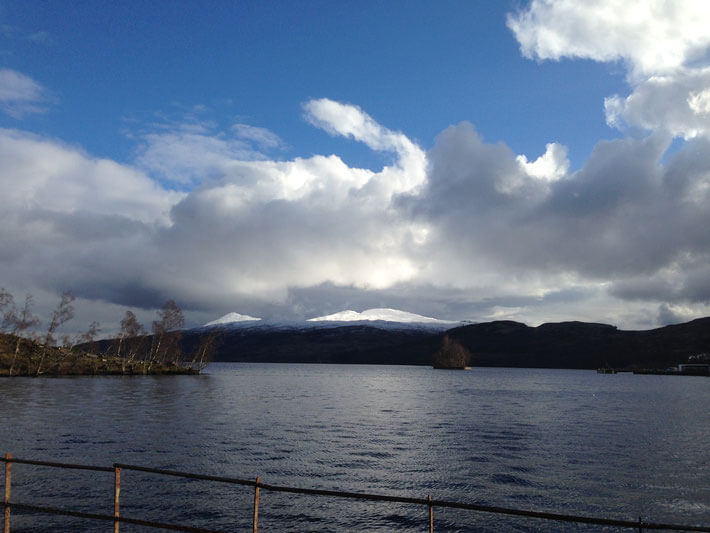 Take warm and quick-drying clothing with you if you are going at that time of year. As I like to walk (also across country) I use to run around Scotland in my trekking shoes. Depending on how much you walk sneakers are also sufficient for a walk around town. You could get wet feet in sandals - not to mention that it could get really cold in February.  ;-)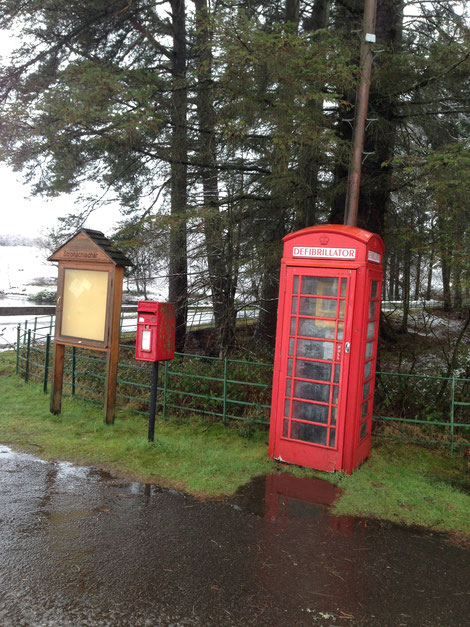 ---
Crossing the North Sea in winter
Concerning the crossing in February...
On our way to the ferry terminal we already saw that the sea was quite rough that day. It was the first time I spent all night seated in a chair in our cabin throwing up...... ;-))
---
---