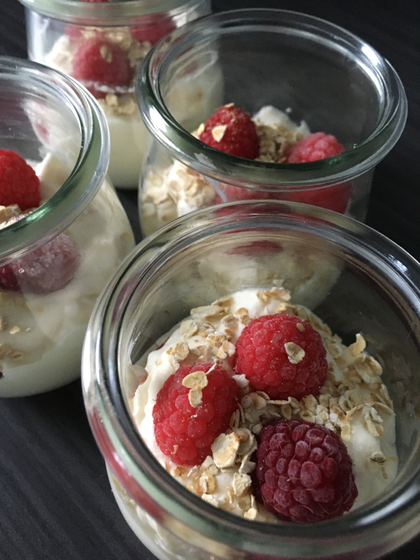 ---
Do you already know what dessert you would like to serve for Christmas?
How about Cranachan, a really simple delicacy made from raspberries, cream, roasted oat flakes, honey and whisky? Cranachan is quick to make and can also be prepared a day or two in advance and stored in the fridge...
---
I was lucky that there were so many fruits on our raspberry bush this year that we couldn't eat them all at once, so I froze a large part that I can now use.
So if you don't get any fresh raspberries, fruit from the freezer will do fine.
They might not look as nice, but that doesn't impair their taste...
---
CRANACHAN RECIPE
serves 6
4 tbsp oat flakes
250 ml cream
40 ml honey
20 ml Whisky
500 g raspberries
Method
Roast the oat flakes over low heat without fat in a small pan for about 5 minutes, then remove from heat and let cool.
Whip the cream until stiff, fold in the honey and whisky and stir in 2 tbsp of the roasted oat flakes.
Layer raspberries and cream evenly in 6 glasses, with the top layer made of cream.
Store in the fridge for 2 hours.
Decorate with remaining oat flakes and perhaps another raspberry.
---
Now, that's really easy, isn't it?
What dessert do you serve for Christmas?
If you try the recipe, I would love to get your feedback.
Please feel free to leave a comment below.
---
---