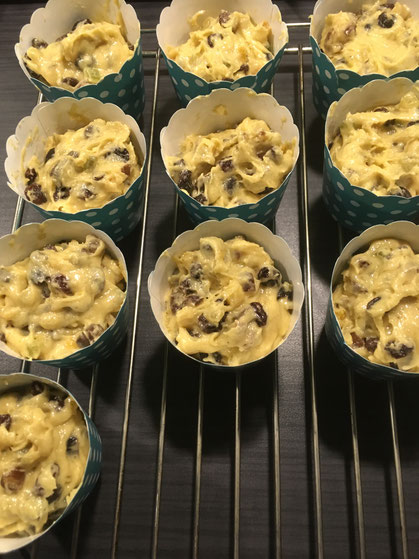 ---
Dundee Cake is a very rich traditional Scottish fruit cake that was developed in Dundee in the late 17th century by the Keiller family (also famous for their marmalade) . 
I use to divide the dough into lots of small portions which I bake as muffins to use as Christmas gifts.
You can pick whatever whisky you like, but I suggest not to choose something too smoky or peaty. I always ask my significant other which of his whiskies I am allowed to use this respective year as not all his bottles are open. ;-)
---
Dundee Cake muffins recipe
PLEASE NOTE: As I am based in Germany I use grams, centilitres and Celsius temperatures
Ingredients
200 g raisins
120 g dried dates
100 g dried apricots
100 g diced candied orange peel
100 g diced candied lemon peel
lemon zest
8 cl whisky
375 g flour
275 g cane/demerara sugar
250 g clarified butter
4 eggs
1 pack vanilla sugar (8 g)
1 pinch of salt
1/2 teaspoon ground cinnamon
1 pinch each of ground cloves, allspice and cardamom
peeled almonds
Method
Dice dates and apricots and mix with candied lemon and orange peel, raisins and lemon zest.

Pour half of the whisky over the mix, cover with cling film and leave to soak for at least an hour.
Pre-heat oven to 150° C (

convection oven:

130° C ).
Prepare muffin tin or cups.
Cream clarified butter until light.
Add sugar, vanilla sugar and salt.
Alternately add eggs and flour to the mix.
Add remaining alcohol, spices and fruit and stir in well

.

Fill dough into tin/cups, decorate with one or more almonds and bake for approx. 45 - 50 minutes.
---
FURTHER TIPS
In Germany, you can find clarified butter in the supermarket as "Butterschmalz".

I use to make my vanilla sugar myself by putting scraped vanilla pods into a sugar jar. It tastes far less artificial than the version you can buy here in Germany.

Wrapped muffins should last approx. 5 - 6 weeks, but they never survive that long so I am not entirely sure... :-)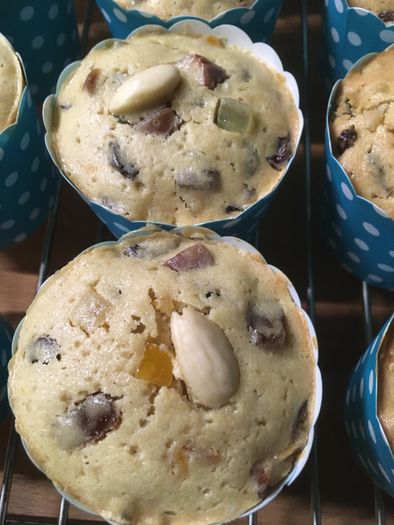 ---
Do you have a "traditional" cake that you make every Christmas?
Looking forward to your recipes… :-)
---
---