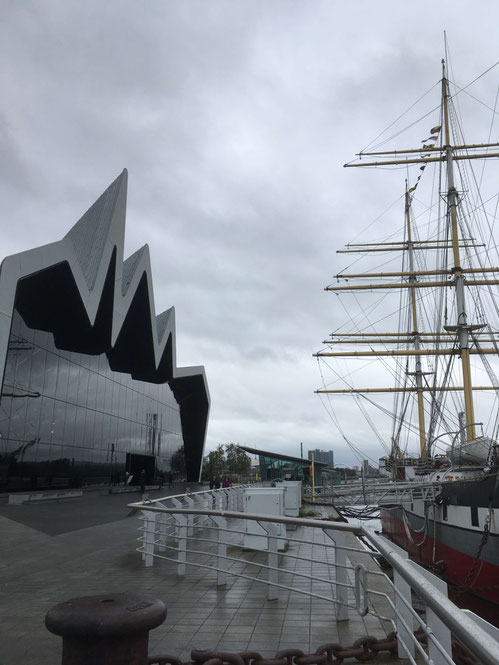 So far, we have always neglected Glasgow on our visits to Scotland. About time to change this and pay the city a visit. Glasgow's charm is not visible at first sight... ;-)
---
The most populous city in Scotland lies on the banks of the river Clyde only about a one hour drive from Edinburgh. As there are no daily flights to Glasgow from Germany (North Rhine-Westphalia) we flew into Edinburgh and took the train.
We went to a booth at Edinburgh Waverley, purchased a ticket at 13.20 GBP/person (October 2019) and hopped onto one of the hourly trains to Glasgow Central. The ride went smoothly, the train was very clean and we had no difficulties in finding a seat (on a weekend). It's supposed to be more crowded on weekdays.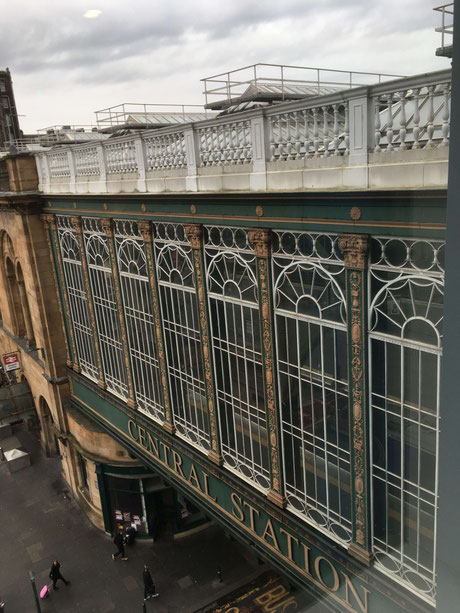 ---
Accommodation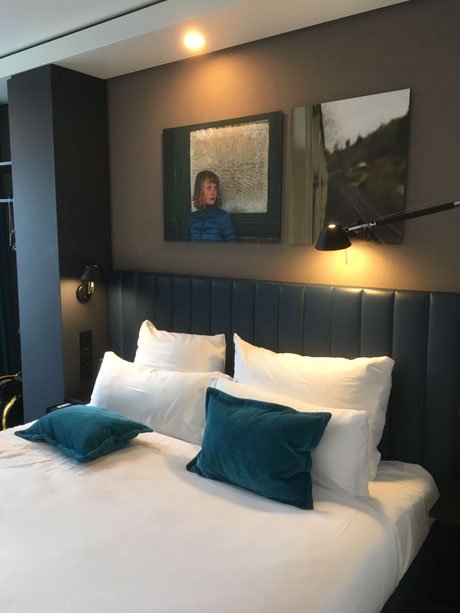 We booked the Motel One Glasgow Central for three nights which is conveniently located right beside Central Station - where we arrived on our train from Edinburgh. I took the above photo from the window of our room. At first, I was worried we might hear the trains or announcements, but that was not the case. 
Our double en-suite room was quite new and comfortable. Everything was clean and neat. The bathroom held the usual supplies (towels, shower gel, shampoo etc.) and the bedroom had conventional sockets and USB sockets to charge your smartphone or other devices, a tv and an electric kettle plus coffee and tea.
Prices vary according to season, but we paid 103 GBP/night including breakfast (October 2019) which was absolutely okay for us. There is only "continental" breakfast (no Scottish breakfast involving beans, haggis, sausages, fried tomatoes etc.). On the breakfast buffet you could find different types of bread, pastries, two kinds of cheese and sausage, jam, honey, boiled eggs, yogurt, fruit salad, porridge, coffee and tea. Depending on the time, it could get quite crowded and you had to search for a seat. As breakfast is served in the lobby/bar there were only very small tables available, but that was alright for us.
The bar offers an extensive range of different gins (more than 40 to choose from)!
---
Hop On, Hop Off
I am sure you all know the red hop on, hop off double-decker sightseeing buses cruising different cities in the world. Whenever I visit a city for the first time, I like to buy a ticket to - initially - take a full ride around the town to decide where to get off and look at something during round number two.
The ticket in Glasgow was 17 GBP/person for one day (October 2019) and only one pound more for two days (18 GBP/person). We purchased a two-day-ticket to get all across the city. You can hop on/off at every stop.
Tours are offered in various languages. There is an audio guide on every bus explaining the sights along the route. You can grab headphones at the entrance which you can plug in at your seat and then pick your preferred language. Some rides also have live guides who speak other languages than English.
---
Kelvingrove Art Gallery and Museum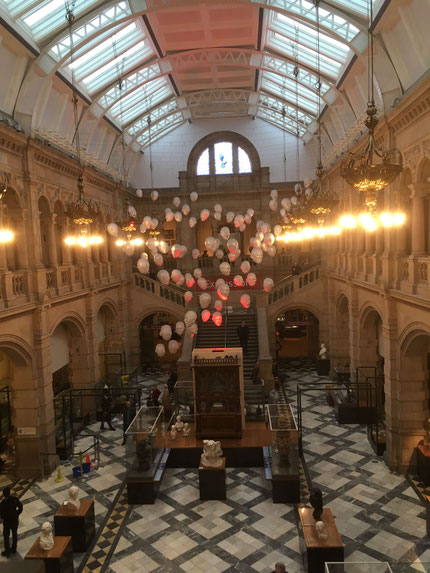 The Kelvingrove Art Gallery and Museum opened in 1901. It holds an extensive collection of various things. Animals, paintings, Egyptian mummies and more - I considered it quite a weird mixture... ;-)
As is common in many Scottish cities, Kelvingrove Art Gallery and Museum can be visited for free. Donations are happily accepted (at the museum itself or online). There is an admission fee for special exhibitions.
The museum is accessible via lifts and free wheelchair hire is available. Assistance dogs are welcome and there is a hearing loop. The museum also has a shop and a café.
---
University of Glasgow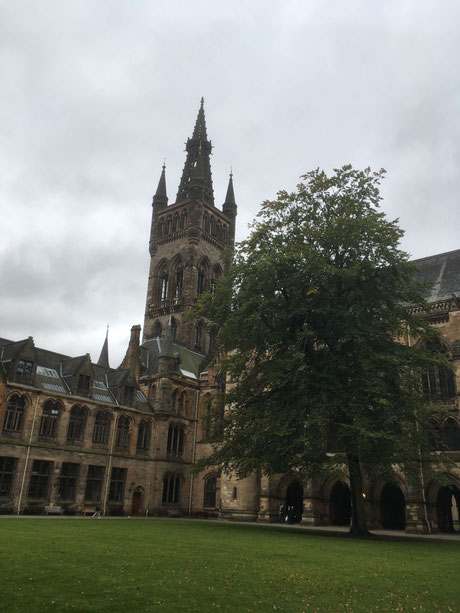 The University of Glasgow was founded in 1451. It is the second oldest university in Scotland (after St. Andrews) and the fourth oldest in the English speaking world. It was originally located on High Street and moved to its current site during the 1870ies.
Former alumni or employees include James Watt (engineer), physicist Lord Kelvin (as in the Kelvin temperature unit) and surgeon Joseph Lister. Our tour guide on the hop on, hop off bus joked that many people only know Lister, because there is a mouth wash named after him today... ;-). Seven Nobel laureates and three British prime ministers came from the University of Glasgow.
Visitors can book a guided tour or stroll around on their own.
The Hunterian Museum - named after the anatomist William Hunter - and the Hunterian Art Gallery are freely accessible to the public and show various tools that were used by some of the famous alumni of the university. You can also see parts of the Roman Antonine Wall and the Mackintosh House (Charles Rennie Mackintosh's home was torn down in the 1960ies, but a large part of the decorations and original furniture can be seen in the Hunterian Art Gallery).
---
Riverside Museum and Glenlee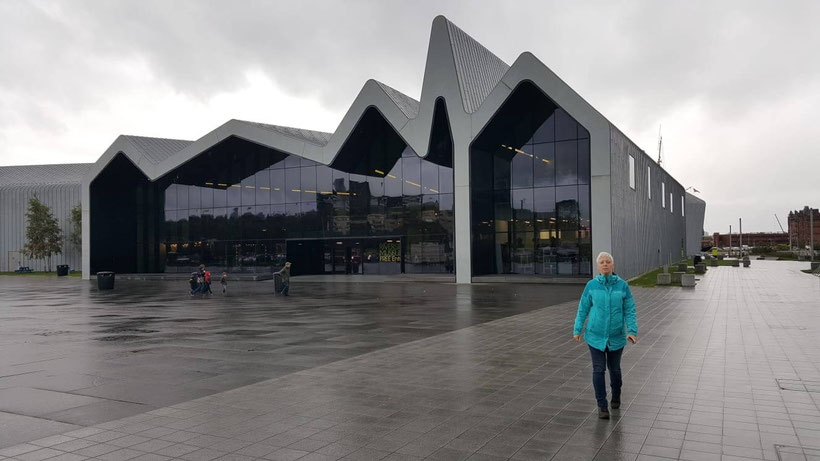 I especially liked visiting the Riverside Museum. It's a transport museum in which you can find anything from skateboards, motorbikes, cars, buses and trains to baby strollers/prams. The impressive building was designed by Zaha Hadid. Riverside Museum is free to visit as well and you can donate if you like.
Some of the exhibits - e.g. various tram cars or the subway - can be entered and you can imagine how people got "from A to B" in former days. I really enjoyed it a lot.
The museum is located right on the banks of the Clyde and when you walk around it you get to the tall ship "Glenlee". The "Glenlee" is one of just five Clyde built ships still afloat today.
The three masted barque was launched as a cargo carrier in 1896 and experienced lots of adventures during its time - including 15 stormy circumnavigations of Cape Horn. It was sold to the Spanish navy as a training vessel in 1922 and served as such until 1969. It was a training school until 1981 and was then forgotten in Seville harbour where a British naval engineer discovered it in 1990. The Clyde Maritime Trust was able to buy the ship - named "Galatea" at that time - to save it for future generations.
Admission is free, donations are welcome.
---
Clydeside Distillery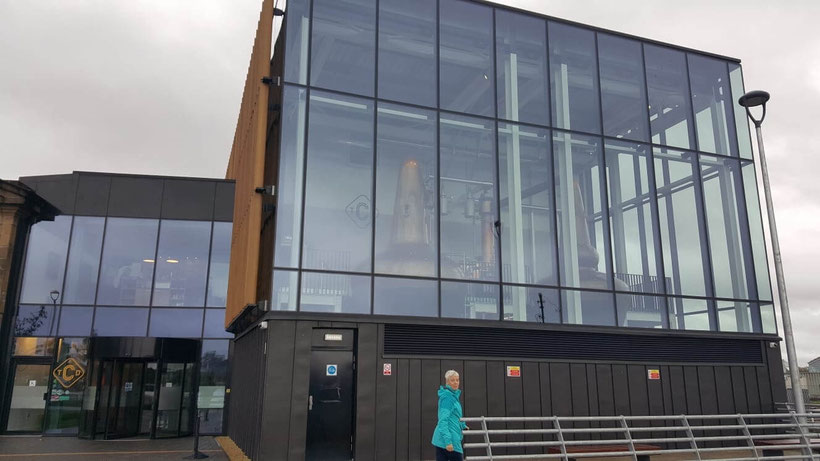 The Clydeside Distillery is located in a former pump house which was used to operate the swing bridge controlling the entrance into the "Queen's Dock". The water used for the production of its whisky comes from Loch Katrine - the freshwater reservoir for the City of Glasgow.
The distillery offers various tours from 15 GBP/person including a tasting. As the Clydeside Distillery's own whisky is still undergoing maturation (October 2019), the tasting whiskies are from other distilleries. The distillery shop and café are modern and comfortable. 
Unfortunately, we had to turn down the friendly tour offer from a member of staff as we had a reservation for afternoon tea at the "Willow Tea Rooms" on Buchanan Street.
---
Charles Rennie Mackintosh and the Willow Tea Rooms
Charles Rennie Mackintosh (1868 - 1928) was one of the most famous inhabitants of Glasgow 
- he was an important representative of British Art Nouveau and a founder of the group "The Four". One of his most significant structures is the Glasgow School of Art that was heavily damaged by fires during restoration work in 2014 and 2018.
Mackintosh designed four tearooms for Catherine Cranston in Glasgow. One of them was in Sauchiehall Street 217. It's now named the "Mackintosh at the Willow" and is the only tearoom that is still in its original place. It was reopened after an excessive restoration in 2018. Charles Rennie Mackintosh designed both the interior and exterior.
After Miss Cranston passed away, there were several changes in ownership leading to arguments concerning the name of the tearooms. That's how - in Buchanan Street - you can find "The Willow Tea Rooms". Their interior is modelled on Miss Cranston's Ingram Street Tea Rooms. Both locations - Sauchiehall Street as well as Buchanan Street - run a Mackintosh gift shop in addition to their cafés.
The original interior of the Ingram Street Tea Room was dismantled in 1971, then numbered and stored at Glasgow Museums. It was reassembled at the V&A Museum in Dundee where you can marvel at it today (no furniture, though). 
We had a traditional Afternoon Tea in Buchanan Street that was served on a three-tiered cake stand. The bottom level carried various sandwiches (salmon, egg salad, ham, cucumber etc.), followed by classic scones served with strawberry jam and clotted cream in the middle, and shortbread and a piece of cake of choice/person on the top level. Add tea or - in my case - cappuccino. Doesn't sound like much, but was really filling! I did not finish my piece of cake... ;-)
Afternoon Tea was 13,50 GBP/person (October 2019).
---
Glasgow Cathedral and Glasgow Necropolis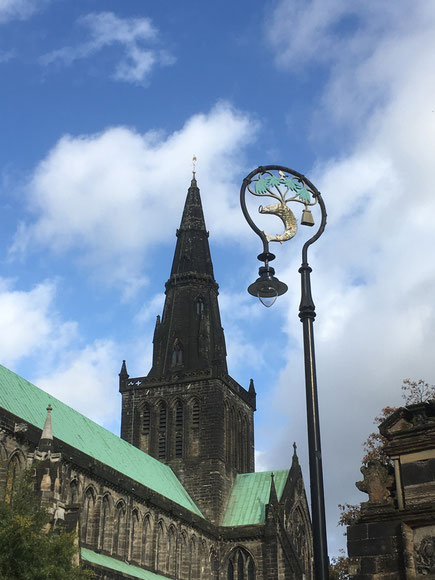 Glasgow Cathedral is the oldest building in Glasgow and is located where St Mungo - the city's patron saint - built his original church. The medieval cathedral is the only one on the Scottish mainland to survive the Reformation in the 16th century almost unscathed. St. Mungo's tomb can be found in the crypt.
What I found unusual was that the cathedral was almost empty. Benches/chairs were only available in one part of the nave. In some places you could see how difficult it is to maintain such an old building. Some of the stone arches were supported by OSB panels. The cathedral has fixed opening hours. We were lucky enough to slip in through the door right before it was closed.
Glasgow Necropolis is a 15-hectare Victorian cemetery on a hill next to the cathedral that was built by the Merchants of Glasgow guild. More than 50,000 interdenominational burials took place here. Some of the approximately 3,500 tombs were designed by well-known architects or sculptors.
When the weather is fine, Glasgow Necropolis offers a wonderful view of the Cathedral and the city of Glasgow.
We explored the site on our own, but there are also guided tours offered by "Friends of Glasgow Necropolis".
---
People make Glasgow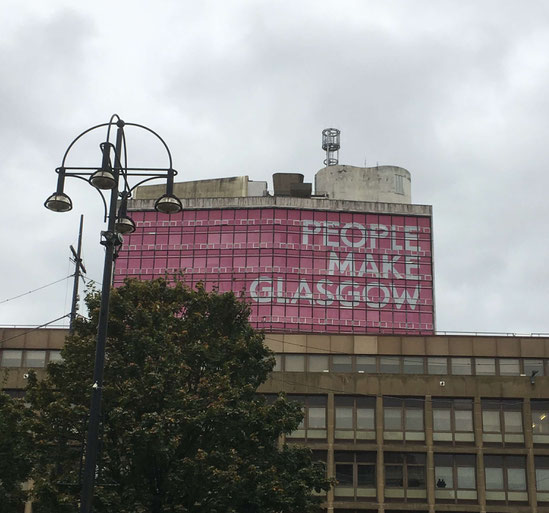 In 2013, the city of Glasgow asked more than 1,500 people from 42 countries - including residents, fans and visitors - what made Glasgow special. The most common answer was that it is the people. From this, the slogan "People make Glasgow" was developed. You can find it everywhere across the city.
---
Things we did not see
Unfortunately, three days in Glasgow only give you a rough overview.
So, we only looked at the university from the outside and did not visit the Hunterian Museum which i am still interested in. The "Mackintosh at the Willow" is certainly worth a visit as well. We only passed the Clyde Arch, the SSE Hydro (a concert arena), the Armadillo (a conference centre), the Glasgow Green or the Botanical Garden by bus.
Many people don't know that Glasgow has the fourth oldest subway in the world. The network is 10.5 km long and has been there since 1896.
There is also an extensive "mural trail" in Glasgow to help bring a new splendour to ageing buildings - of which there are plenty. We only noticed many of the pictures in passing.
---
Conclusion
Top left photo by: Andrea M. / Bottom middle photo by: Andrea M.
Glasgow's charm isn't necessarily recognizable at first glance. There are many dilapidated buildings, but also lots of construction sites where new things are created or old things are being restored. Nevertheless, the city is well worth a visit.
Have you ever been to Glasgow?
If you have, what did (or didn't) you like and if you haven't, is the city still on your list?
---
---