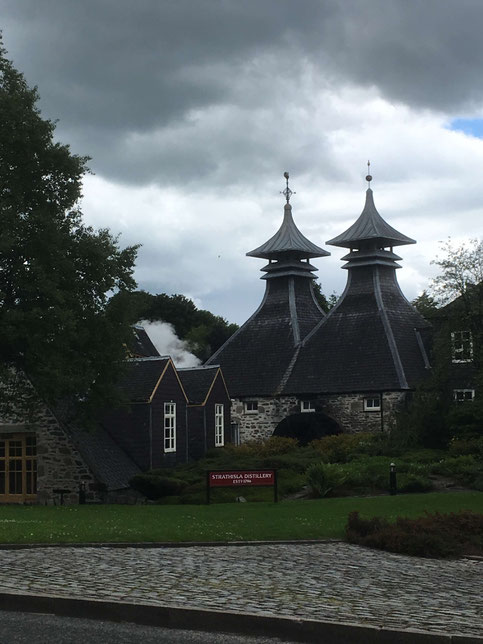 Barley, water and yeast - it takes no more than these few ingredients to produce "uisge beatha" (water of life). And no place in the world has a higher density of distilleries than the Speyside.
---
 Speyside is named after the River Spey that flows through the region and provides water for many of the whiskies produced here. A total of about 50 distilleries can be found in the area. Seven active distilleries, a historical one and the Speyside Cooperage are located on the so-called "Malt Whisky Trail". The Malt Whisky Trail is signposted so that it can easily be experienced by car.
Not all distilleries in Speyside are open to visitors. While you can spontaneously join a guided tour in many of them others might require pre-bookings, so if you wish to visit you should check their websites in advance.
I always use to joke: "Three more guided tours and I can make whisky myself!" :-) 
Meaning: Since we have already participated in numerous distillery tours we have mostly limited ourselves to visiting the shops and to purchasing special bottlings if available.
---
(Charlestown of) Aberlour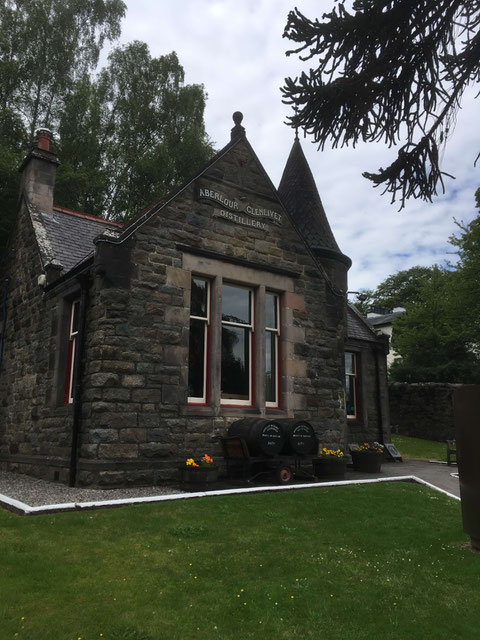 Aberlour is a small town in the Council Area Moray and was founded in 1812 by Charles Grant of Elchies. Its population is just a little over 1000 people.
For many years, Aberlour was home to an orphanage which housed around 500 children. Today, its only remnants are the clock tower and the Memorial Garden where you can find some information boards on the history of the orphanage.
Besides Aberlour Distillery, there are some nice small shops and a supermarket as well as the well-known Walker Shortbread production facility and factory outlet. I particularly liked the deli shop on the main street. Unfortunately, the nearby "Knockando Woolmill" was closed when we were there.
*****************************************************************************************************
The Mash Tun Whisky Bar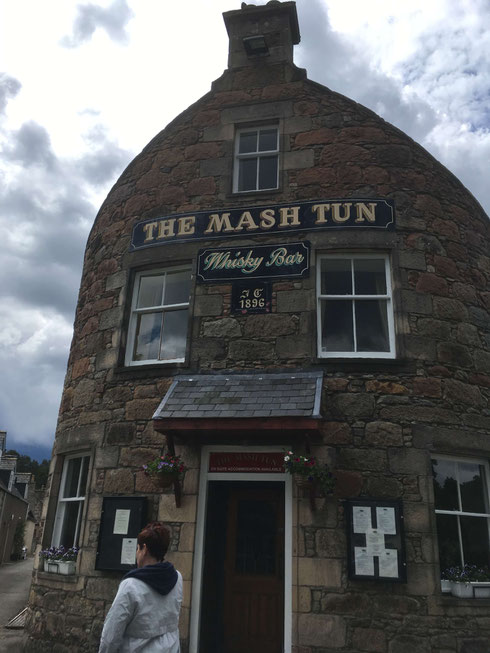 Two women walk into a whisky bar and order some chamomile tea...
Although it sounds like the beginning of a really bad joke this actually happened as we got nauseous on the way. ;-) Staring at your smartphone while sitting in the backseat of a car driving winding roads is a stupid idea!
In addition to numerous whiskies - including the exclusive Glenfarclas Family Cask Collection - the Mash Tun also offers an extensive menu of affordable dishes as well as accommodation. If you wish to eat please note that the kitchen is closed between 2 and 6pm. A look at their website is highly recommended.
*****************************************************************************************************
The Dowans Hotel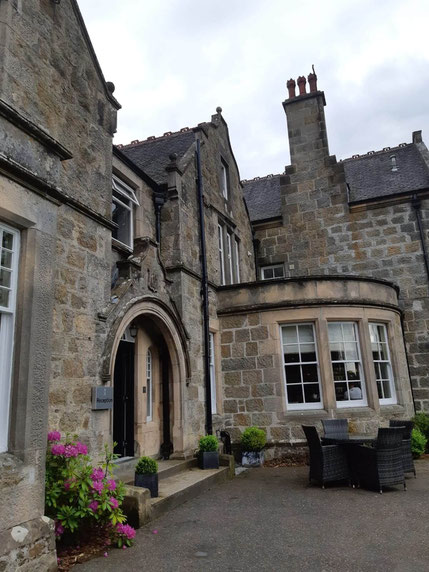 The Dowans Hotel is family-run and offers accommodation, two restaurants and two bars. Since we were a little early for our reservation at the "57" restaurant we were led to the opulent MBar for an aperitif.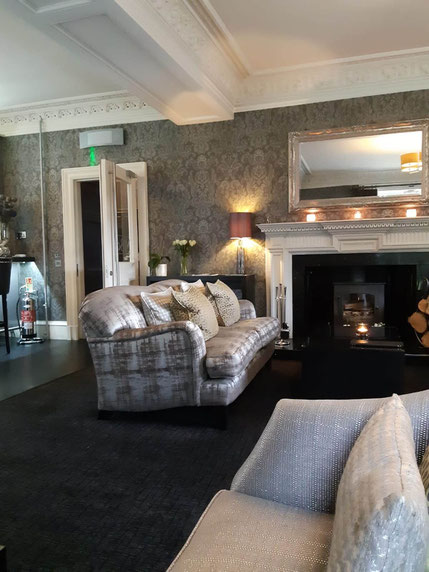 The down-to earth food at the 57 - e.g. we had burgers and homemade soup - was delicious.
Afterwards, we went to the whisky bar "The Still" which has a drinks menu that reminded me of a folder as it contains more than 500 open whiskies!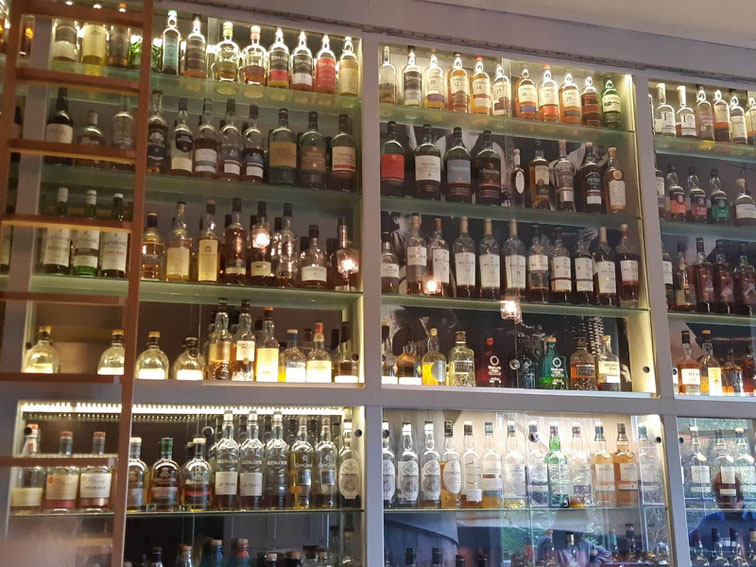 ---
Aberlour Distillery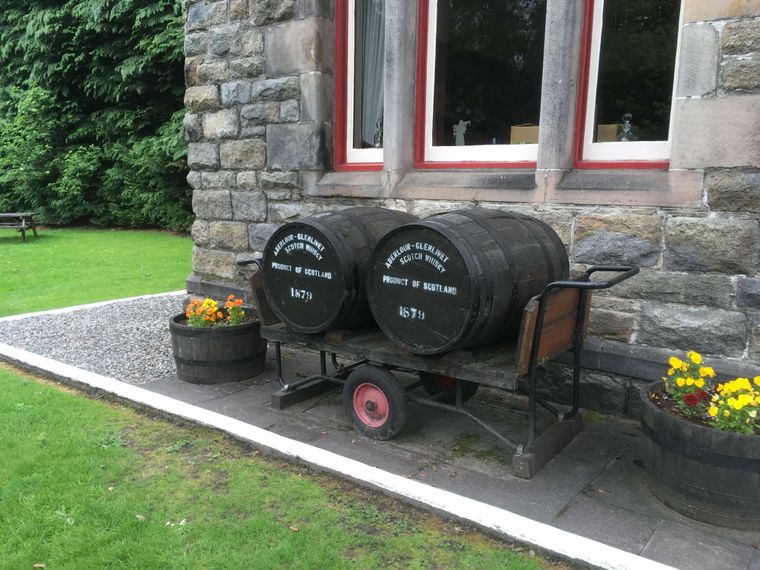 Aberlour distillery was founded in 1879 by James Fleming at the junction of the Lour stream with the River Spey. As it is located in central Speyside it can easily be reached by car. The distillery is open to visitors almost all year round and offers numerous guided tours and/or tastings. Prices vary between 15 and 45 pounds/person for one or one and a half hours (July 2019).
Please check the distillery's website for details.
---
Ballindalloch Castle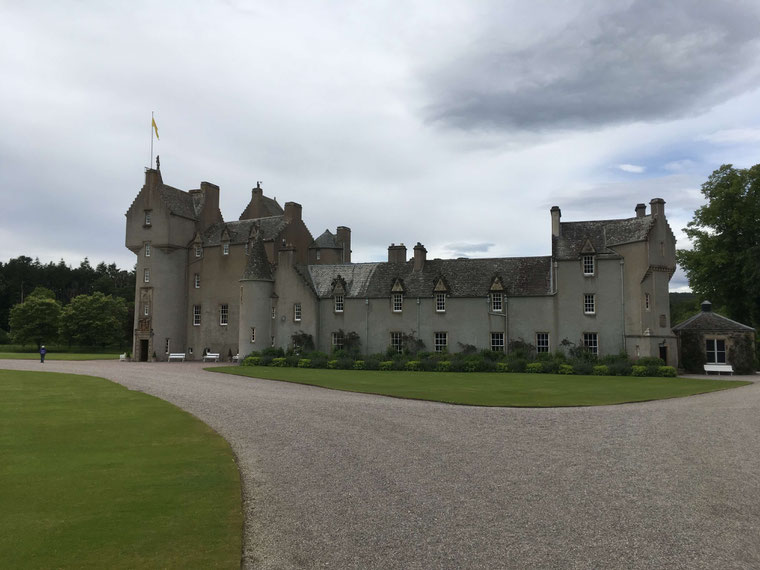 One of the shop employees at Aberlour Distillery told us to go to Ballindalloch Castle as it was only a 15 minute drive and the place wouldn't be too crowded. So this is where we went next...

Construction of Ballindalloch Castle on the River Avon started in 1542 and was completed in 1546.
The castle is still owned by the Macpherson-Grant family and has received several contemporary additions over time.
You can visit castle and gardens or gardens only. We chose the latter and did not regret it. Ballindalloch Castle has a beautiful park with lots of old trees and an amazing walled garden. At the entrance, you can find a children's playground and a dog run. Gift shop and restaurant are also accessible to guests who have only purchased a ticket to the garden.
Ballindalloch Castle is open Sunday through Friday (NOTE - closed on Saturdays!) between Good Friday and September 30. Admission to the garden is 6 pounds/person, admission to castle and gardens is 12 pounds/person. There are discounts for children, seniors and families, as well as a season ticket (July 2019).
---
The Macallan Distillery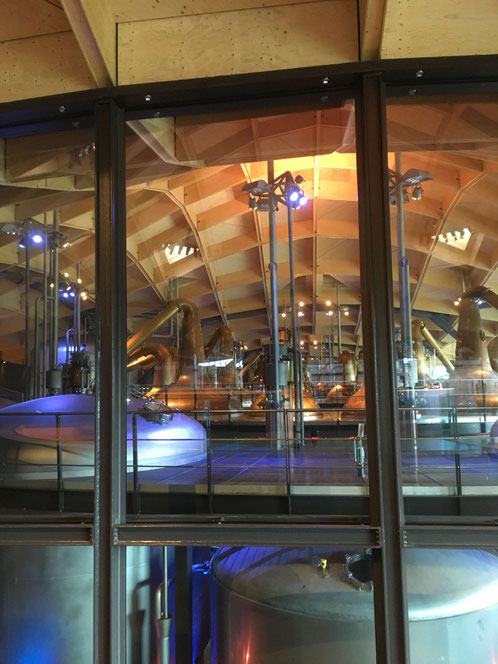 Macallan was founded by Alexander Reid in 1824 and was one of the first legal distilleries in Scotland. The distillery places a high value on hand-picked spanish oak casks in which the whisky matures for many years to reach its final quality.
Macallan built their very own "whisky cathedral" made from glass, stone, wood and metal at the heart of their ancient estate. Its curved roof blends in perfectly with the Scottish landscape. One of the shop employees told me that the construction cost about 142 million pounds.
On the ground floor you can find the shop and bistro as well as a huge shelf filled with whisky bottles. One of them raised 850,000 pounds (!) at an auction, because its label was part of a limited artist edition.
Please note that tours at Macallan should be booked in advance. If you would only like to try a dram you can visit the bar on the upper floor which offers a large variety of spirits. We ordered a so-called "flight" (also offered at most other distilleries), meaning that you get to taste three or more whiskies. You get to pick between numerous flights differing in price according to their exclusiveness. We shared the flight so everybody could take a sip of each whisky.
---
Strathisla Distillery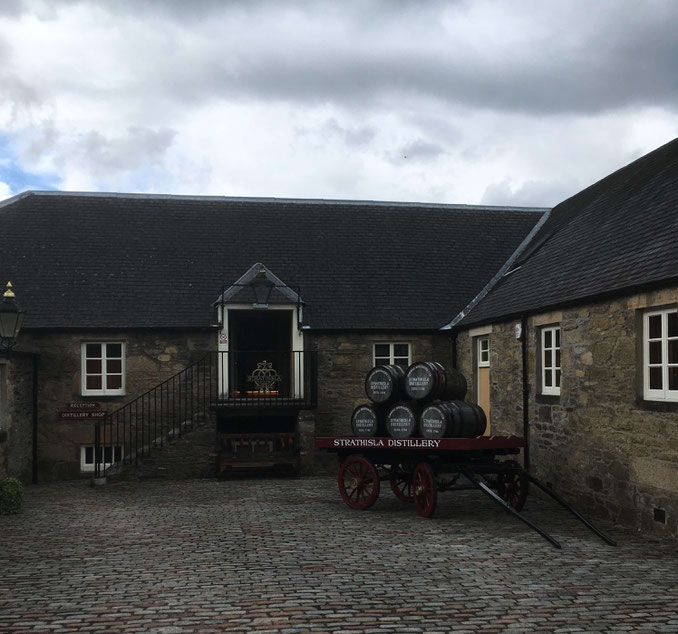 Strathisla was founded in 1786 and is the oldest active distillery in the Scottish Highlands. As part of Chivas Brothers its single malt whisky is a key component of the Chivas Regal Blend.
During the Second World War, the distillery fell into the hands of London black marketeers who sold the whisky profitably and let the distillery fall into disrepair. In 1950, Chivas Brothers bought the distillery and restored it. It has become a popular photo spot ever since (as you can also see in the top photo of this article). ;-)
A guided distillery tour is 15 pounds/person. You also have the possibility to combine the tour with the creation of your own personal blend (60 pounds/person). Please note that Strathisla has a so-called "silent season" to carry out maintenance work. During that time the combined tour/blend creation is a little cheaper. You can also book different tastings (July 2019). 
If you are not interested in a tour you can simply have a dram in a very cozy separate area of the shop.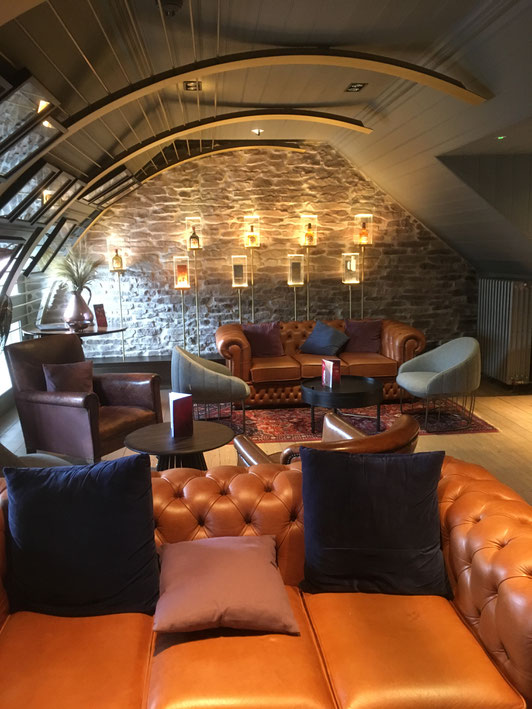 ---
Speyside Cooperage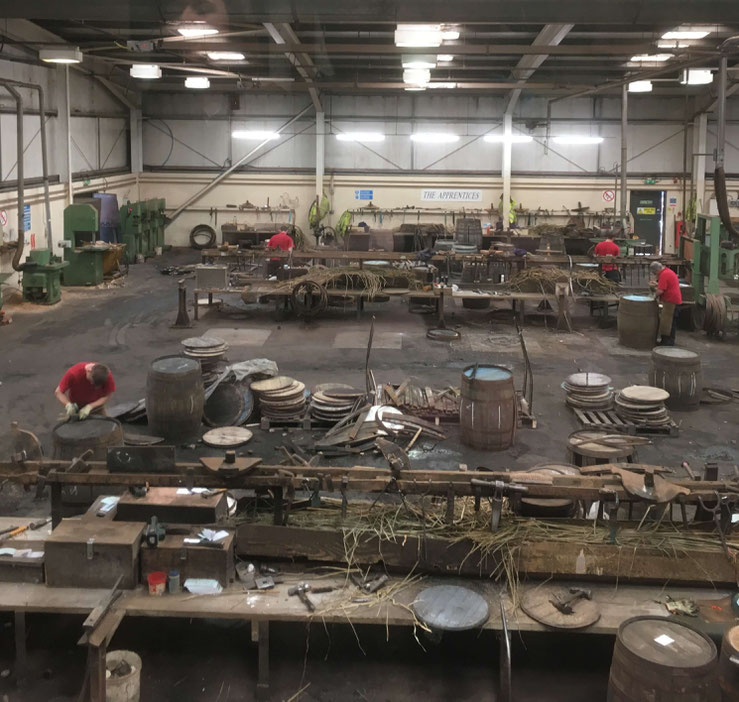 It goes without saying that the cask is one of the most crucial components of whisky production. Oak is the only wood that can be used as it allows the spirit to breathe while at the same time preventing leakage. All casks at Speyside cooperage are handcrafted by skilled coopers. As they are paid at piece-rate they are really quick at assembling the casks... ;-)
The guided tour is 4 pounds/person (July 2019). It starts with a short film. After that, you are led to the viewing gallery to watch the coopers at work. If you want you can try to assemble a mini cask. There is a gift shop and a coffee shop equipped with barrel furniture.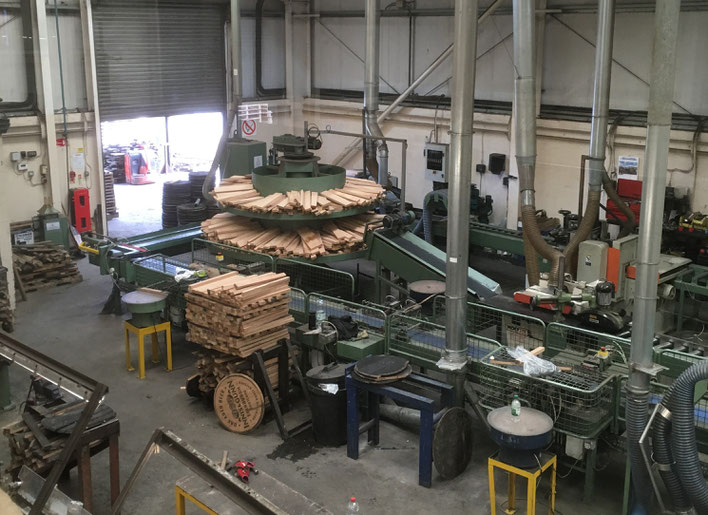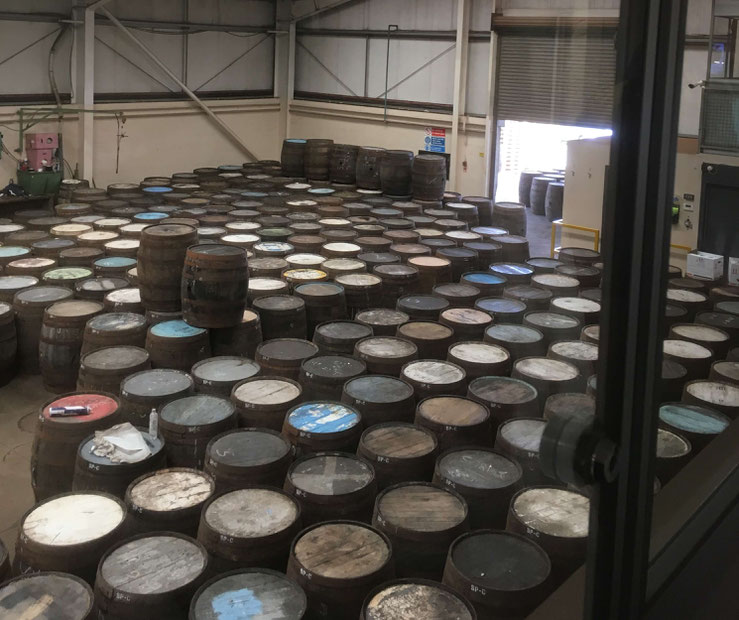 ---
Glen Moray Distillery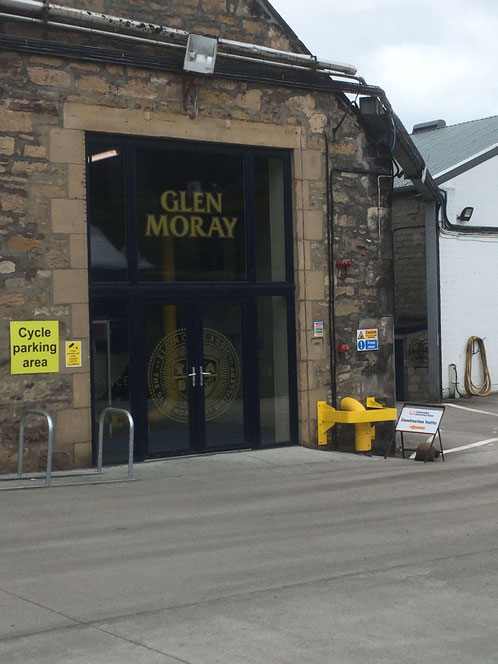 At Glen Moray Distillery, we had a whisky sample and a coffee. It got really crowded when a busload of German tourists arrived.
Glen Moray was converted from a brewery into a whisky distillery. Their whisky is stored in casks of all kinds (anything from sherry to port). The distillery expanded in the 1950s installing two new copper stills in the process. Glen Moray has been part of the Bardinet Group - that specializes in spirits - since 2008.
The Glen Moray Distillery is particularly proud of the fact that there have only been five Master Distillers to date.
Glen Moray also offers various tours and tastings - including combined tastings of whisky and chocolate ;-). The cheapest tour is 5 pounds/person including two samples (July 2019).
---
Elgin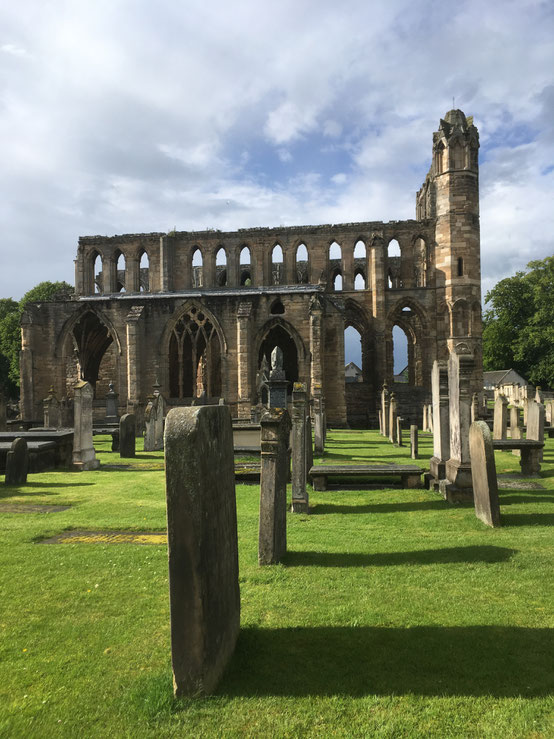 Elgin is the largest town and administrative centre of Moray and was first mentioned in 1040 when Macbeth killed King Duncan I in the immediate vicinity of the village. The construction of the cathedral - which was destroyed during the Scottish Reformation - was decreed by Pope Honorius III in 1224.
We only had a short coffee break in Elgin in which we took a few shots of the cathedral (the visitor centre had already closed for the day). I am sure Elgin is worth a closer look due to its rich history.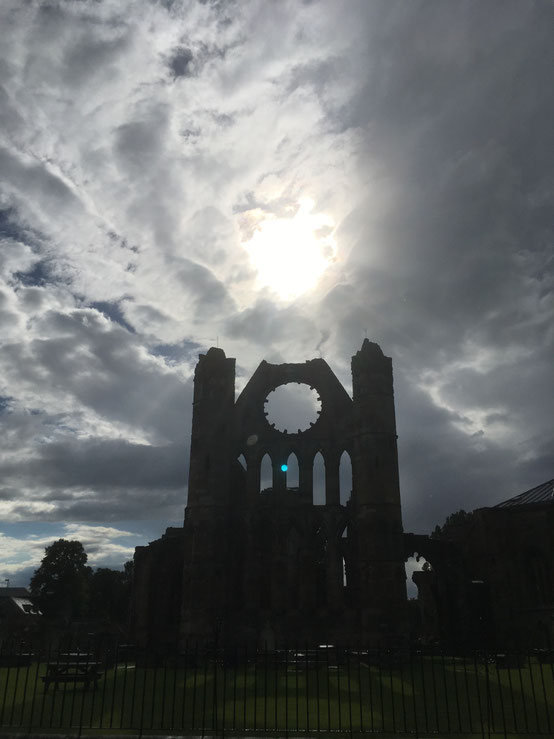 ---
Accommodation
Glenarder is a lovely wee cottage for four people close to the Malt Whisky Trail. You can see that the owners use it themselves every now and then as there are many personal belongings contributing to the coziness of the place. The driveway is a little bumpy so you need to drive slowly, but the surrounding landscape is beautiful and it's only a short distance from Aberlour (but you definitely need a car or other means of transport).
---
Deanston Distillery (Highlands)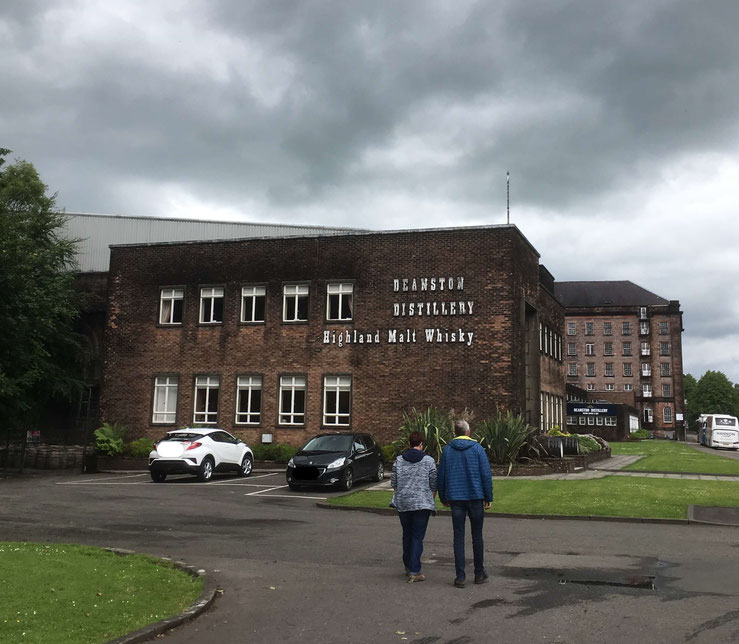 Deanston's history started with a cotton mill back in 1785. The mill proved such a success that its owners were able to built a village for their workers and issue their own currency. Deanston was also the first village in Scotland to install gas lighting.
When cotton production declined in the 1960s the mill was slowly converted into a whisky distillery. The first bottle of Deanston Single Malt was produced in 1974. The Deanston visitor centre opened in 2012.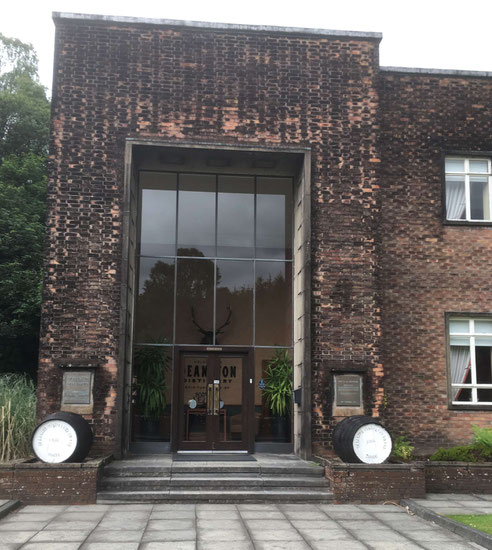 Deanston offers two different tours and a warehouse tasting. Tours are 9 pounds/person (incl. one sample) or 12 pounds/person (incl. two samples). The warehouse tasting is 35 pounds/person including 3 samples (July 2019).
---
Dalwhinnie and Edradour Distillery (Highlands)
On the way to our cottage we stopped at Dalwhinnie and Edradour Distillery.
 
Dalwhinnie was founded as "Strathspey" in 1897 and is located in the Cairngorms National Park. A shop employee told us that Dalwhinnie is one of the coldest places in the UK in winter, reaching temperatures below zero (°C).  Guided tours at Dalwhinnie are between 12 and 50 pounds/person including samples. You also have the option to combine whisky and chocolate. Pre-bookings requested (July 2019).
 
We have been to Edradour in Pitlochry, Highland Perthshire, many times and have already participated in several guided tours. Pitlochry is a nice little village sporting many small shops, cafés and restaurants. More details can be found in this blog post.
---
Photo Gallery
Some further impressions...
---
I hope you enjoyed the wee trip through Speyside.
Do you have a favourite whisky or distillery?
Please feel free to leave your comment below.
---
---