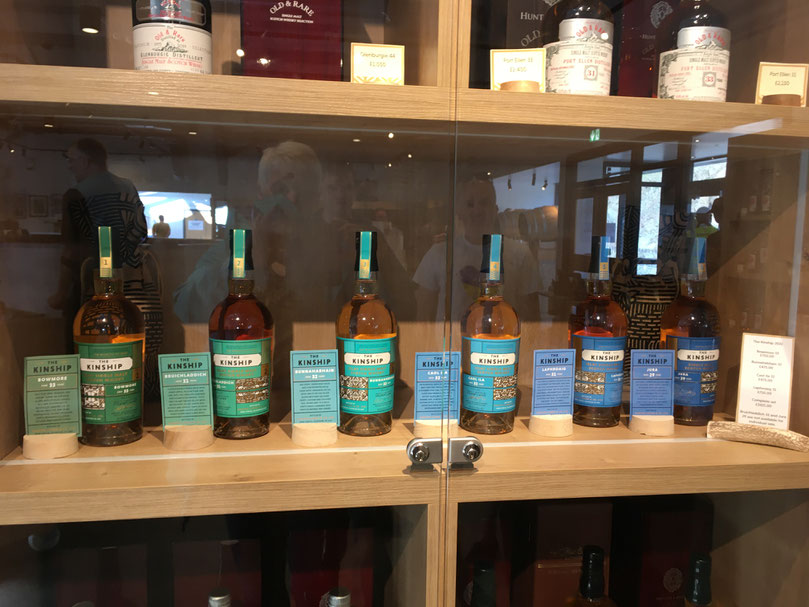 After almost 2.5 years we finally went back to Scotland - to the Fèis Ìle, the Islay Festival of Music and Malt, beautiful beaches and culinary delights including the occasional whisky.
---
Our activities are listed in chronological order and since there were quite a lot, I decided to split the article.
Please enjoy part 2 (you can find part 1 via the button below this paragraph) including the terrific Ardnahoe Kinship Tasting, top-quality fabric, a visit to Bowmore, some great food and drink, a wildlife trip, a lovely beach, a concert and an enchanting event.
---
---
Islay Sea Adventures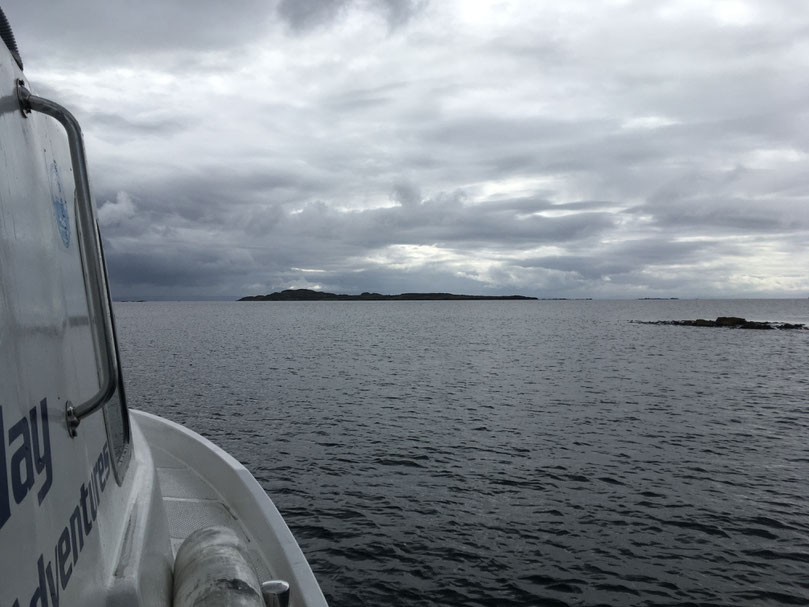 Unfortunately, we had caught a cloudy day for our wildlife trip, so that animals were rare, but we saw a white-tailed eagle (too far away for a good photo), seals, various waterbirds, red deer (which swims over to the uninhabited islands) and some wild goats. Binoculars were available on board for general use.
Some of the distilleries can also be seen from the water. There was a sip of whisky and some sweets on the way to cheer everybody up.
Islay Sea Adventures also offer tours with seafood served on board. When I saw the platters that were carried past us on arrival, I was almost a little disappointed that I hadn't booked the seafood trip. Everything looked really delicious!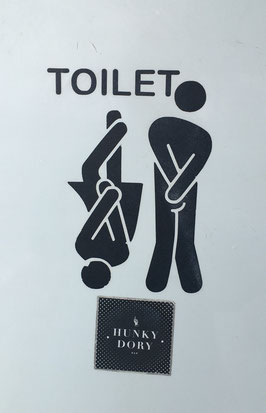 ---
Islay Woollen Mill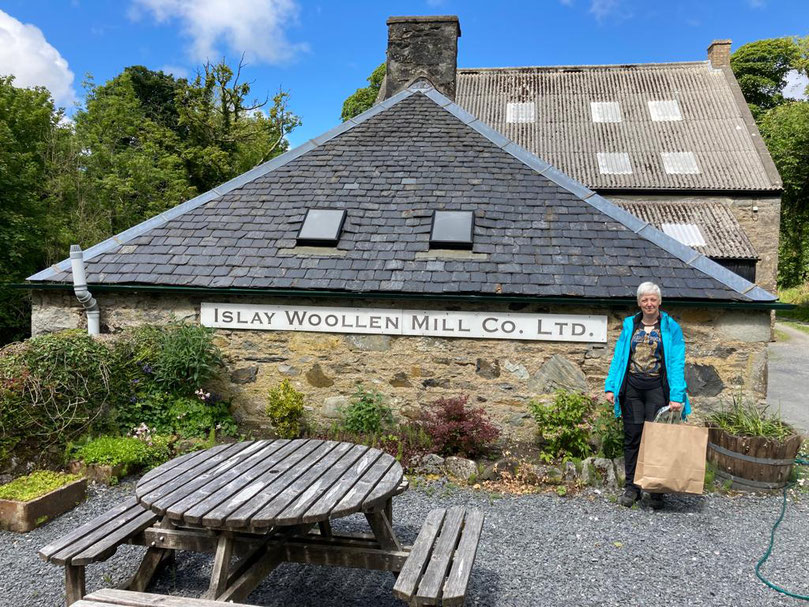 There is not only the famous Harris Tweed in Scotland. Traditional fabric is also woven on other islands - in this case at it was at the Islay Woollen Mill. It has been here since 1883 and has been run by Gordon and Sheila Covell since 1981. The fabric is designed in-house and made on two Dobcross looms from the 1920s.
Some of the fabric produced can be seen in Hollywood blockbusters such as Braveheart, Rob Roy or Forrest Gump. You can buy fabric by the meter or find finished garments and accessories in the shop. Of course, I couldn't walk away without purchasing a few meters of fabric...! ;-)
---
Kilchoman Distillery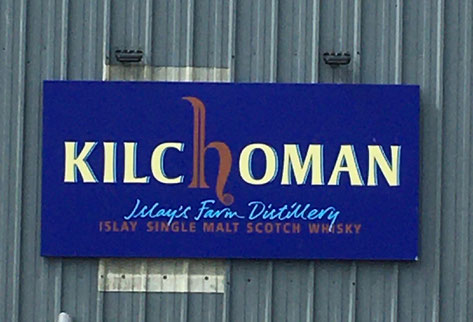 We only paid a brief visit to the shop at Kilchoman Distillery. The distillery was the first newly built distillery on Islay in 2005. It is a farm distillery that strives to ensure that all production steps for the whisky take place directly on site ("from barley to bottle") - from the cultivation and malting of the barley to the distillation, maturation and bottling of the finished single malt.
---
Machir Bay

From Kilchoman Distillery you can easily get to Machir Bay.
Very pretty and almost deserted at the time of our visit. 
---
Ardnahoe Distillery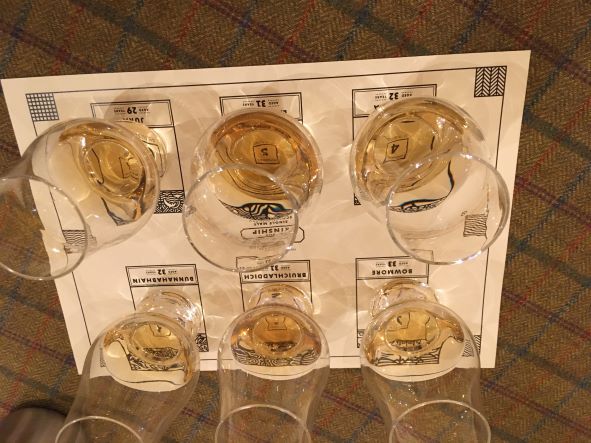 An absolute highlight of the festival for me was our participation in the Ardnahoe Kinship Tasting.
The distillery was founded by Stewart Laing and his sons Andrew and Scott, who also own Hunter Laing & Co. Ltd in Glasgow. In 2016, the land for the distillery was acquired, construction began in January 2017. In October 2018, the first distillation took place and the first barrel was filled in November. Since 2019, the distillery has also been open to visitors.
The distillery does not yet sell its own whisky. According to the statement during the tasting, it is expected to be launched in 2024. At the Ardnahoe Kinship Tasting, six exquisite drops from Hunter Laing's warehouses were served. We were first greeted by Stewart Laing, who then handed over to his son Scott.
Our tasting consisted of the following whiskies:
Bowmore 33 years old
Bruichladdich 31 y.o.
Bunnahabhain 32 y.o.
Caol Ila 32 y.o.
Laphroaig 31 y.o.
Jura 29 y.o.
If you had to buy these whiskies, they would have cost a total of 3,325 British pounds at that time, although the Bruichladdich 31 and the Jura 29 are not available individually.
All whiskies have their own taste and character, so they say if someone doesn't like whisky, they just haven't found the right one yet. ;-) I thought they were all good, but my favorite in this case was the Bunnahabhain.
The tasting took place at 9:45 h in the morning, which I liked, as the distillery was not yet too crowded. There was a parking lot from which a shuttle bus transported guests back and forth every few minutes. Since Jürgen is handicapped, he was even allowed to drive his car right up to the distillery.
Of course, you don't really need to drink six glasses of whisky at merely ten in the morning...
For the drivers, small labeled bottles were provided for the whiskies to be filled into so you could indulge in them later on (we had brought our own bottles as a precaution). In addition, each participant received an insulated stainless steel water bottle as a gift.
Fun fact: My girlfriend and I were the only women in this international tasting. :-)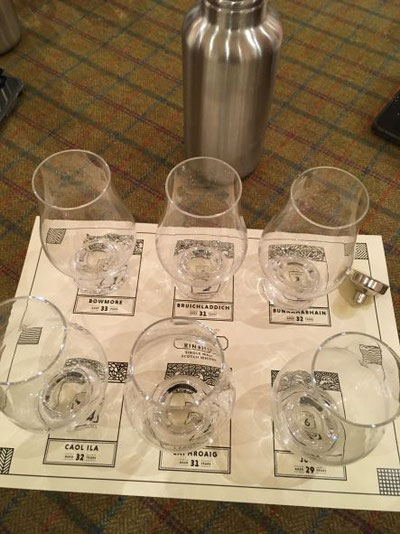 The distillery really has spectacular views!
When I asked a staff member about it, he replied that they were the best of any distillery he had ever worked for.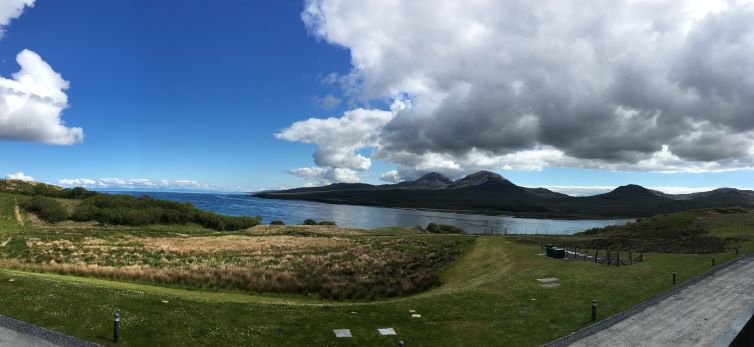 The supporting programme during the open day was very nice. There was live music outside so we were able to enjoy the sunshine. Keills Primary School had set up a stand selling homemade treats, so we indulged in some cake and cappuccino.
I really liked the reaction of the shop staff when we entered the distillery. Behind the counter were three beaming ladies who waved excitedly and shouted "Hello!" or "Welcome!". Such a nice welcome! :-)
---
Bowmore Distillery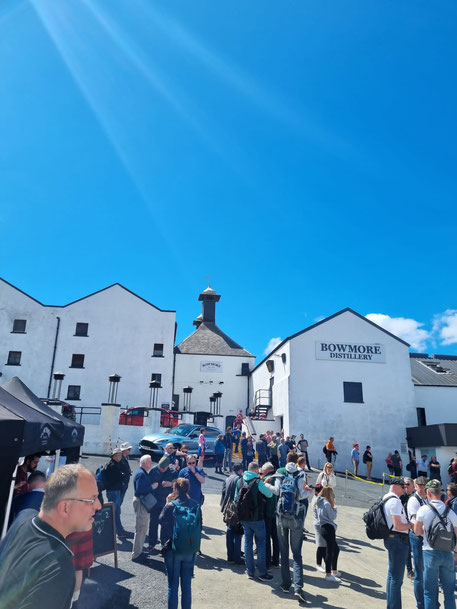 Bowmore Distillery is located in the centre of Bowmore, the "administrative capital" of Islay, which made it a bit difficult to find a parking space on the open day. We finally found a gap in one of the back roads. 
Bowmore Distillery was mentioned as the first legal distillery on Islay back in 1779, making it the oldest distillery on the island and the second oldest in Scotland. It has changed hands several times and is now part of the Beam Suntory Group. From 1940 to 1943 it was used as a Royal Air Force base. In 1980, Queen Elizabeth II visited the distillery. 
Due to its location right in the centre of the village, Bowmore Distillery does not convey as cozy an atmosphere as some of the other distilleries on Islay. Shop and tasting room are still very nice.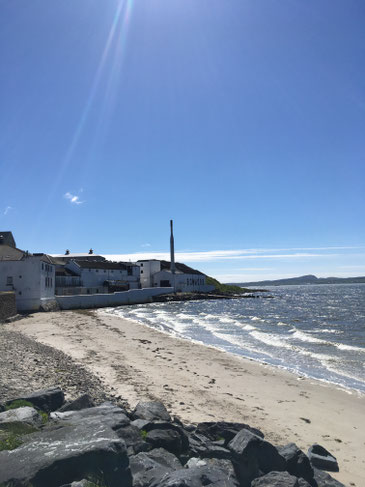 ---
Bowmore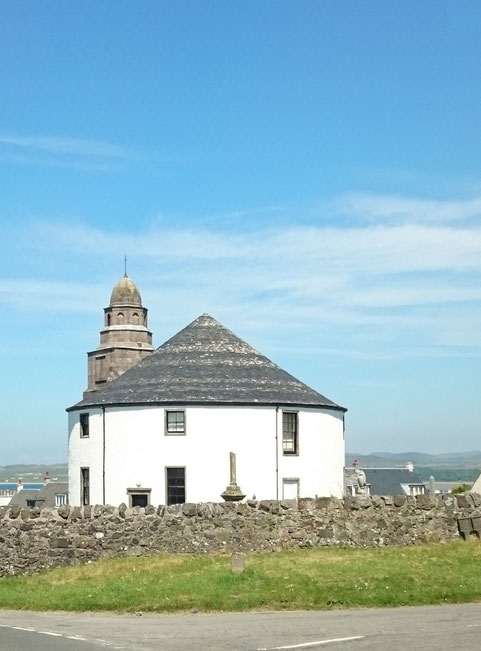 As mentioned above, Bowmore is something like the island's capital. There are a number of shops and also a supermarket. The most striking building in the village is certainly the round church at the end of the main street. Unfortunately, it was closed during our visit. A friendly gentleman sitting on a bench in front of it explained that someone would come and open up if you called the phone number in the display case outside the door. We did not take advantage of this offer, though.
Delicious food can be found at the "Peatzeria". However, it is always packed and you should reserve early to make sure you get a table. We were lucky to get one without a reservation, but had to sit outside in relatively fresh weather - as we were wearing warm jackets that was okay for us.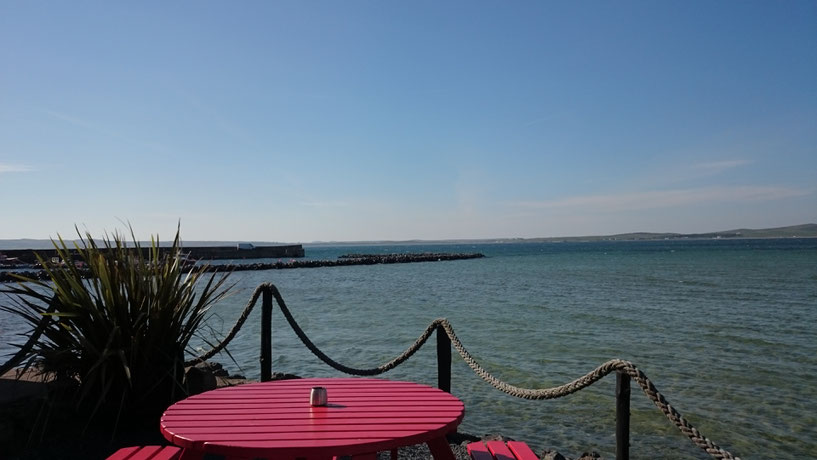 ---
Robin Laing - a whisky flavoured concert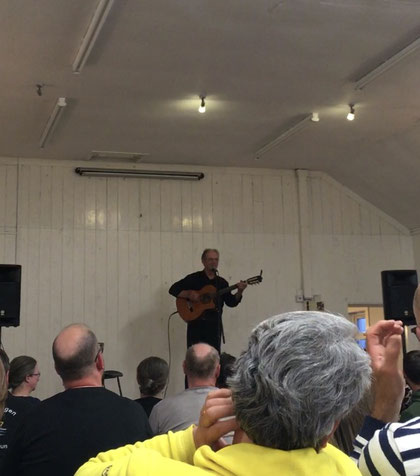 In the evening, we attended Robin Laing's concert at Bruichladdich Hall. He has become known as the "Whisky Bard" because of his numerous songs about whisky and he gave quite a few anecdotes during the gig. Of course, there was also whisky drinking involved! ;-)
---
The Enchanting Scotland Show, Rhinns Hall Portnahaven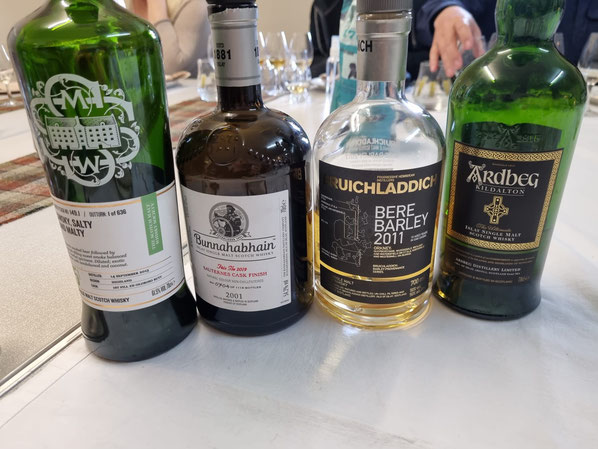 We didn't really know what to expect from the Enchanting Scotland Show. The description promised to reveal secrets from Scotland's history of the past 12,000 years involving music, poetry and stories.
We arrived at Rhinns Hall in Portnahaven shortly before the start and looked for a seat. There was live music and some small stalls. We were offered coffee and would also have had the opportunity to order a snack. We were a bit irritated because the event was supposed to start at 2 p.m., but still hadn't started more than half an hour later. When asking, we were poured a whisky as a "consolation". ;-)
The event started one hour late. It turned out that so many people had booked that additional seating and plates/dram glasses had to be provided. 
It was an enjoyable afternoon including various whiskies, some of which are no longer available and came from the hostess's private collection. If we had known that only cookies and bread would be served, we would have ordered a snack beforehand, especially since we had booked a 7-course whisky dinner at the Port Charlotte Hotel for the evening.
I only took small sips, because someone was still supposed to drive...
I particularly liked the storyteller who talked about the mystical Selkies (the seal people).
---
Whisky Tasting Dinner at Port Charlotte Hotel
The Port Charlotte Hotel was on the way to our cottage so we always passed it when driving somewhere. We stopped a few times on the way home to grab a beer.
Booking the whisky dinner was more of a coincidence. Actually, we had planned to order a seafood platter, which the hotel asks to book 48 hours in advance so the local fishermen can provide the appropriate catch. As the whisky tasting dinner took place on our preferred day, the hotel was not able to serve a seafood platter. However, there were still four places available for the dinner, so we booked them spontaneously.
After the whisky tasting in the afternoon it would have been quite hard, so we brought some small bottles for the whisky again... ;-) The first courses were served in the parlour - then everybody went to the restaurant.
Caroline Dewar, an internationally recognized whisky expert, explicitly selected a whisky for each dish and gave some explanatory words. We had very nice people sitting next to us with whom we had a good conversation.
In addition to the restaurant, the hotel also has a pub where you can sit comfortably and order classic pub food. Our men booked a hotel room during the 2023 festival straight away.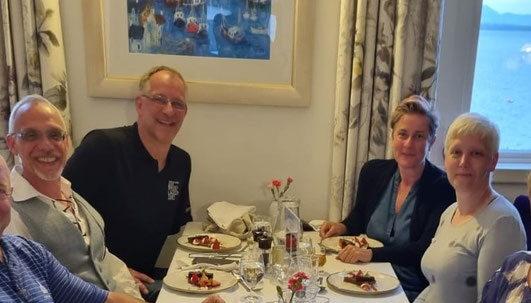 ---
Port Ellen Distillery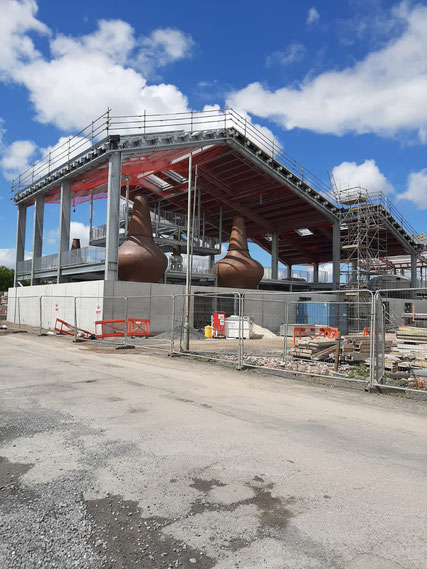 Port Ellen Distillery operated from 1825 to 1983. It is currently being awakened from its slumber by owner Diageo. The stills are still under construction and the distillery is expected to open in 2023. 
---
Further findings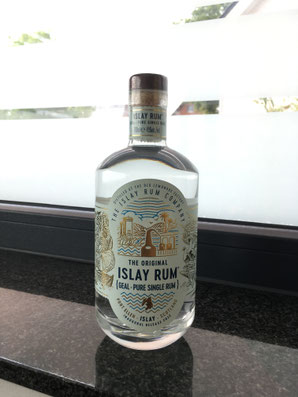 Even though Islay is considered the ultimate whisky island, there are also other alcoholic beverages to be discovered. For example, wine (Islay Wines) and rum are also produced on the island. We did not try the wine, but paid a short visit to Islay Rum. The operator showed us his distillation facility and explained that although he grew up on Islay, he has always been more of a rum fan than a whisky fan, so he came up with the idea of making rum on Islay. Although the rum is recommended for cocktails, it also tasted quite good to us when drinking it pure.
In addition, there is handmade chocolate from Islay Cocoa, which we tested at the Bruichladdich Open Day and which was also very tasty.
---
Departure
After a great week on Islay featuring nice weather, nice people and countless events we went back home.
While our friends spent a few more days in Edinburgh, we had an overnight stay in Stirling and returned to Newcastle the next morning to catch the ferry back to Amsterdam. We did not do any sightseeing in Stirling though having been there a few times before.
Two and a half weeks later we were already back in Scotland - this time to the Isle of Mull.
The article on Mull will be up next.
---
Have you ever been to the Islay Festival or on the island? 
I would love to know what you liked in particular and what you think is worth visiting.
Please feel free to leave a comment below.
---
More articles about the Islay Festival can be found here. 
---
---